Saunders' hustle opens homestand on high note
Two-run infield single breaks tie on pitching-dominant night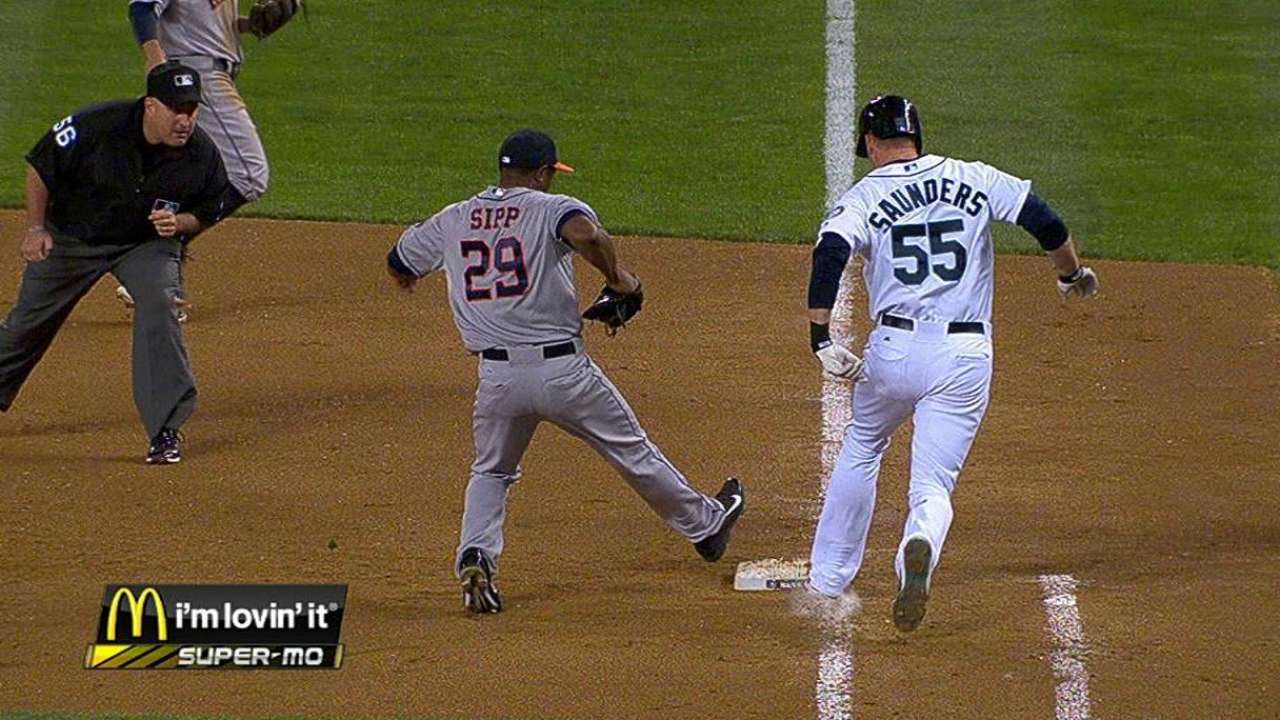 SEATTLE -- Michael Saunders couldn't hit the ball out of the infield, but it didn't stop him from sending the Mariners to a 3-1 win over the visiting Astros on Thursday night at Safeco Field.
With the bases loaded, two outs and the game tied at 1 in the seventh inning, Saunders hit a high chopper to Houston first baseman Jesus Guzman, then narrowly beat out the flip to covering pitcher Tony Sipp at first base on a bang-bang play.
"When I was running down the basepath, my first thought was that I might slide to avoid the tag, then I realized it was a foot race between me and the pitcher," Saunders said after ending Sipp's string of 21 consecutive batters retired. "I wasn't even sure if I was going to reach the base or not, but it worked out."
The safe call from umpire Eric Cooper was confirmed after a review under Major League Baseball's new instant-replay guidelines.
"Those plays are bang-bang," Mariners manager Lloyd McClendon said. "We haven't had many of them go our way, so I was a little nervous."
Sipp said he didn't know whose foot hit the bag in real time because the play was so close.
"Obviously, he beat me by a half-step," he said. "But I didn't know at the time what would be what. I just feel like I could have got there quicker looking back. It was one of those things you can't get back."
The infield single scored two runs, which was plenty on a night Mariners starter Roenis Elias combined with relievers Dominic Leone, Yoervis Medina and Fernando Rodney to give up just four hits. Leone (1.40 ERA) picked up the first win of his Major League career, giving up a hit and no runs while striking out two in 1 2/3 innings.
"I really didn't think much of it until I came in and everybody told me," Leone said. "For me, this was another night where I came out and did my job and kept my guys in the game. It's obviously nice to have that win in my stat column, but it's even better for this team coming back home -- this was a good way to kick off the homestand."
The pitching performance could have gone for naught if the Mariners hadn't rallied in the seventh against Houston starter Jarred Cosart, whose final line ended in three runs, five hits, four walks and an unsavory loss.
Dustin Ackley led off the deciding inning with a sharp single to right. Stefen Romero, getting a rare start at designated hitter, then lined a base hit to right. Cosart followed by walking Nick Franklin to load the bases, then struck out Mike Zunino for the first out of the inning and the last of his night.
When Astros manager Bo Porter brought in left-hander Sipp, McClendon had right-handed-batting Cole Gillespie pinch-hit for James Jones, a left-handed hitter. But Gillespie popped out to Guzman to set the stage for Saunders' dramatics in front of 13,836 fans on Sriracha Night.
"[Sipp] hasn't given up a run all year since he's been called up. That's a tough matchup for Jones in that situation," McClendon said. "I'll say this: In most instances, I want [Jones] to hit. We think he'll be an everyday player and he'll need to face those situations, but it was such a big point in the game and we felt we had a chance to get the matchup that we wanted."
The game couldn't have started more differently for the Mariners.
Second baseman Jose Altuve knocked left-hander Elias' first pitch of the game over the left-field fence to give the Astros a quick lead, but the Mariners responded with a run in the bottom of the inning.
Jones led off with a walk, then Saunders lined a single into right field, advancing Jones to third. Robinson Cano followed with a sacrifice fly to center, driving in his team-leading 28th RBI.
With a single in the third inning, Jones extended his hit streak to 12 games. He also has a hit in his first 13 starts -- a club record -- since being recalled from Triple-A Tacoma in early May to replace the struggling Abraham Almonte. On Thursday, the rookie finished 1-for-2 with a run scored and a walk to lift his average to .321.
With two outs in the fourth inning, he made a leaping overhead catch near the warning track on a long fly ball from Houston's Alex Presley, then managed to hold on when he smashed into the wall.
Elias, meanwhile, gave up one run on three hits and four walks in 5 1/3 innings, working out of jams in the second and third innings. He threw 100 pitches, just 53 for strikes, but managed to strike out six before McClendon went to Leone following a walk to designated hitter Chris Carter.
"He really didn't have command of many of his pitches for the most part, but he kind of settled down a little bit in the fifth. … He hung in there and battled and gave us what we needed," McClendon said.
The Astros had a chance to break the 1-1 tie in the seventh when Altuve notched a two-out single off Leone, then stole second. But Leone got Dexter Fowler to ground out sharply to Cano to end the inning.
Rodney worked a 1-2-3 ninth to pick up his 12th save as the Mariners improved to 23-23.
Adam Lewis is an associate reporter for MLB.com. This story was not subject to the approval of Major League Baseball or its clubs.