Sipp's first hiccup with Astros proves costly
Cosart stung with hard-luck loss; Altuve's leadoff HR lone spark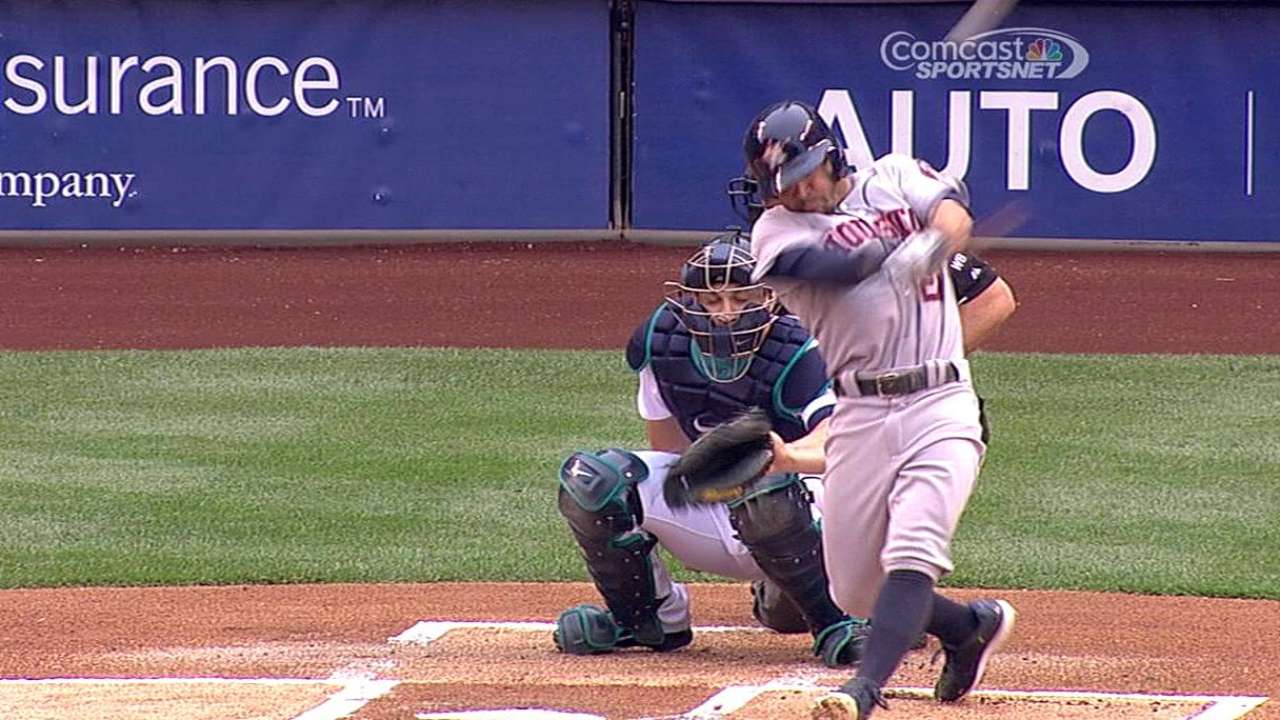 SEATTLE -- After retiring the first 21 batters he faced as a member of the Astros, it's the one that got away that's going to bother Tony Sipp.
Sipp's perfect run came to imperfect end in the seventh inning of a tied game Thursday night, when he hesitated before running to cover first base and wound up getting beat by Mariners outfielder Michael Saunders on a play that was close enough for Astros manager Bo Porter to challenge.
Instead of Sipp getting the final out of the inning and keeping the game tied, Saunders hustled down the line for an infield single as two runners scampered home to lead the Mariners to a 3-1 victory over the Astros in the series opener at Safeco Field.
"That is tough," Porter said. "We made the pitches to get out of it. It was bang-bang, but at the same time, if we break straight to the bag, I think we get him. It looked like there was a hesitation, and their guy busted down the line."
Sipp relieved Jarred Cosart with the bases loaded and one out and induced a popup from Cole Gillespie for the second out. He battled Saunders to a full count and got him to pound the ball into the ground toward first baseman Jesus Guzman, who threw late to Sipp.
"Real tough, especially when your starter goes out there and battles," Sipp said. "I get that first out, a big out, and you get the results you want off the swing. ... I feel like I executed that and got beat to the bag, and I definitely feel like I've got to be there. Just one of those things that will eat at me for a while, but I've got to move on from it."
Cosart, watching from the end of the dugout, thought second baseman Jose Altuve was going to field the ball, which may have explained why Sipp was a tad late. Had Altuve fielded it, he would have thrown to Guzman covering the base. Instead, Guzman slid in front of Altuve to field it.
"I looked back and didn't know who was going to get it," Sipp said. "You can't go back now, but looking back, you've just got to get over there just in case. Try to assess the situation and see what was what, and that was the little half-second I got beat by."
Cosart (3-4) suffered another hard-luck loss after allowing three runs, four walks and five hits in 6 1/3 innings while striking out six. He walked four batters for the second start in a row and for the fourth time this season.
"I really don't know what to really say about the walks," he said. "I've got to figure out what's going on and I've got to cut them down a little bit."
Saunders said Cosart's fastball was key.
"We got ourselves into a lot of hitter's counts but just couldn't come up with that big hit with runners on, so he limited the damage," Saunders said. "He's got great stuff. He's a good pitcher. We were able to lead off [the seventh] with a couple hits and get him into trouble, and we were able to capitalize on it."
The game was tied at 1 in the seventh when Dustin Ackley and Stefen Romero began the inning with singles and moved into scoring position on a wild pitch. Cosart walked Nick Franklin to load the bases with no outs for Mike Zunino, who struck out swinging.
"He was pretty solid there for six innings and ran into trouble in the seventh and was able to get the big strikeout," Porter said. "Tony came in and we felt like we were going to get out of it. We were a ground ball away and covering first base from getting out of it."
Sipp, who hadn't allowed a baserunner in his first five outings, was summoned from the bullpen and got Gillespie for the second out. Saunders worked the count to 3-2 before hitting a bouncer to first base, which wound up as a two-run single despite not leaving the infield.
"I take fault, though," Cosart said. "Those are my runners on base. Just horrible execution of two pitches when I was ahead in the count that led to hits. I threw borderline pitches to Franklin that could have gone either way, but you walk guys and you're not going to get the benefit of the doubt."
Altuve, who had a career-high 12-game hitting streak snapped Wednesday, jumped on the first pitch of the game thrown by Mariners starter Roenis Elias and sent it over the left-field wall for his second homer of the season. Altuve had two of the Astros' four hits, three of which were singles.
"Their guy sprayed the ball around the zone a little bit," Porter said. "I felt like if we could have been a little bit more patient, we could have drawn more walks or gotten ourselves into better hitter's counts. I think we expanded our zone a little bit too much with a guy that did not show he was really going to command the zone."
The Mariners got the run back in the bottom of the inning when James Jones led off with a walk and scored on a sacrifice fly by Robinson Cano, who entered the game with 11 hits in his previous 22 at-bats.
Brian McTaggart is a reporter for MLB.com and writes an MLBlog, Tag's Lines. Follow @brianmctaggart on Twitter. This story was not subject to the approval of Major League Baseball or its clubs.