Baserunning, defensive miscues sink Dodgers
Puig makes great catch, but doubled up twice; LA commits two errors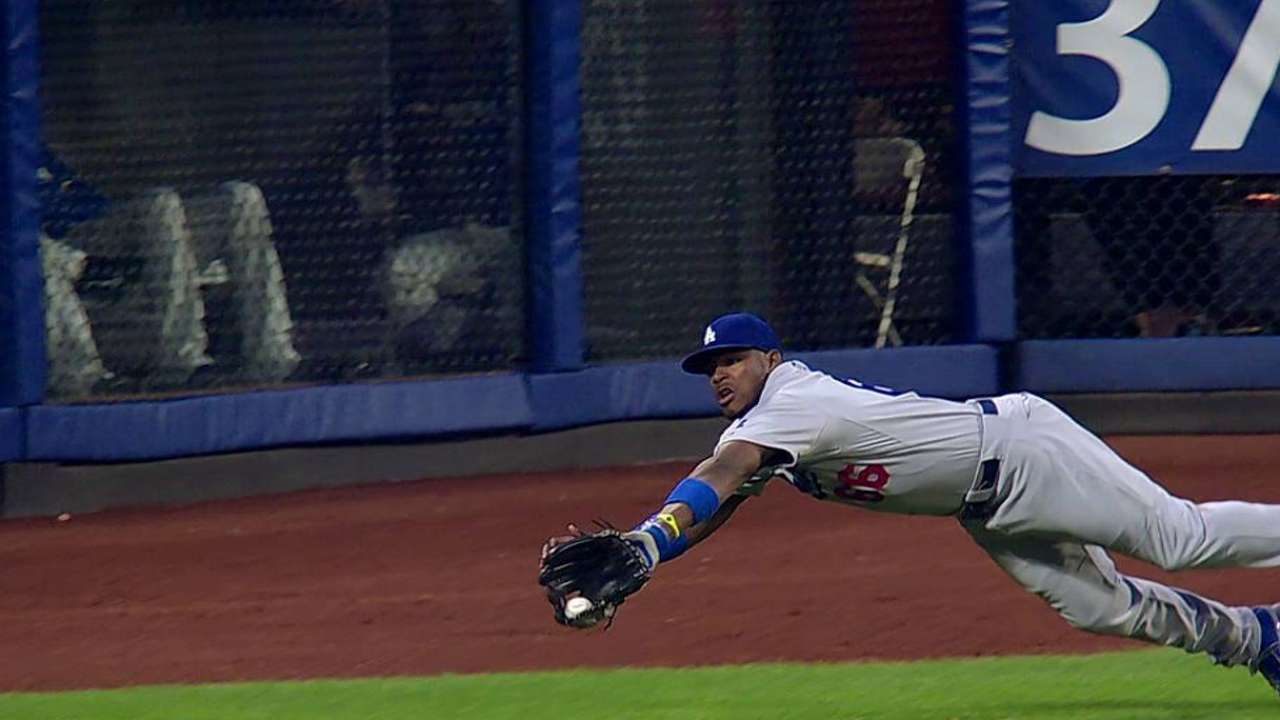 NEW YORK -- At age 23 in his first full Major League season, he was the raw talent with five unrefined tools who could do exceptional things on the field, good and bad.
He matured as a ballplayer, nearly won a National League MVP Award, got hurt and now Matt Kemp is struggling to regain his form, playing alongside a 23-year-old phenom in his first full Major League season doing exceptional things on the field, good and bad.
On Thursday night, in a 5-3 loss to the Mets that could have easily been a Dodgers win, Yasiel Puig put on another inimitable show. He made a remarkable diving catch to prevent a run, but ran into a pair of double plays with the kind of undisciplined aggressiveness that works both ways.
"Yasiel is on the aggressive end," explained manager Don Mattingly, who partially excused one of Puig's baserunning mistakes on what the Dodgers felt was a late infield fly rule call by first-base umpire Stu Scheurwater.
Puig also was doubled off second base when Mets left fielder Eric Campbell made a diving catch of a sinking liner by Hanley Ramirez, Mattingly suggesting that Puig should have been "a little more cautious with Adrian [Gonzalez] coming up next."
Of course, Puig also crushed a double to the base of the center-field fence and flipped his bat, and, oh, there was that catch, the kind only the great ones even try to make.
"Oh man, I can't believe he caught it," said Kemp, using slightly more colorful language. "I was shocked. I was screaming. One of the best catches I've seen in a long time."
Said starting pitcher Zack Greinke: "It doesn't happen very often where a ball is going to be a double and someone runs down something that shouldn't be run down. Puig is one guy where it's possible, and even this was pretty amazing."
Said Mets manager Terry Collins: "I've only seen one other catch better than that, and it was one Jim Edmonds made diving over his head on the warning track. That's probably the second-best catch I've ever seen. I thought he was going to double up [Lucas] Duda at first, too. So it was pretty good."
Not all of the defense was. Mattingly chose his words carefully when asked about the center-field defense of Kemp, who admits he isn't yet the same player after two years of injuries that included microfracture surgery on his left ankle and two operations on his left shoulder.
Kemp hasn't regained his power, as five home runs will attest. But in this game it was his defense in general, and ability to chase down deep flies in particular, that came under scrutiny.
"We continue to look at it and give Matt the opportunity to keep working and get better," Mattingly said. "He doesn't look the same. The burst, the outrun-the-ball thing. We've talked to Matt and don't hear anything medically that he's not feeling good. We just want to see the same burst. We don't know if it's a matter of him being out a few years. He's trying, been working and we'll continue to go from there."
Four extra-base hits cleared Kemp's head, contributing to all four Mets runs, one of them scoring because Kemp dropped a ball he picked up off the warning track.
"I just need to play better defense," said Kemp. "Burst or anything, I'm not getting as good a jump as I need to. I cost us one run bobbling the ball, and it's nobody's fault but mine. No excuses. I've made a couple bad plays in the outfield. It happens."
Kemp said his legs are gaining strength as he plays, but, "I did come off microfracture surgery. I wish I was as explosive as the past. I have good days and bad days. Sometimes I'm looser, sometimes stiff. I'm not hurting, but every baseball player is banged up. I wish I could steal 100 million bases like I used to. Sometimes my legs don't feel it as far as being loose."
For all that went wrong in this game, the Dodgers were in it and nearly swept the series. Errors by Kemp and fill-in third baseman Justin Turner meant two of the three runs charged to starter Greinke were unearned, leaving him with a streak of 22 consecutive starts without allowing more than two earned runs, although his streak of 21 consecutive starts without allowing more than two runs ended. Greinke made 36 pitches in the second inning alone, including a 12-pitch at-bat to Curtis Granderson that included eight foul balls and ended with a double.
Turner atoned for his fielding error by slugging a two-run, game-tying homer in the seventh inning off his former team and Jon Niese.
"As much as you want to say it's just another game," he said, "playing your old team, you want to do a little more."
With Chris Withrow sent to the Minor Leagues a day earlier, Mattingly brought in Chris Perez for the bottom of the seventh inning, and he allowed a leadoff single to Wilmer Flores, wild pitched him to second and eventually allowed him to score when Juan Lagares singled on an 0-2 pitch. New York added an insurance run in the eighth on a single by David Wright and triple by Granderson.
Perez has allowed runs in his last three appearances and five of his last seven, his ERA going from 1.35 to 5.68. He said this was the first game in his life that he pitched from the right side of the rubber, moving from the left side after consulting pitching coaches Rick Honeycutt and Chuck Crim.
"I threw a lot more strikes and the slider was the best it's been all year, but I have to get results," said Perez. "I'll keep working. They're not going to take it easy on you. You can't feel sorry for yourself. It's a work in progress, but no excuses."
Ken Gurnick is a reporter for MLB.com. This story was not subject to the approval of Major League Baseball or its clubs.