Sharp Volquez, clutch defense propel Pirates
Harrison makes play of night before McCutchen's game-saving snag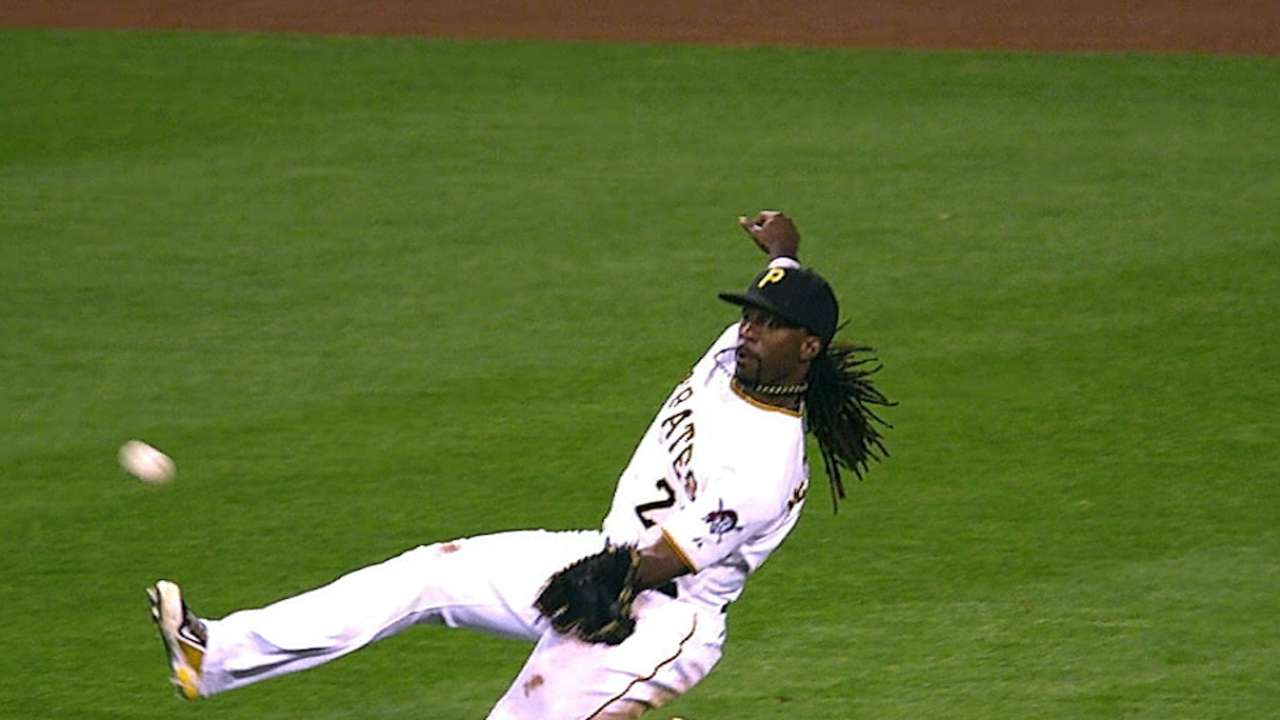 PITTSBURGH -- Josh Harrison's flying catch survived as the play of the night for all of three innings.
That's how well things went for the Bucs on Thursday, who certainly have not had it either easy or joyful this season, but collected on some of their emotional chits in the 3-1 victory over the Washington Nationals at PNC Park.
Harrison reenacted his fabulous catch of a few days ago in the sixth inning -- the night's jaw-dropping grab only until Andrew McCutchen turned the 27th out into his personal showcase.
The Nationals were trying to ruin the night, two baserunners surrounding closer Mark Melancon as he tried to put away Anthony Rendon.
Rendon whistled a line drive up the middle, seemingly never more than 15 feet off the ground. McCutchen raced in, slid under the low drive and secured it in the webbing of his glove.
Game. Exhale. Erase those visions of the ball getting past McCutchen's aggression and turning the game upside down.
"With [No.] 22 out there, he's going to make a play if he thinks he can make a play," said manager Clint Hurdle, insisting his heart did not skip a beat.
For his part, McCutchen had a clear-headed approach to the play.
"I read it, and trusted my instincts, took the risk of trying to make the catch," McCutchen said. "And if it bounced, I'd try to keep it in front of me the best that I could."
That was the punctuation to a 2013-style win for the Pirates, with all the ingredients that went into their winning formula.
Harrison again did his thing atop the lineup and in right field, continuing to take ownership of two spots he was only meant to borrow. McCutchen again provided the key hit. Relievers again shut the door.
The Bucs had seen all of that before -- particularly recently. What they had not seen in a long while was one of their starting pitchers put his foot down, and not move it.
Edinson Volquez stomped on the Washington Nationals for six innings, allowing only two hits other than an Ian Desmond homer, while walking two and fanning four. He earned his second, and the entire rotation's sixth, win of the season.
"Keep the ball at the bottom of the strike zone, and keep the ball in the ballpark," Volquez said in summarizing his focus five days after having allowed four home runs to the Yankees.
"He pitched a really professional game," Hurdle said. "He used the changeup extremely well earlier, quality secondary pitch, the breaking ball played for him and the fastball command was good. It was just a really good effort."
Jeanmar Gomez and Tony Watson each put up a zero, then Melancon managed his eighth save to uphold Volquez's decision and Harrison's contributions.
For three weeks now, Harrison has performed as if in a Neal Huntington dream. What began as a mirage has turned into a portrait. Harrison has hit .341 (15-for-44) this month, and has scored 13 runs in his last 22 games.
On Thursday, he delivered the Pirates' first hit, a third-inning single that set up their first run, drew a fifth-inning leadoff walk that, thanks to his own hustle, turned into their second run for a 2-1 lead, and singled in the eighth to drive in their third run.
Harrison knows all about protecting one-run leads he helped arrange. Recall that flying catch in Yankee Stadium's left-field corner on Sunday? He provided his own instant replay in the sixth, this time in right field but again going airborne to his right to rob Wilson Ramos.
"Unbelievable," said the veteran Volquez. "Best catch I've ever had made behind me."
"One of the top catches I've seen. Really, really, really good. Better than the one in New York, if you ask me," McCutchen said.
Harrison could not downplay this latest bit of thievery. As teammates doffed their caps and 23,468 roared, Harrison broke into a wide smile.
"After I threw [the ball] in, Cutch was standing right over me, grinning ear to ear," Harrison related. "So I couldn't get up and play it cool.
"Hey, Cutch's [catch] saved the game. But they were both good, and it's great that we could make them, because our pitchers have been battling, Edinson battled, threw a great game."
Nationals rookie right-hander Blake Treinen gave Volquez a stiff fight until, in his second start of the season, fatigue possibly played a part in a decisive fifth.
Treinen began the fifth by walking Harrison on four pitches, the last of which was his 71st of the game, one shy of his season high. When Neil Walker flied out to deep center, Harrison alertly tagged up and advanced to second, in position to score on McCutchen's ensuing single.
McCutchen's 1-for-2 (in addition to getting hit by a pitch and a walk) output improved his average in 17 career games against Washington to .443 (27-for-61).
"He had my number pretty good tonight," Treinen said. "I need to execute pitches a little better next time. My stuff plays [in the big leagues], I just have to execute pitches. Next time I'm out, I'll do a better job of it."
Treinen had retired the first eight men he faced before helping the Bucs to a run, starting with a two-out walk of Volquez. Harrison drilled the Pirates' first hit, then Walker also drew a walk before Treinen's first pitch to McCutchen nailed him on the left elbow, forcing in the run.
Washington's tying marker the next inning was slightly more expeditious; Desmond led off with his eighth homer -- and the ninth struck off Volquez in his last five starts.
Tom Singer is a reporter for MLB.com and writes an MLBlog Change for a Nickel. He can also be found on Twitter @Tom_Singer This story was not subject to the approval of Major League Baseball or its clubs.