Rockies edged late by Giants in resumed game
Two eighth-inning runs the difference in contest delayed from May 22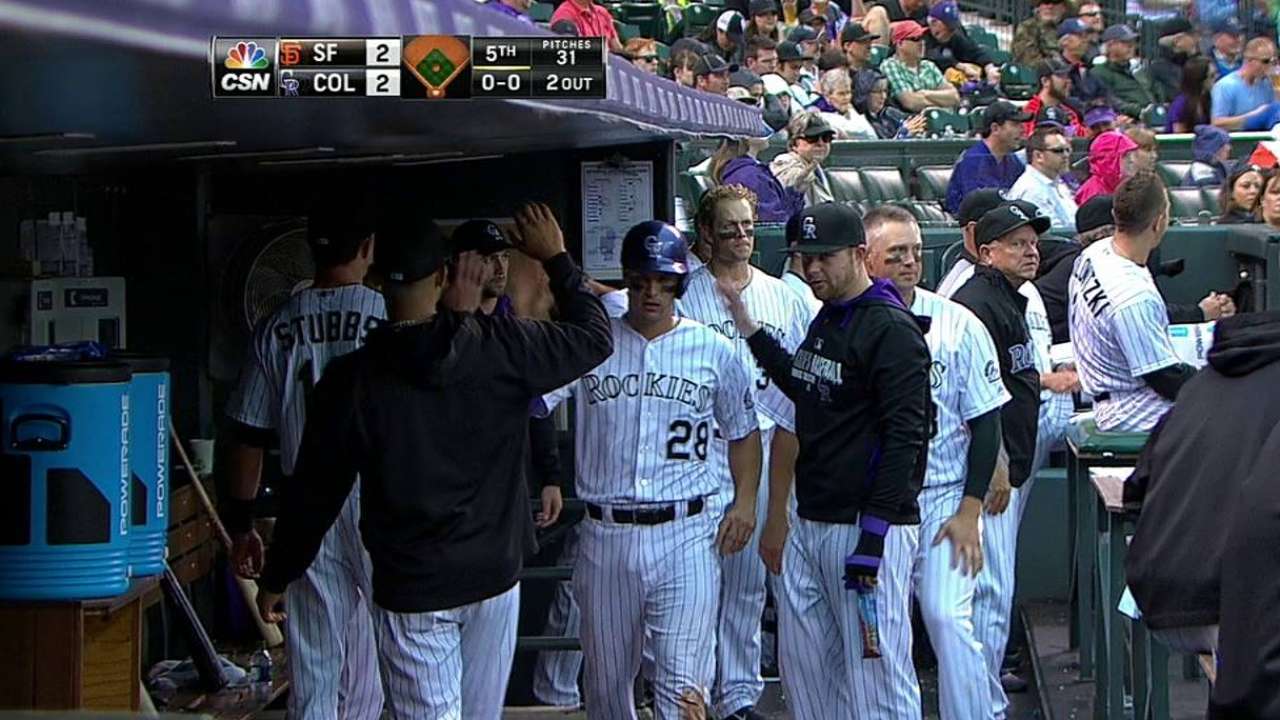 DENVER -- A lot can change in a 3 1/2-month rain delay.
When a storm first forced the Giants and Rockies to suspend play in the bottom of the sixth May 22, Colorado was sitting pretty at 26-21 -- just three games behind the National League West-leading Giants.
Since that time, the Rockies have gone 28-61 to find themselves just one win above the Rangers for the worst record in baseball entering the resumption of play. And on Monday, the Rockies couldn't regain their May mojo, falling to the Giants, 4-2.
"I felt like we had the upper hand when that game started," said manager Walt Weiss about the original contest, which experienced an initial rain delay after three innings that knocked Rockies starter Jorge De La Rosa and Giants starter Tim Hudson out of the game. "We got a lead and Jorgy had to come out of the game because of the rain. Then they scored two when the game resumed [May 22]. We had 10 hits at that point in the game. It looked like we were going to win."
With the game resuming tied at 2, left-hander Christian Friedrich took over for the Rockies in the seventh following a flurry of substitutions.
After Friedrich's 1-2-3 first frame, Giants catcher Andrew Susac snuck a single past Nolan Arenado for the first post-rain-delay hit.
With Susac advancing to third on a groundout and a dropped third strike, manager Walt Weiss elected to bring on Adam Ottavino to face Hunter Pence. Already entering with an RBI from a homer May 22, Pence delivered again with a double to plate the go-ahead run.
"Pence is a clutch hitter," said Weiss. "He put together a good at-bat against Otto and got a big hit off him."
The Giants added another on back-to-back singles from Buster Posey and Travis Ishikawa in the same inning before Posey ran into the third out between second and third.
Before the original rain delay May 22, the Rockies struck first with an RBI single from Michael Cuddyer in the third.
The Giants got their initial runs on a solo homer from Pence and Pablo Sandoval's RBI double in the fourth. The Rockies managed to even it up when Arenado came home to score on Wilin Rosario 's fifth-inning, double-play ground ball before the field was deemed unplayable.
Cody Ulm is an associate reporter for MLB.com.
This story was not subject to the approval of Major League Baseball or its clubs.