Rizzo's shot, Arrieta's gem puts Cubs on cruise control
Slugger stings former club with two-run homer; Righty earns first win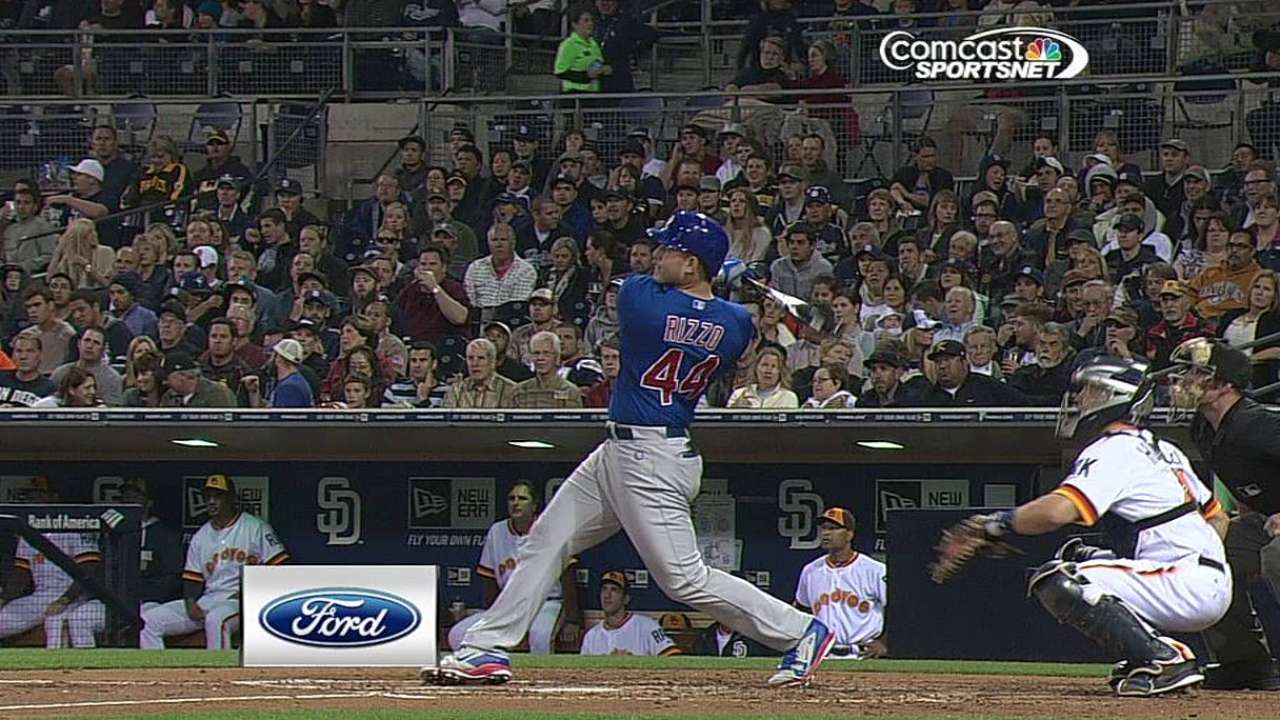 SAN DIEGO -- Before Thursday night's opener of a 10-game road trip, Cubs manager Rick Renteria added up the relief pitchers available to him at Petco Park.
The answer: Three.
A 13-inning loss to the Yankees on Wednesday, coupled with several other close games recently, had taxed the Cubs' bullpen.
So Renteria came up with a plan. Right-hander Jake Arrieta was going to go as long as he could Thursday night. And after Arrieta was finished, right-handed reliever Carlos Villanueva was going to go as long as he could.
Just four starts back from the disable list, Arrieta set season highs with six innings and 94 pitches. After he was done, Villanueva went the final three innings.
The result was a 5-1 Cubs' victory with the offense highlighted by a two-run homer by former Padre Anthony Rizzo.
"We needed Jake and Villanueva to come through and they did," Renteria said after the Cubs picked up their fourth win in their last five games. "I was staying away from four guys in the bullpen."
He was able to stay away from six.
Arrieta and Villanueva combined to hold the Padres to seven hits and a walk with 10 strikeouts.
Arrieta, who missed the first month of the season with shoulder tightness, allowed one run -- a first inning solo homer by Padres left fielder Seth Smith -- on four hits and a walk to earn his first win of the season.
Villanueva allowed three hits over three shutout innings to record his first save since the 2010 season and the Cubs' first three-inning save since July 18, 2007.
"Jake did a nice job today," said Renteria. "He pushed himself and did a better job of commanding the ball. Other than that one pitch, he did a great job. He worked as efficient as he possibly could."
"I wanted to get deep into that game and preserve the guys in the bullpen," said Arrieta. "I used my changeup more than normal because I had good command of it."
Padres catcher Nick Hundley said he was "impressed" with Arrieta.
"I think I faced him in 2010 when he was with the Orioles and he's a completely different pitcher now," said Hundley. "He has a good, hard cutter and backed it up with a fastball. And the curve was an equalizer for him. He threw it for strikes then threw it out of the zone later in the game."
Rizzo, who was acquired by the Cubs in the Jan. 6, 2012, trade that sent right-handed pitcher Andrew Cashner to the Padres, more than answered Smith's shot with a two-run homer in the fourth off Padres left-handed starter Eric Stults.
Left fielder Junior Lake opened the fourth with a perfect bunt up the third-base line for the Cubs' first hit. Rizzo followed with a 417-foot drive to right center for his eighth homer of the season -- and only his second homer in 79 at-bats at Petco Park.
"I'm starting to enjoy this ballpark," said Rizzo, who struggled at Petco Park as a rookie in 2011, two seasons before the Padres moved in the fences in right.
"It's still big and it's bigger at night," said Rizzo. "I still don't like taking batting practice here."
Rizzo's homer off Stults was his fourth against left-handed pitching this season and raised his batting average against left-handers to .300 with a .411 on-base percentage.
"It's going to be a constant battle against left-handers," said Rizzo.
"Rizzo's approach has been pretty solid," Renteria said of the first baseman who he first saw while the bench coach on the Padres' staff.
"Everyone here in San Diego liked him and believed he could play."
The Cubs took a commanding 5-1 lead in the fifth on run-scoring singles by Darwin Barney and Emilio Bonifacio and an RBI double by Lake against Stults.
Nate Schierholtz opened the fifth by pulling a lead-off double into the right-field corner off Stults. After Barney singled Schierholtz home, he was advanced to second and scored on Bonifacio's single.
Bill Center is a contributor to MLB.com. This story was not subject to the approval of Major League Baseball or its clubs.