Stults slips up after quick start, Padres' skid hits four
San Diego's sole run comes on Smith's first-inning homer, his sixth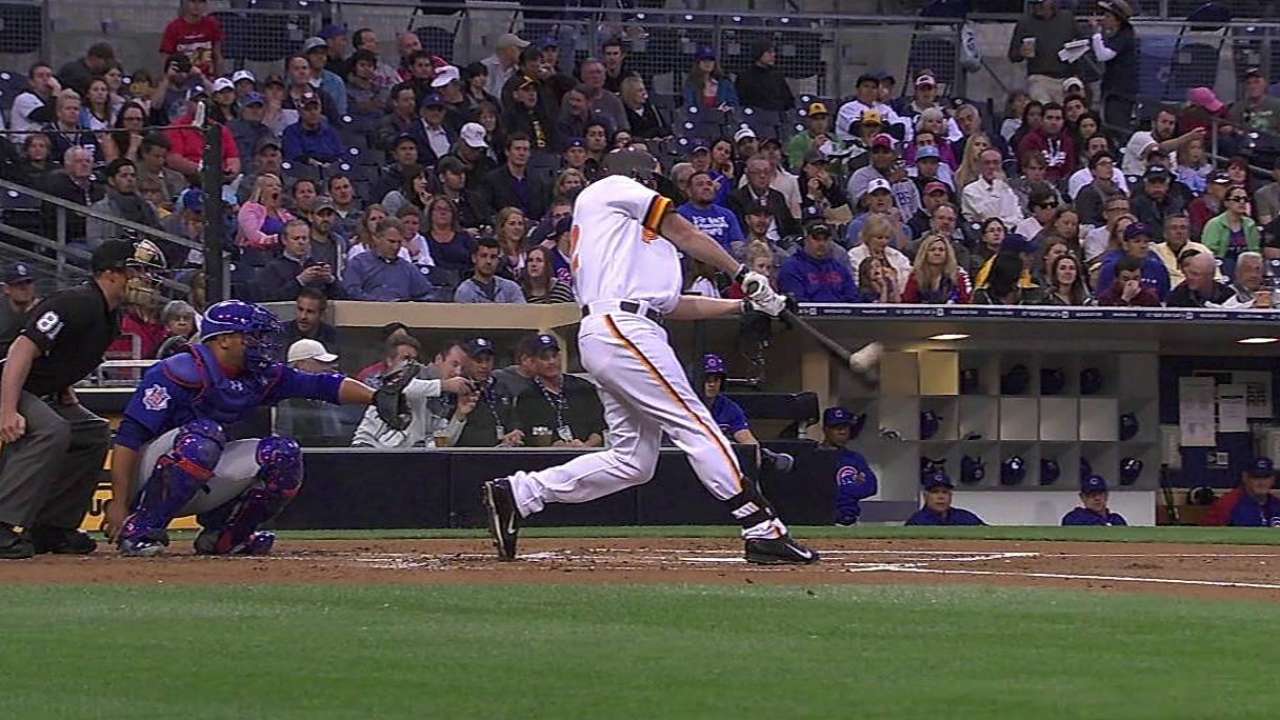 SAN DIEGO -- Dave Roberts' night of filling in for manager Bud Black certainly began on a nice note, as he took the lineup card to the plate prior to the game where he shook hands with friend and former Padres coach Rick Renteria, now the manager of the Cubs.
"The night started out nicely," said Roberts, the current Padres' bench coach.
For Roberts and the Padres, there were a scant few highlights thereafter, especially after Cubs' starting pitcher Jake Arrieta tied the team in knots for six innings in a 5-1 victory on Friday before a crowd of 21,263 at Petco Park.
Arrieta (1-0) allowed one run on four hits over his six innings and Carlos Villanueva threw three shutout innings of relief as the Cubs (17-28) took the first game of the four-game series.
The Cubs got all the offense they would need on one mighty wave of the bat from a player very familiar to the Padres and their fans -- first baseman Anthony Rizzo, who clubbed a 3-1 fastball from starter Eric Stults into the sandbox beyond the center-field fence in the fourth inning.
"I'm starting to enjoy this ballpark," said Rizzo, who made his Major League debut with the Padres in the 2011 season, only to be traded the following January to the Cubs. "… It's nice not to have to take batting practice here. It's still very big."
The Padres (21-27) had a little thunder of their own, as Seth Smith -- he of the .338 average -- hit a 416-foot home run off Arrieta in the bottom of the first inning.
But for a team that has now lost its last four games, the Smith home run -- his team-leading sixth of the season -- wasn't a precursor to a big offensive night. In fact, it was quite the opposite.
Credit that to Arrieta, a player the Padres have had interest in to some degree going back to his days in Baltimore. Arrieta leaned on his cut fastball, changeup and curveball Friday. Arrieta finished with seven strikeouts and one walk before giving way to Villanueva.
"I was impressed," said Padres catcher Nick Hundley. "I think I faced him in 2010 when he was with the Orioles and he's a completely different pitcher now. He had a good, hard cutter and backed it up with a fastball and the curve was an equalizer for him. He threw it for strikes and then threw it out of the zone later in the game."
Case in point, Smith's third plate appearance after hitting the home run and drawing a walk, Arrieta went after Smith with a first-pitch changeup for a strike and then two consecutive curveballs, also for strikes, the last of which he rolled over on for a ground-ball out.
"This season he's been a little erratic with commanding the strike zone," Roberts said of Arrieta. "But tonight he did have command of his three pitches, kept us off-balance, throwing all of his pitches for strikes. We just couldn't put any hits together.
"Seth started us off with a big ball, which was nice to see, and got a walk later. But we couldn't string hits together."
Roberts was filling in for Black, who flew out late Thursday for his youngest daughter Jessie's graduation Friday from the University of Maryland. Black is expected back for Saturday's game.
Stults (2-5) was sharp early, burying his fastball and secondary pitches down in the strike zone where he induced weak contact from the Cubs' hitters.
In fact, Stults retired nine of the first 10 batters he faced before Junior Lake dropped down a bunt for a single to start the fourth inning. The next hit that Stults allowed -- the home run to Rizzo -- went a whole lot further, 417 feet, in fact.
"It was a good start … early in the game, everything was working," Stults said. "At 3-and-1 [on Rizzo], I challenged him and he put a good swing on it."
Stults went 4 2/3 innings and allowed all five runs. Nick Vincent, Alex Torres and Blaine Boyer finished the game without allowing another run. Boyer, added to the roster earlier in the day from Triple-A El Paso, pitched two scoreless innings to close the game.
It was Boyer's first Major League appearances since April 11, 2011 while with the Mets.
"That was good, that was a positive. It was good to see him control his emotions and go up there and let it go. He was throwing fastball for strikes, velocity was good, going after hitters. For us to get two innings out of him was good," Roberts said.
Corey Brock is a reporter for MLB.com. Keep track of @FollowThePadres on Twitter. This story was not subject to the approval of Major League Baseball or its clubs.