Phelps, Yanks unable to overcome Sale's dominance
Righty allows two runs over seven innings; offense held to three hits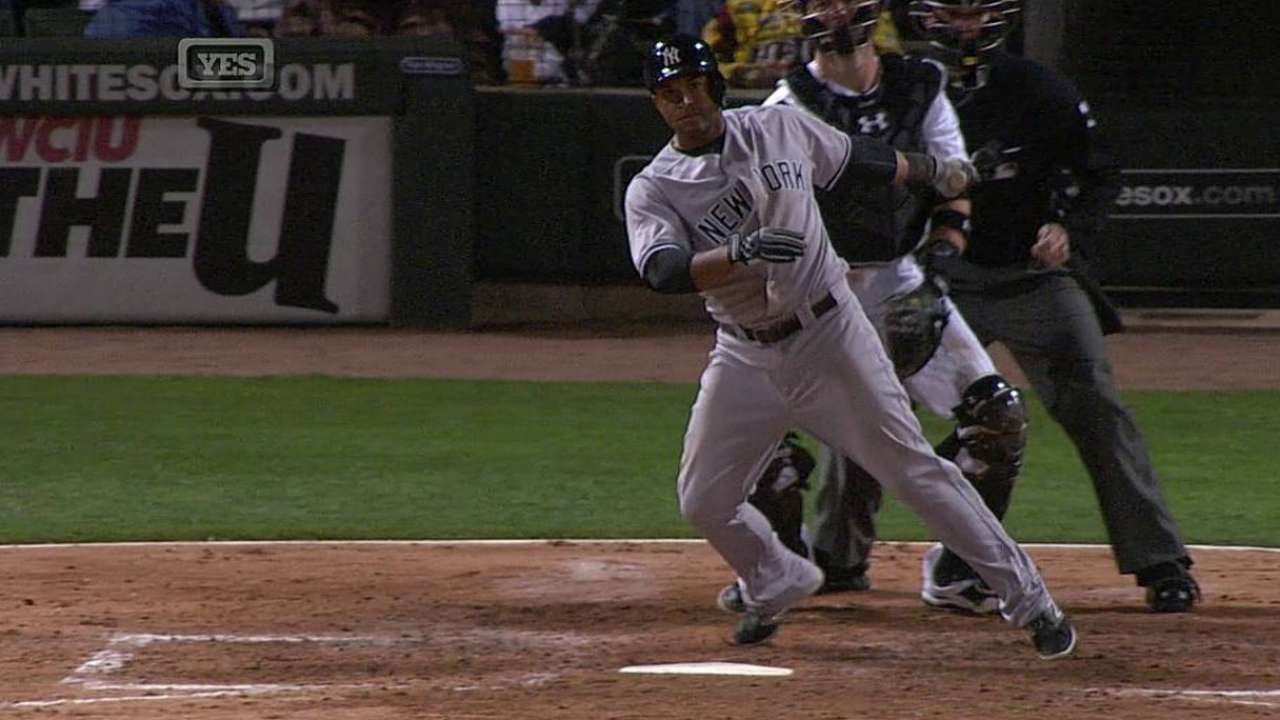 CHICAGO -- The Yankees had enough notice to prepare for Chris Sale's return from the disabled list, but they would have been much more excited if the White Sox had asked the dominant left-hander to make one more rehab start in the Minors.
Reinstated to the active roster on Thursday, Sale was nearly unhittable, retiring the first 17 batters he faced and striking out 10 over six scoreless innings as the Yankees were defeated, 3-2, on Thursday night at U.S. Cellular Field.
"When you have a guy like that, if he's not leaving anything over the middle of the plate, you don't have a chance," Yankees first baseman Mark Teixeira said. "And we really didn't tonight."
Teixeira drove in the Yankees' runs with a ninth-inning single off Ronald Belisario, drawing New York back into the contest after Alfredo Aceves coughed up what turned out to be an important run in the eighth inning.
Belisario then struck out Alfonso Soriano looking to end the game, stranding pinch-runner Kelly Johnson aboard as the potential tying run. Soriano said that he believed home-plate umpire Tom Woodring rang him up on a pitch that was not a strike.
"I know the umpires, they have a tough job, it's not easy to be an umpire. But that ball is up and in," Soriano said said of a pitch that was dropped by catcher Tyler Flowers, who picked it up and tagged out Soriano. "I never blame, I never say nothing to an umpire. But that pitch is a ball."
Alejandro De Aza and Adam Eaton drove in runs for the White Sox against Yankees starter David Phelps, who completed seven strong innings of two-run ball but still departed with a tough-luck defeat.
"I knew I had to put up zeros, because he wasn't going to give anything up today," Phelps said. "That was one of the better outings I've seen out of anybody."
Sale missed more than a month with a flexor strain in his left arm, and Girardi stacked his lineup with right-handed bats, benching Brett Gardner, Brian McCann and Ichiro Suzuki in nods to the fact that Sale hasn't allowed a hit to a lefty all season (0-for-23).
The logic made sense, but the results were largely the same. The gangly Sale breezed through the Yankees' through 5 2/3 innings before Zoilo Almonte finally logged New York's first hit, a clean single to center field.
"You pick it up late. He's really tall and he throws sidearm," Teixeira said. "You put all three of those together and deception is a big part of his game."
Almonte's hit took White Sox manager Robin Ventura off the hook from making the difficult decision of pulling Sale with a perfect game intact. The White Sox were only going to permit Sale to hit 90 pitches, and he finished with 86 before yielding to the bullpen.
"I don't think I've ever been more excited to give up a hit in my life," Sale said. "I knew I was done after that sixth, and Robin said the same thing; he goes, 'You picked a bad night to do something like that.' It was all in fun, just joking around but it was good to be back out there. I enjoyed it."
Sale made the Yankees appear ridiculous at times: Brendan Ryan whipped his bat toward third base on a strikeout and Almonte lost his helmet hacking at an offering. Mostly, they just looked uncomfortable.
"He's been tough against us for a few years now. We know what he's capable of doing," Girardi said.
Phelps offered another encouraging performance as the Yankees continue to evaluate their rotation on a turn-by-turn basis. Making his fourth start of the season, Phelps scattered six hits with a walk and eight strikeouts in a 104-pitch outing.
Chicago scored its two runs off Phelps in the second inning, stringing together some two-out damage. Paul Konerko and De Aza ripped back-to-back doubles, and after a walk to Flowers, Eaton cashed the second White Sox run with a single to left field.
"I'm happy with the way I threw the ball the rest of the game, but it's a tough loss to take," Phelps said.
Short of bullpen options after a 13-inning affair across town at Wrigley Field on Wednesday, Girardi gave Aceves the ball for the eighth. Gordon Beckham opened the inning with a double and scored on Adam Dunn's two-out single, swelling Aceves' ERA to 6.08.
The Chicago trip has been near-silent for Yankees hitters so far; they've managed just one run and nine hits over 18 2/3 innings against the three starters they've faced: Jason Hammel, Jeff Samardzija and Sale, losing two of the three contests.
"We've run up against three pretty good starting pitchers, but I know we're capable of hitting better than this," Girardi said. "You go through it as an offense. We have to come out and score some runs tomorrow; try to get some early and just keep tacking on."
Bryan Hoch is a reporter for MLB.com. Follow him on Twitter @bryanhoch and read his MLBlog, Bombers Beat. This story was not subject to the approval of Major League Baseball or its clubs.