D-backs lose their grip on Cardinals again
Two-out struggles persist in third straight loss to St. Louis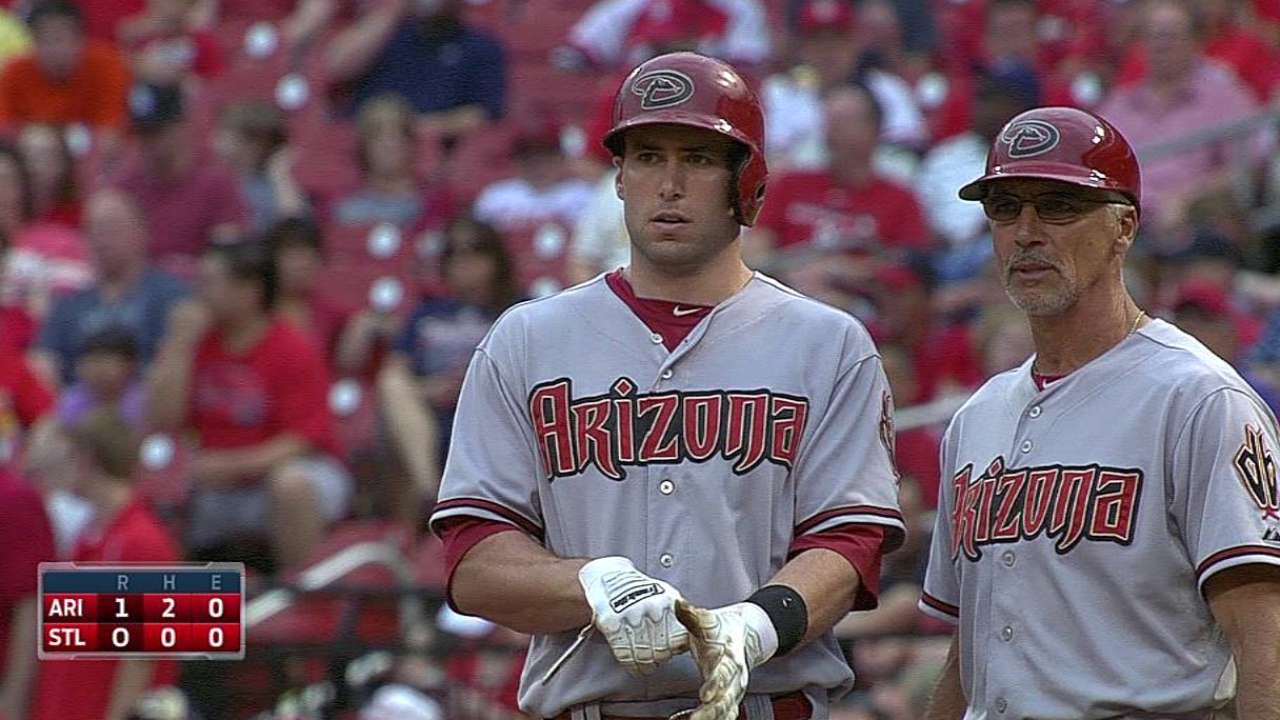 ST. LOUIS -- Third outs proved to be the toughest ones to get for the D-backs during their three-game series with the Cardinals.
That wound up being Arizona's undoing as nine of the 12 runs the Cardinals scored while sweeping the series came with two out.
On Thursday night, all of their runs came with two outs as they beat the D-backs, 4-2, at Busch Stadium.
"They scored two-out runs on us this whole series," D-backs manager Kirk Gibson said. "They're very good at it, they have been."
Arizona starter Wade Miley performed an impressive rope-a-dope strategy through the first five innings. The left-hander did not allow a run, but he had to battle as the Cardinals continued to put traffic on the basepaths.
The dam finally broke in the sixth inning.
With two outs and a runner on first, Jhonny Peralta doubled to left and Shane Robinson followed with a two-run double to tie the game at 2-2.
"If I make a better pitch ..." Miley lamented of the offering to Robinson. "I mean, it was down, but down the middle. Down and away and he probably hits a weak fly ball or a ground-ball out. Just location."
Gibson then faced a decision with Miley set to lead off the top of the seventh.
Miley was at 94 pitches, but with relievers Trevor Cahill and Evan Marshall unavailable, Gibson decided to stick with Miley.
"He was throwing the ball good," Gibson said. "He's earned the right to go back out there."
The gamble seemed to pay off when Miley retired the first two hitters of the seventh, but then the two-out demons returned. Miley proceeded to walk Matt Holliday, which brought Allen Craig to the plate.
Gibson then paid Miley a visit on the mound.
"I knew he wanted to stay in the game and I thought he earned that," Gibson said. "I gave him a chance to shut them down and chance to get the win, but he gave up the hit and it didn't work out."
Craig hit a first-pitch fastball -- Miley's 115th and final pitch of the game -- into the gap in right-center for an RBI double and a 3-2 Cardinals lead.
"I've got to make better pitches in that situation," Miley said. "That's just the way it is. I was trying to go in. It was down, just down the middle. That's what he's trying to do, He's diving a little bit just trying to hit the ball the other way. In that situation he's trying to get back on track and you make a better pitch and it's a different situation."
The game looked to be headed in a different direction at the start when the D-backs took a 2-0 lead four batters into the game.
Gerardo Parra led off the game with a single off Lance Lynn, then Martin Prado walked. Paul Goldschmidt drove home Parra with a single and Aaron Hill followed with a sacrifice fly to score Prado.
"The first inning was great," catcher Tuffy Gosewisch said. "We got on [Lynn] right away. He's a quality pitcher, and he threw the ball. We had some good at-bats in the first inning and put a couple of runs up. Later in the game, we had a couple more opportunities to score that we didn't take advantage of. In the end, that's what wins and loses ballgames, if you can take advantage of those scoring opportunities as often as possible."
The D-backs had a golden opportunity in the fourth when Cliff Pennington led off with a double and Gosewisch bunted for a base hit. Lynn, though, retired the next three hitters to end the inning.
"I stopped throwing the ball down the middle," Lynn said when asked what the difference was for him after the first inning. "I left a few balls up in the first and I walked a guy. It was kind of everything at once, but then I was able to regroup and with our offense, you keep them at two, you have a chance to win. It worked out for us."
Steve Gilbert is a reporter for MLB.com. Read his blog, Inside the D-backs, and follow him on Twitter @SteveGilbertMLB. This story was not subject to the approval of Major League Baseball or its clubs.