Gallardo's status for next start still up in air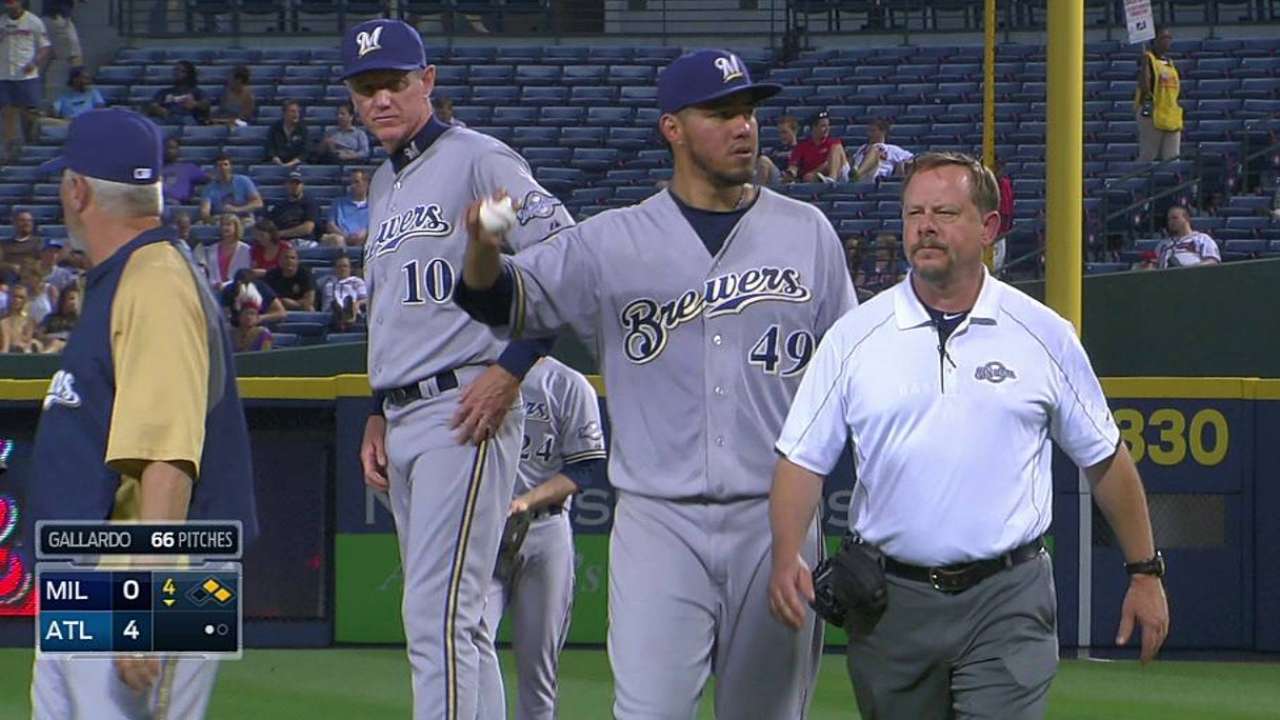 ATLANTA -- Yovani Gallardo's sprained left ankle was improved on Thursday, and the right-hander will throw a bullpen on Friday to determine whether he will take the hill for his next scheduled start against the Marlins on Sunday in Miami.
"If he's still feeling it, it will be a really light bullpen [session] and we won't go with him," Brewers manager Ron Roenicke said. "If he comes in and he feels nothing, he's going to probably go through his bullpen harder and we'll see where we're at."
Gallardo played catch and pedaled on an exercise bike on Thursday after not throwing at all on Wednesday. If Gallardo misses Sunday's start, he will not go on the disabled list and could simply rejoin the rotation when he is healthy enough to pitch again.
"I just wanted to get out there today and see how it felt," Gallardo said. "Obviously, you don't expect it to completely go away in two days, but I was able to get my work in, which is the most important thing."
Even if Friday's bullpen session goes well, Gallardo's status could hinge on how his ankle responds to off-mound activities. Roenicke discussed with Gallardo how the hurler needs to be able to operate outside the controlled conditions of a bullpen session.
"He's going to get ground balls back at him, he's going to have to cover first base. He's a good hitter, so there's a good chance he may be running the bases," Roenicke said. "There's just so much that isn't controlled that it's risky."
Gallardo does not want to be in a position where he is trying to protect his ankle out on the mound. He said he could pitch if the injury is "something small that you know it's there," but that pain would prevent him from performing to his full capability.
"It's just a matter of just being able to keep everything the same and not trying to overcompensate," Gallardo said. "If something's bothering you, of course, that's when there'd be more stress on your arm, elbow or shoulder trying to protect the ankle, you put more stress on other parts."
Roenicke has a plan in place should Gallardo not start on Sunday but opted not to announce anything on Thursday. He previously mentioned righty Tyler Thornburg as a possibility, but noted that he was not keen on pulling Thornburg out of the stable of bullpen arms for the four days following a hypothetical start.
Thornburg had the chance to stretch out when he pitched 3 2/3 innings of relief following Gallardo's injury on Tuesday. A solo home run by Justin Upton was the lone damage done against Thornburg, who threw a season-high 49 pitches.
Thornburg is 2-1 with a 2.37 ERA in 10 career starts, recording a quality start in each of his seven starts for Milwaukee last season. He proved especially effective in the rotation last September, compiling a 2.16 ERA in four late-season starts.
Joe Morgan is an associate reporter for MLB.com. This story was not subject to the approval of Major League Baseball or its clubs.