Orioles drop opener to Indians in 13 innings
Season's longest game turns on two-run double with bases loaded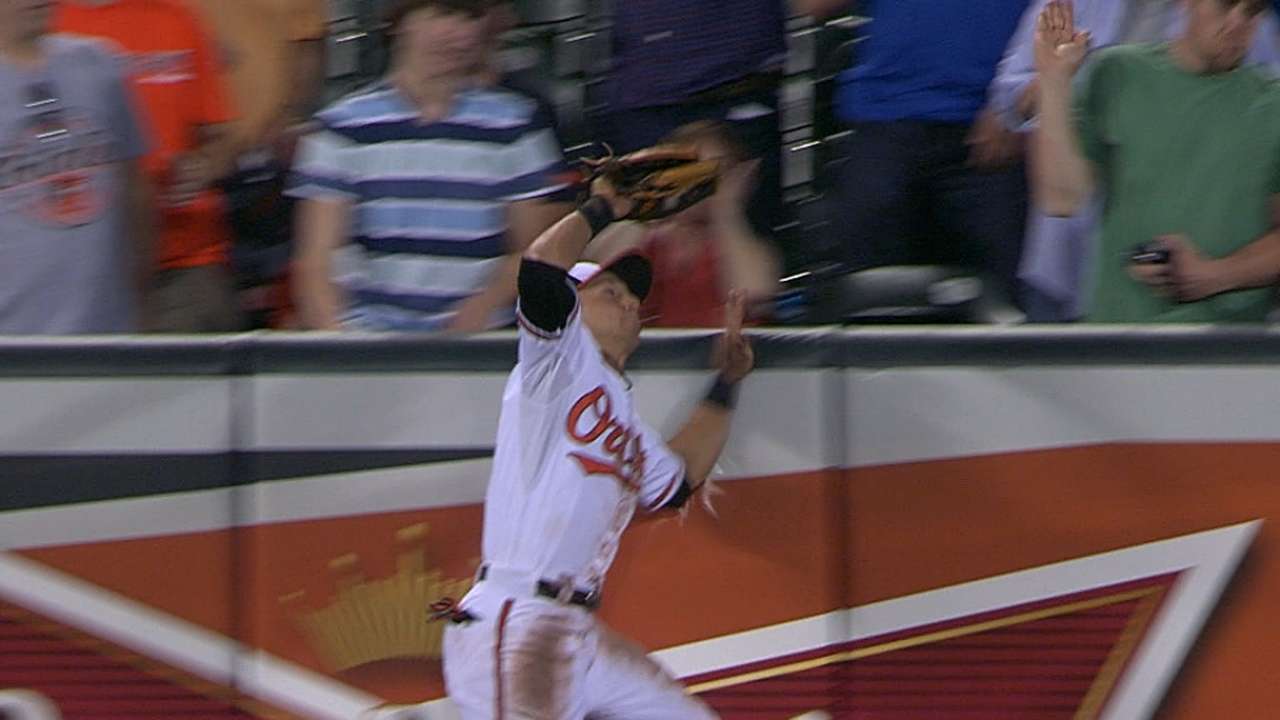 BALTIMORE -- For the last three years, the Orioles have owned extra innings, sporting a 28-9 record since the start of 2012 and winning their first four bonus baseball games in 2014.
But they couldn't hang on in their longest game of the season on Thursday night, with lefty Troy Patton -- the sixth pitcher called on by manager Buck Showalter -- allowing a pair of runs in the 13th inning to hand the O's a 8-7 series-opening loss to the Indians at Camden Yards.
"The positive aspect is we're swinging the bats better," Showalter said of an offense that has scored 30 runs in its last four games, but is 1-3 over that stretch. "So, you can look at it half-full, half-empty. You'd like to take advantage of that type of offense. You use a lot of energy and concentration to get back in the game -- we were down 3-0 -- I was real proud of that. And then we kind of gave it right back.
"You can say there were a couple pitches we'd like to have back, but there were also a bunch of really good pitches made to keep them at bay and give us a chance."
Cleveland, coming off another 13-inning win over Detroit on Wednesday afternoon, loaded the bases against Patton with two outs before Carlos Santana's double fell just on the right side of the third-base line.
"It was a really tough inning," Patton said. "Both of those lefties got on on weak contact, strange contact, had two guys on before I even knew what was going on. It was kind of an uphill battle from there."
Patton allowed a pair of one-out singles and walked Nick Swisher, moving within an out of ending things on Yan Gomes' fly ball before Santana struck.
"Just his command's off," Showalter said of Patton, who has pitched to an 8.10 ERA in nine games since returning from the restricted list. "He's getting a couple counts in his favor and just hasn't been able to finish the at-bat off. He's got some things that he's capable of that he's just not executing."
The Orioles offense had plenty of chances to end the game before that, stranding runners in five consecutive innings from the eighth on, as they went 3-for-12 with runners in scoring position and left 11 on base through the first 12 innings. Baltimore got a brief jolt on Nick Markakis' solo homer in the 13th, but All-Star Manny Machado's departure with a groin injury only added to a frustrating night.
Machado said he first felt the right groin stiffness on a slide into second in the fourth inning, and it just progressively worse. Showalter approached the 21-year-old later in the game and decided to play it safe, pulling Machado before the 12th inning started.
"I tried to keep things where it wasn't a bad pain or something like that," said Machado, who hoped to be back in the lineup on Friday. "You just keep playing through it. Grind it out. And hopefully it'll just keep getting better but at that point it didn't. It was out of my hands and Buck came up to me and asked me how I was feeling. I gave him an answer and he took me out of the game."
The marathon contest saw the Orioles last take the lead in the seventh inning thanks to a pair of Tribe infield errors. Machado reached on shortstop Asdrubal Cabrera's one-out fielding error and Adam Jones' tailor made double play was fielded by third baseman Santana and thrown into the outfield.
After Indians reliever Mark Lowe intentionally walked Chris Davis, red-hot Nelson Cruz delivered a sacrifice fly to score Machado and extend his team lead in RBIs to 42.
But the lead was short-lived as right-hander Darren O'Day served up a solo homer to pinch-hitter Lonnie Chisenhall one out into the eighth. O'Day, called on after lefty Brian Matusz struck out Michael Brantley, recorded a pair of strikeouts after that, and lefty Zach Britton threw two scoreless innings to follow.
Righty Preston Guilmet, recalled before the game, threw 2 1/3 scoreless innings against his former club before handing the ball off to Patton.
"Guilmet looked amazing. He was locating very well," Patton said. "Obviously, Britton did a great job, too. I don't know how many innings I would have thrown there, but it was my job to throw as many as I can. I was in trouble from the start."
Oriole starter Wei-Yin Chen pitched better than his final line indicated in the no-decision, going 6 2/3 innings and allowing five runs. Chen gave the Indians an early three-run cushion, but he settled in after that to retire 10 straight after Swisher's leadoff single in the fourth.
The lefty ran into trouble in the seventh as Chen was charged with two runs and exited to scattered applause. The Tribe got their first hit since Swisher's in the fourth on Gomes' one-out single and Santana sent a ball under Ryan Flaherty's glove at second base to put runners on the corners.
Flaherty bobbled the following grounder and was able to get the out at first, but Gomes scored in the process. Mike Aviles tied things up and Chen exited in favor of Matusz.
"I thought he deserved a lot better fate," Showalter said. "He was pretty sharp. I thought his breaking ball was sharper. We had a passed ball that cost him. I don't know what they scored it, but Stevie's [Clevenger] pretty good at that, and just slipped through. But he pitched well enough to win. You score seven runs, you like your chances, but we just couldn't get a couple key outs there."
The Orioles finally broke through off Indians starter Justin Masterson, pitching on three days rest, in the sixth inning.
After putting runners on in each of the first four innings and leaving the bases loaded in the fifth, the O's capitalized on some miscommunication in the Indians outfield to get a leadoff double from Adam Jones. Jones advanced to third on a wild pitch and, after Cruz walked, Clevenger sent a ball up the middle to cut the deficit to two. J.J. Hardy followed with an RBI single into center before Flaherty took a 2-1 pitch deep for his first homer of the season.
Brittany Ghiroli is a reporter for MLB.com. Read her blog, Britt's Bird Watch, and follow her on Twitter @britt_ghiroli. This story was not subject to the approval of Major League Baseball or its clubs.