Marlins shake off blown lead, walk off vs. Phillies
After Ramos, Dunn struggle in eighth, Yelich caps two-out rally in ninth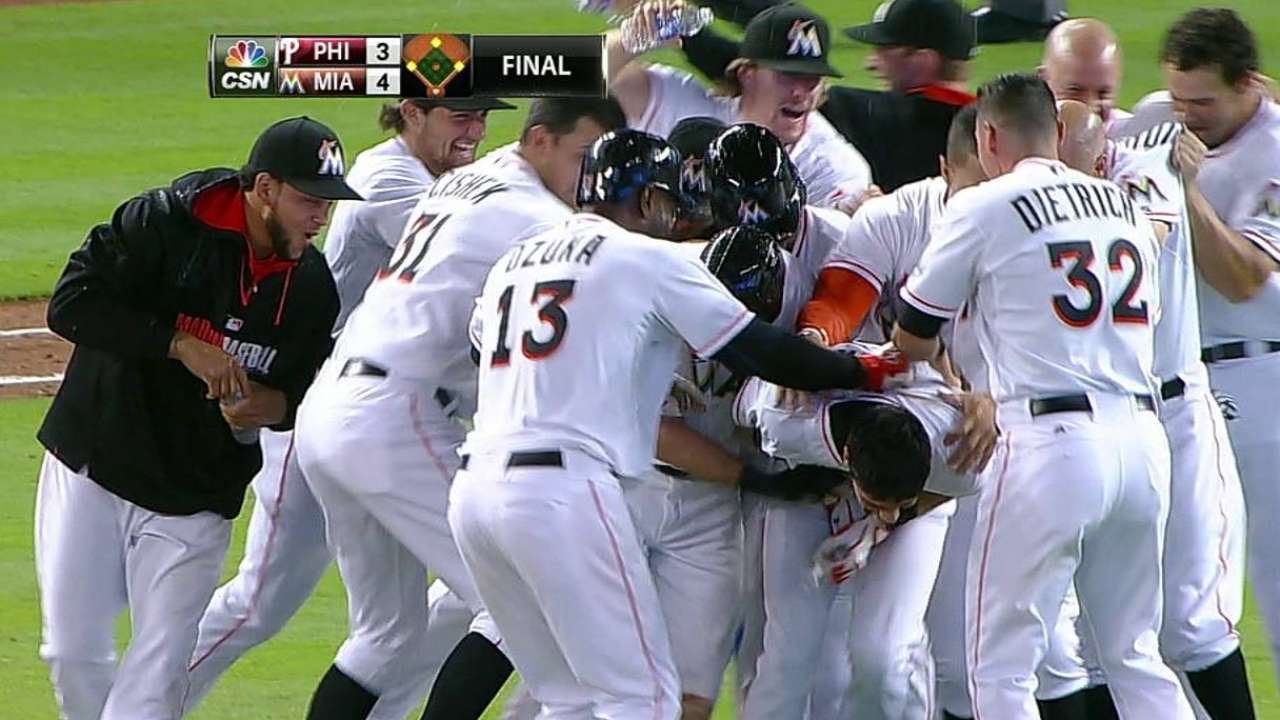 MIAMI -- Suffering a little pain comes with the territory after coming through with a big hit.
Christian Yelich experienced a horse-collar takedown on Thursday afternoon. If it were a football game, there would have been a penalty flag. But on the baseball diamond, it was just part of the celebration.
Yelich came through with his first career walk-off hit, a two-out single in the ninth inning that lifted Miami to a 4-3 win over the Phillies at Marlins Park.
In tradition with walk-off wins, a bit of a mob scene followed.
"I got horse-collared out there," Yelich said. "I'll take it. You know you're probably going to get beaten up a little bit. But it's an awesome feeling, that's for sure."
Before the Marlins players rejoiced by jumping on each other, the team felt like it endured a kick in the gut after squandering a three-run lead in the eighth inning.
"Had we lost that game, that would have been a tough one," manager Mike Redmond said. "It was fitting to get Yeli up there at the end. He had a couple of situations like that where he needed to get a big hit. He hasn't come up with one. I was sitting over there thinking, 'Man, this would be a perfect game to get a big hit.' Sure enough if he didn't."
The walk-off was the Marlins' fifth of the season, and fourth in May.
The Marlins, after going 4-7 on their West Coast road trip, ended up taking two of three against the Phillies, and they improved to 25-23 on the season. Miami also improved to an MLB-best 19-6 at home.
"It's really important, especially against a divisional opponent," Yelich said. "For us to get ahead like that early, and they came back on us. ... To be able to finish it there at the end, it's huge for us."
It took three straight two-out singles to push across the decisive run. The Marlins loaded the bases off lefty Jake Diekman, who had never given up a run against Miami in eight previous appearances.
Marcell Ozuna got the inning rolling with a one-out single. Jeff Mathis and pinch-hitter Reed Johnson slapped two-out singles. Johnson's single was an infield roller, which caused Ozuna to stop at third.
On a 1-1 Diekman offering, Yelich slapped his decisive single into center field, scoring Ozuna and sparking the on-field celebration.
"I was just thinking, 'Don't leave me here. Don't leave me here,'" Ozuna said of Yelich. "Put the ball in play and let's see what happens. He did a good job. He put the ball in play up the middle and scored me."
Ozuna enjoyed a big game, delivering a two-run homer and scoring the winning run.
"I didn't execute well enough," Diekman said. "I left a lot of balls over the plate, which you can't do, especially here, because if it finds the outfield, it's huge."
Henderson Alvarez gave the Marlins seven shutout innings, and he was in line for the win before the bullpen faltered in the eighth.
With Jose Fernandez out for the season due to Tommy John surgery, the Marlins are looking for the rest of the rotation to work deep into games.
"With Jose's injury, we don't feel extra pressure individually," Alvarez said. "We feel it as a whole. As a unit we've got to go out there and do our best and carry each other."
Alvarez and Cole Hamels were engaged in a pitchers' duel, keeping the game scoreless until the Marlins broke through in the sixth. With one out, Ed Lucas doubled to left, and with a base open, the Phillies went after Giancarlo Stanton, who ripped an RBI single to right. Stanton leads the Majors with 45 RBIs.
In the seventh inning, the Marlins padded their lead to three runs. Jeff Baker singled off Hamels and Ozuna blasted a two-run homer to left. On Wednesday night, Ozuna connected on his first MLB grand slam, and he drove in a career-high five runs.
The Phillies were able to erase their deficit and get Hamels off the hook in the eighth inning. A.J. Ramos walked Jimmy Rollins after being ahead 0-2 in the count. With one out, Mike Dunn entered to face Chase Utley, who doubled. With runners on second and third, Ryan Howard lifted a sacrifice fly to left.
Miami still had two outs and a two-run lead before Marlon Byrd crushed a game-tying shot to the deepest part of the park. The ball sailed over the 418-foot marker on the center-field wall, and the score was even at 3.
Before the home run, Dunn had made nine consecutive scoreless appearances.
"When Byrd hit that ball, initially I didn't think he got it that good," Dunn said. "I was thinking at least it is to the deepest part of the park. Just a bad pitch, right down the middle of the plate.
"It was huge for the offense to come around and pick me up right there. To get the W is awesome."
Joe Frisaro is a reporter for MLB.com. He writes a blog, called The Fish Pond. Follow him on Twitter @JoeFrisaro. This story was not subject to the approval of Major League Baseball or its clubs.