Rangers rout Tigers to back Darvish in opener
Choo rips two-run homer; Gimenez goes 4-for-5 with RBI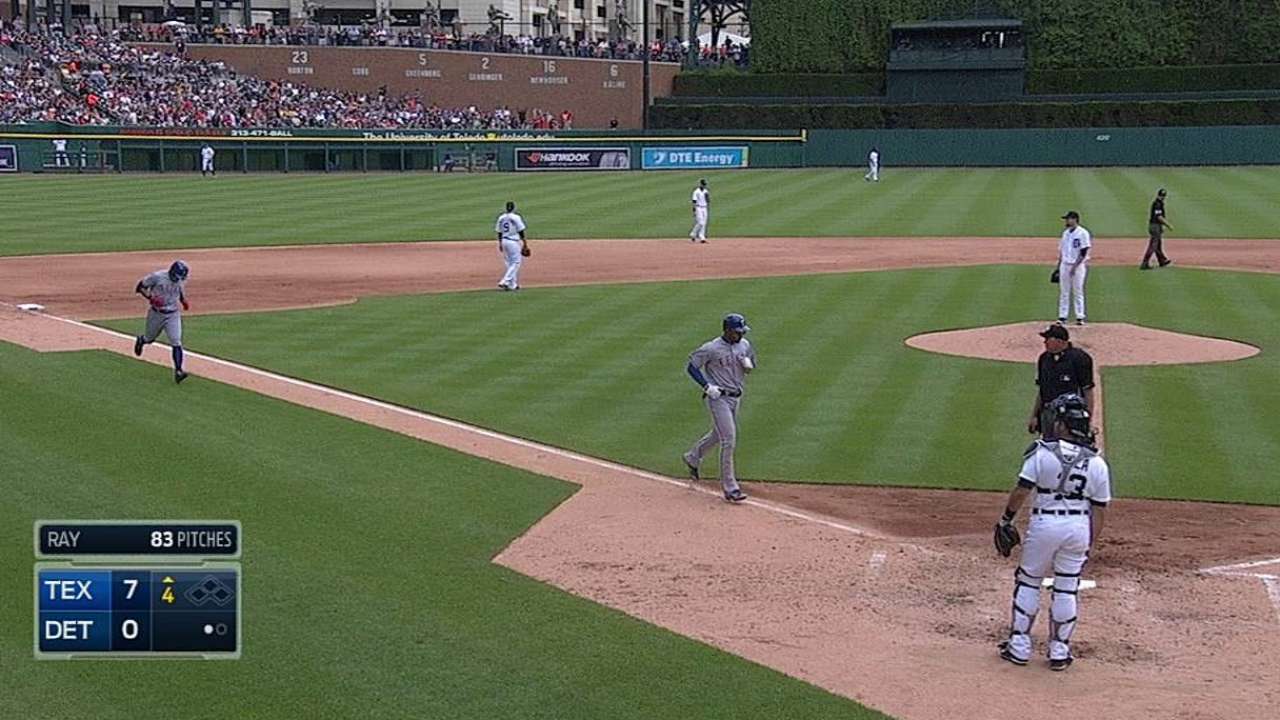 DETROIT -- The Rangers have an actual winning streak going. They are also 2-0 with Chris Gimenez as their starting catcher.
Gimenez, starting for the second straight game, had a career-high four hits and had no trouble handling Yu Darvish for the first time in the Rangers' 9-2 victory over the Tigers at Comerica Park on Thursday afternoon.
The victory gives the Rangers a two-game winning streak. It's only the second time they have won consecutive games since they swept three from the Athletics on April 21-23 to move them a season-high six games over .500. That sweep of the A's also put them in first place for the first and only time this season.
"We've got to keep rolling," shortstop Elvis Andrus said. "If we could take the next three [against Detroit], that would be awesome. We have to keep scoring like we did today. Put the pressure on the other team and let our starting pitcher get comfortable."
The Rangers opened up a 9-0 lead against Tigers starter Robbie Ray after four innings as 18 of their first 27 batters reached base on 12 hits, five walks and one error. Gimenez had a big hit in the second inning after Adrian Beltre led off with a walk and scored on a double by Alex Rios. Mitch Moreland's fly ball moved Beltre to third. The Tigers then moved their infield in against Gimenez but he singled to right to give the Rangers a 2-0 lead.
Beltre had a two-run double as the Rangers scored three in the third. A two-run home run by Shin-Soo Choo and a two-run single by Michael Choice brought in four more runs in the fourth. Gimenez had singles in both innings.
"It's nice to see Beltre get some big hits," manager Ron Washington said. "We battled and were able to do some good things offensively. We'll see how it goes and take it day by day. We'll just enjoy what we accomplished today and be ready for the next game."
Darvish, with Gimenez catching him for the first time since being brought up from Triple-A on Tuesday, went seven innings and allowed two runs on six hits and three walks while striking out six. He did so even though he didn't feel at his best against the Tigers.
"Overall, it wasn't really my day," Darvish said. "I didn't feel really well, but in key situations, I was able to get outs."
Darvish said he had no problems working with Gimenez, saying, "He let me do whatever I wanted."
"Yu Darvish is a Major League professional and Chris Gimenez is a Major League professional," Washington said. "The adjustment wasn't as hard as you think. They have been together for the past two days. I saw them on the same page all day."
In his previous eight starts, Darvish had thrown to J.P. Arencibia five times, including the last three, and had developed a strong rapport with him. But Arencibia was sent to the Minors on Tuesday.
"I think I did OK," Gimenez said. "It was a great first experience for me. I tried to gauge the movements on his ball and what he likes to do in certain situations. His stuff is unbelievable, located well. I just wanted [the transition] to be as seamless as possible. I think he was OK with today. I'm trying to be better for him. Actually, before the game, I told everybody I was more worried about catching him than hitting, then I ended up getting four hits today."
Darvish threw 106 pitches before leaving after seven innings. He is now 4-2 with a 2.35 ERA on the season, including 3-1 with a 2.10 ERA in his last four starts. He is also 5-0 with a 3.60 ERA in five career starts against the Tigers.
"He's always tough," Tigers manager Brad Ausmus said. "He's been tougher. But he's still Yu Darvish and even without his best stuff, he's a very effective Major League pitcher. One of the best in the league."
T.R. Sullivan is a reporter for MLB.com Read his blog, Postcards from Elysian Fields and follow him on Twitter @Sullivan_Ranger. This story was not subject to the approval of Major League Baseball or its clubs.