Kinsler gets first look at Rangers as ex-teammates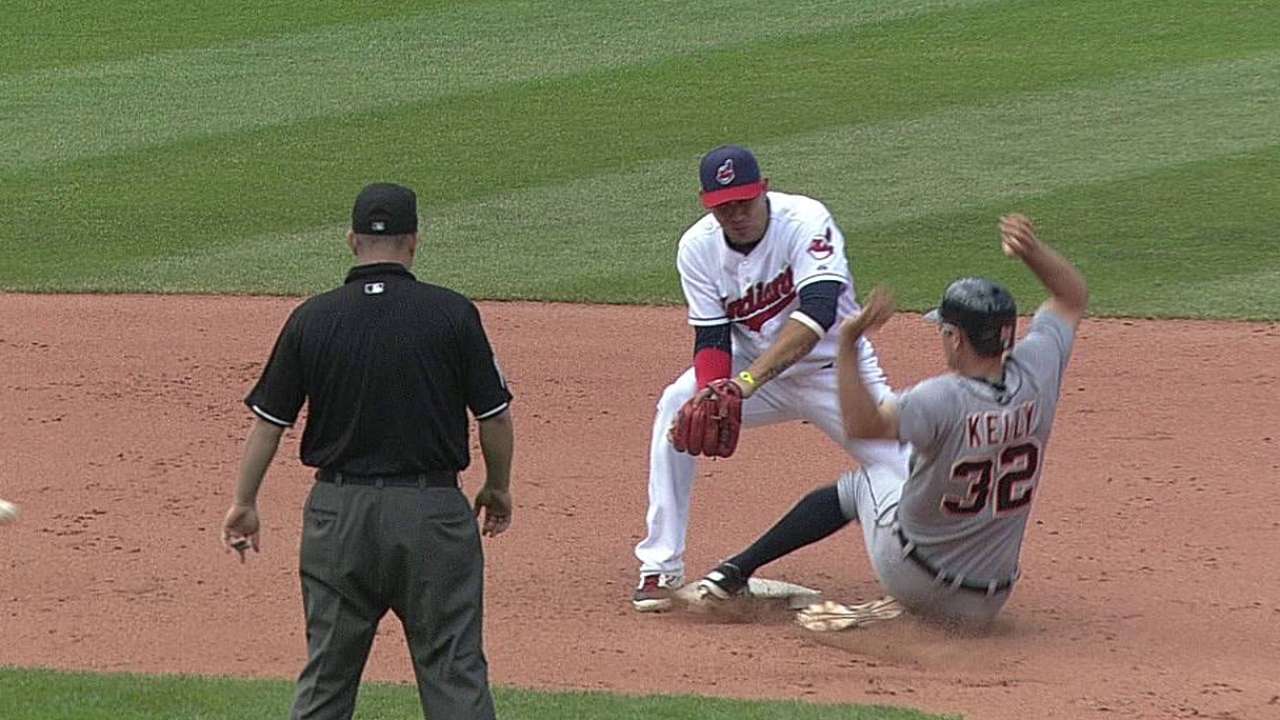 DETROIT -- Ian Kinsler knows that, for the remainder of his Major League career, he will be compared to Prince Fielder. Kinsler and Fielder were swapped by Texas and Detroit this offseason in a trade that has invoked much public scrutiny.
When Kinsler gets his first glance at his ex-teammates Thursday as the Tigers and Rangers begin their four-game set at Comerica Park, Fielder will be conspicuously absent. He remained in Texas when the Rangers left for Detroit because of a herniated neck disc. It's not out of the question that Fielder could re-join the team later in the series.
Kinsler said he's looking forward to playing against his old team, and there's been some friendly trash talk leading up to the series. Sitting in his new home, the third-base dugout at Comerica Park, Kinsler reflected Thursday on the deal that sent him north.
"Initially, I was mostly worried about my family," Kinsler said. His wife and kids still reside in the Dallas area. "After that, my head went to the baseball side of it."
Kinsler seems to have adapted nicely to the Detroit clubhouse, where in a room full of veteran presences, he doesn't necessarily have to be a vocal leader like he was in Texas. Admittedly, that was a role that was forced upon him with the Rangers.
"You have to teach players how to prepare the right way, and that in turn is going to help you win," he said. "But I'm not good at that. I'm not good at following a guy around and telling them what time to get to the field, how to prepare for the game."
Kinsler also took the opportunity to clarify his comments in an ESPN The Magazine story that ran in early March. In it, he said he hopes the Rangers "go 0-162."
"They laughed," Kinsler said of his ex-teammate's reaction to his remark. "They thought it was funny, like everyone probably should. The way it was taken was serious. But it's funny. It's supposed to be funny. They saw it as funny."
Kinsler said that there were mornings during the offseason that he had to wake up and remind himself that he's now on the Tigers. Detroit currently holds baseball's second-best record at 27-15, and Kinsler has noticed some similarities between these Tigers and the 2011 Rangers squad that lost the World Series in seven games to St. Louis.
"There's a lot of players on this team who have a lot of experience. It's just a veteran group," he said. "This team is as good as any."
Matt Slovin is an associate reporter for MLB.com. This story was not subject to the approval of Major League Baseball or its clubs.