MLB.com Columnist
Jim Callis
Pipeline Inbox: Whose Draft stock is rising?
Jim Callis responds to fans' questions about baseball's top prospects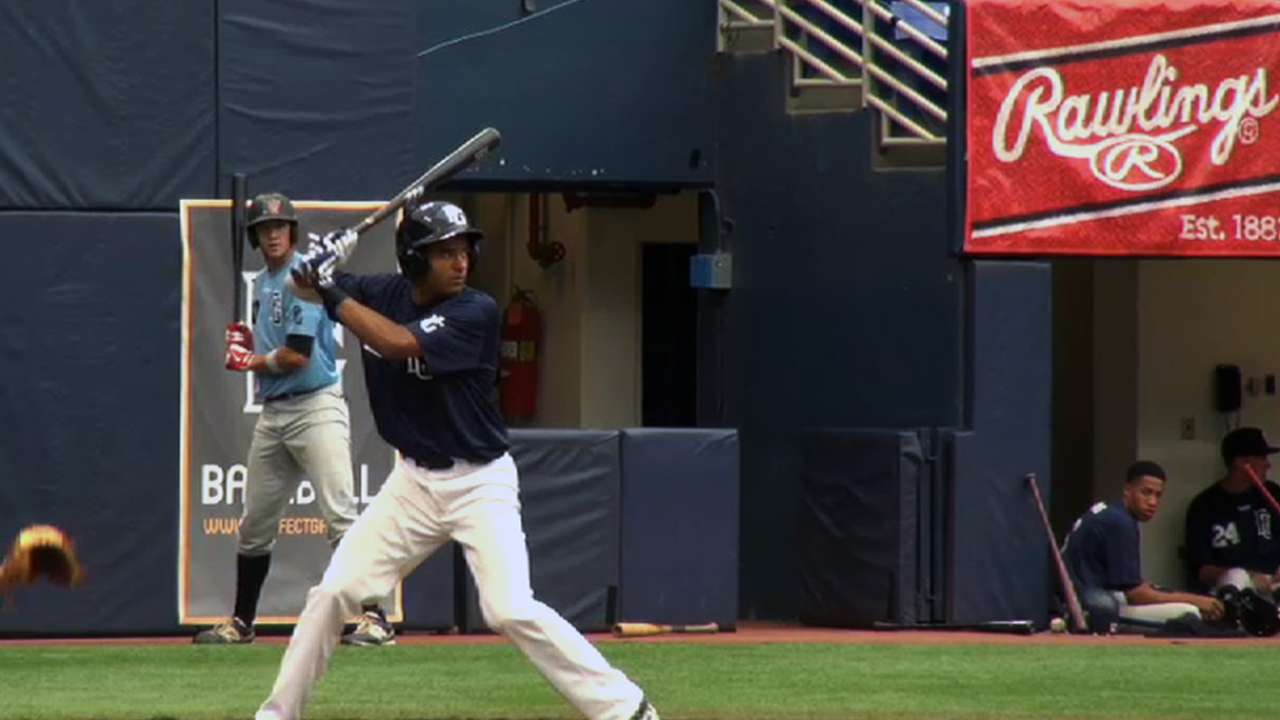 Let me get in a quick plug for our First-Year Player Draft coverage, and then I'll get to your questions, which not surprisingly mainly focus on that event. Here goes:
The 2014 Draft will take place on June 5-7, beginning with the Draft preview show on MLB.com and MLB Network on Thursday, June 5, at 6 p.m. ET. Live Draft coverage from MLB Network's Studio 42 begins at 7 p.m., with the top 74 picks being streamed on MLB.com and broadcast on MLB Network. MLB.com's exclusive coverage of the second and third days will begin with a live Draft show at 12:30 p.m. ET on June 6.
MLB.com's coverage includes Draft Central, the Top 100 Draft Prospects list and Draft Tracker, a live interactive application that includes a searchable database of Draft-eligible players. Every selection will be tweeted live from @MLBDraftTracker, and you can also keep up to date by following @MLBDraft. And get into the Draft conversation by tagging your tweets with #mlbdraft.
Who are the guys who are rising or dropping on Draft boards the most?
-- Darren K., Denver
The two players with the most helium are Elk Grove (Calif.) High outfielder Derek Hill and Virginia right-hander Nick Howard. Hill ranked 64th and Howard 75th on the Draft Top 100 Prospects list we released in April, and they both now figure to go in the first 15-25 picks.
Hill, a speedster who plays a quality center field, seems to have established himself as the premier high school athlete available, ahead of Monte Harrison, Marcus Wilson and Michael Gettys. Howard, who also doubles as a first baseman/DH for the Cavaliers, has shown a 94-98 mph fastball and an 82-85 mph slider as a reliever. Once he gets to pro ball, he could move quickly as a bullpen weapon or get a shot as a starter after pitching in that role as a sophomore.
Not counting injured pitchers, the first-rounder with the most volatile stock at the moment is Vanderbilt right-hander Tyler Beede. He ranked sixth on our initial Draft Top 50 and eighth on our Draft Top 100, but he has failed to take advantage of the health questions plaguing several other college arms.
Though Beede still has frontline stuff, he remains inconsistent with his command and performance and thus could drop into the 20s at a time when teams are desperate for pitching. Several decision-makers will be on hand for his Southeastern Conference start today.
From this upcoming Draft, who would be the most likely to make a Major League impact the earliest?
-- Jerry D., Indian Harbour Beach, Fla.
The first name that jumps to mind is Louisiana State right-hander Aaron Nola, who combines solid stuff with exquisite command. He'll go in the first 10 picks of the Draft and could be in a big league rotation by the end of 2015.
After Nola, the obvious choices are college relievers. Mississippi State left-hander Jacob Lindgren was spectacular on Wednesday at the SEC tournament, and he could beat Howard and Louisville righty Nick Burdi to the Majors.
Oregon State outfielder Michael Conforto and Kennesaw State catcher Max Pentecost should make an impact before the other position players in this Draft. And among high schoolers, the choice is Cathedral Catholic High (San Diego) left-hander Brady Aiken, our No. 1-rated prospect.
Where would Rancho Bernardo High (San Diego) catcher/outfielder Alex Jackson, Olympia High (Orlando, Fla.) shortstop Nick Gordon and Oregon State outfielder Michael Conforto have ranked in the 2013 Draft?
-- Eric N., Portland, Ore.
As a starting point, here's a sneak peek at where those guys will sit when we reshuffle our Draft Prospects list and expand from 100 to 200 next week: Jackson will be No. 4, Gordon No. 5 and Conforto No. 17.
I was with Baseball America last year, so I'll use their 2013 rankings as a point of comparison. Jackson is the best high school player available in 2014, but he would have fit behind Clint Frazier and Austin Meadows a year ago, which would have put him at No. 7.
Gordon is a little better than 2013's top shortstop, J.P. Crawford (No. 15). I could see him coming in at No. 9, which would have put him right in front of a pair of high schoolers, left-hander Trey Ball and catcher Reese McGuire.
Conforto is a better bet to hit than 2013's best college outfielder, Hunter Renfroe (No. 11), but Renfroe has him beat in the other four tools. Conforto would have checked in at No. 16, between Crawford and college third baseman Eric Jagielo.
Norris (Neb.) High catcher Jakson Reetz: First-rounder, second-rounder or somewhere in between?
-- James J., Weston, Conn.
As of now, I'll say in between. We've got Reetz rated as a supplemental first-rounder, but the demand for catcher always outstrips the supply. So don't be surprised on Draft Day if he sneaks into the end of the first round, which would allow him to join Jim Haller (Dodgers, 1970) as the only Nebraska prep products ever taken that early.
After Pentecost, Reetz is the best prospect who will stay at catcher in the 2014 Draft. He has a track record of hitting against top competition and should continue to do so with his bat speed and strength. Very athletic for a backstop, he has a solid arm and should develop into a capable receiver.
Which right-hander has the higher ceiling, Lucas Sims (Braves) or Matt Wisler (Padres)?
-- Joe H., Chicago
Sims has the higher ceiling because he has better pure stuff, which is why he earned a $1.65 million bonus out of high school in 2012 and Wisler got $500,000 a year earlier. Sims has a 91-95 mph fastball, a sharp curveball and a promising changeup.
While Sims has more upside, Wisler could be the better pitcher in the long run. His stuff is nearly as good as that of Sims, and Wisler has better command and has moved more rapidly. He has reached Triple-A in his third full pro season, while Sims is in Class A Advanced.
Jim Callis is a reporter for MLB.com and writes a blog, Callis' Corner. Follow @jimcallisMLB on Twitter. This story was not subject to the approval of Major League Baseball or its clubs.