MLB.com Columnist
Anthony Castrovince
The rare, durable and lucky hurlers attain longevity
For some reason, some, like Buehrle, Arroyo, Verlander, avoid injuries that befall others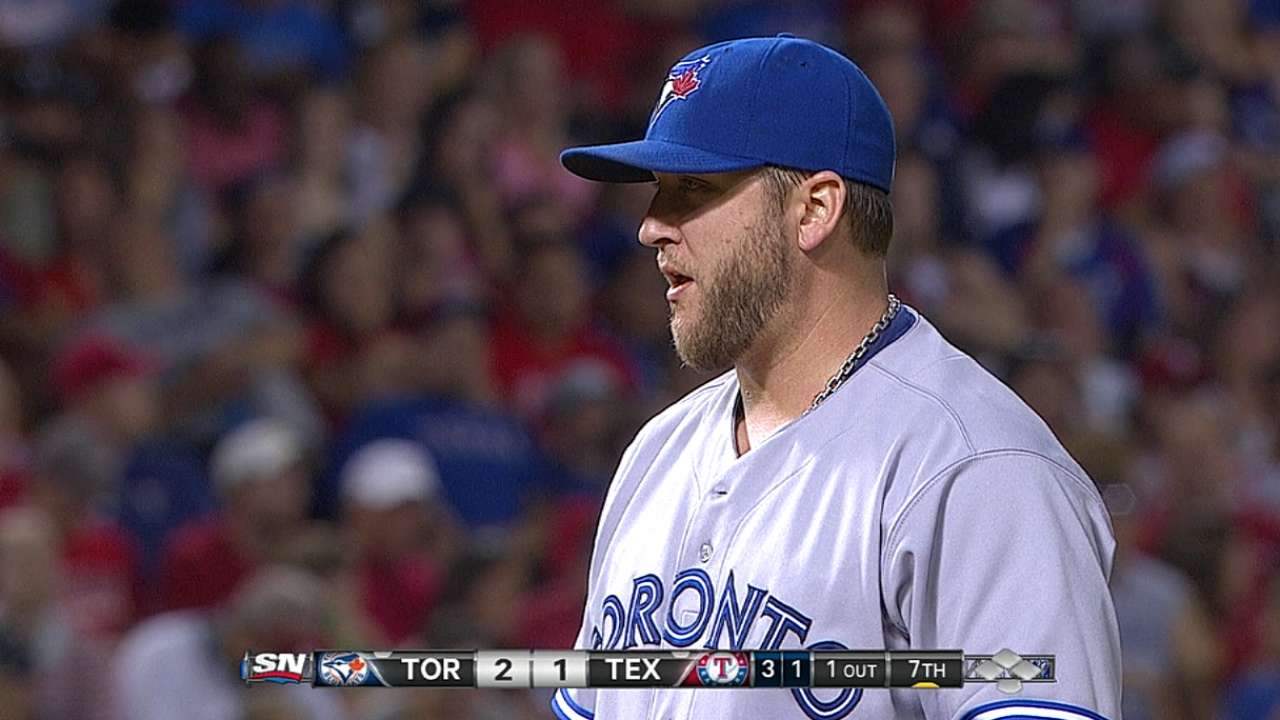 Mark Buehrle makes his next scheduled start Thursday afternoon, and this is not news. Mark Buehrle always makes his next scheduled start.
He's 35, he's been in the big leagues since 2000, he's thrown at least 200 innings every year since 2001 and he has never done any time on the disabled list. He is a freak and phenomenon in a profession that requires unnatural motion and often results in unavoidable pain.
"I guess it's luck," he said recently. "The man upstairs didn't give me the ability to throw 95 mph. I just have good mechanics and don't throw that hard."
Buehrle is among the rare ones who, by luck or pluck or genes or routines, have compiled an avalanche of innings without being felled by major injury.
At a time when Tommy John's name is splashed in more headlines and uttered in more conversations than it ever was in his playing days, it seems worthwhile to remember there is a small subset of starting pitchers whose arms -- and shoulders, for that matter -- have not succumbed to physical fallout.
The sport, after all, is searching for answers, what with young lynchpins like Matt Harvey, Jose Fernandez and Matt Moore on the shelf and guys who pitch for a living seemingly dropping like flies. We've seen 19 pitchers on Major League pitchers undergo Tommy John ligament replacement surgery already this season, according to Baseballheatmaps, and the worry is that the usual summer uptick, as innings increase, will push that total into the realm of the record 36 performed in 2012.
So maybe the rare ones, the durable ones, the lucky ones, can at least point us in the right direction.
"Guys ask me what they can do to make sure they don't get injured," said Buehrle, "and I don't have the answer."
Or, you know, maybe not.
But keep in mind what Buehrle hinted at about hard-throwing and remember that does not necessarily apply only to the guys with the high heat. Another soft-tosser -- the D-backs' Bronson Arroyo, who has made 364 stars without a DL stint -- explained this best.
"If I'm a max-effort guy, and I only throw 85 and I throw every pitch at 85, I'm still running at hot," Arroyo said. "[Justin] Verlander can throw 100, but he idles himself at 91 or 92 and only gets 100 a few times a game, then he's pitching at 90 percent and that will allow your body to do these things much easier and not break down."
Indeed, Verlander's innate ability to light up a gun without a tremendous amount of effort is a gift, and it's allowed him to avoid the DL despite logging 1,838 innings over 277 starts, dating back to 2005.
But Verlander augments his God-given gift with a strength program intensely focused on his core and legs. That ensures the power is not emanating only out of his arm and shoulder.
"He works extremely hard, and he has a very strong lower body," Tigers pitching coach Jeff Jones said. "You look at the [knee] surgery he had before Spring Training. Most guys wouldn't be able to come back that fast. But he was able to come back and start Opening Day for us because his legs were in such good shape [beforehand]."
Verlander's teammate and fellow American League Cy Young Award winner, Max Scherzer, has just one DL stint to go with his 175 starts. Pretty impressive, considering some thought Scherzer, with his history of shoulder issues and violent delivery, was a ticking time bomb when the Tigers acquired him after '09.
Scherzer, though, is meticulous about his mechanics. Unlike others, he doesn't fear the notion of the "inverted W" delivery, but he is careful about not taking it to any extreme.
"The problem is only when your elbow gets above your shoulder point," Scherzer said. "As long as you don't get above that, I still believe that's the most efficient way to throw a baseball."
How resolute is Scherzer in his opinion that he's found a reliable delivery? He turned down $144 million from the Tigers last winter in advance of his free-agent walk year. You don't do that unless you're reasonably certain you can get through 30-some starts, and Scherzer believes the only reason he had that one DL stay with the D-backs in 2008 was because his shoulder couldn't handle the grind of varying between the rotation and bullpen.
"I do total body lifting," Scherzer said. "I lift everything. Upper body, chest, back, arms. I'm a firm believer that you have to have every part of your body strong."
Tim Lincecum, who has pitched 1,461 regular season innings without a DL stay, values flexibility more than pure strength. He creates that quick, flowing motion with a quick, lithe frame.
"Even playing contacts sports like football," he said, "it never really got the better of me because I would bend, not break. That's why the yoga movement is so huge now, right?"
Sure. But Lincecum is one body type, Buehrle is another, Verlander is a third, Arroyo is a fourth and, well, you get the idea. Everybody's different, and there's no cookie-cutter approach that applies to all pitchers. Where the industry seems to struggle is in the successful application of programs tailored to the individual, built on a basis of biomechanical analysis or performance metrics. It's costly and time-consuming and, therefore, difficult to implement at large.
The lucky ones, the rare ones, are the ones who find a personal formula that works. And sometimes that's a moving target.
"It's a continuing conversation," said the Indians' Justin Masterson, who has made 160 starts without going on the DL. "To me, the best way to strengthen your arm is to throw. But the thing is doing it correctly. And correctly is whatever works well for you."
Know thyself. That's probably the best advice to come out of these conversations. The durable ones know what works for them -- the amount of effort behind their pitches, the level of work done in the weight room, the distance of long tosses between starts, the mechanics that benefit their bodies.
And yes, they also know that a certain percentage of their success is simply due to their DNA.
The risk of their luck running out is ever-present. Theirs is a fragile profession, after all. But they've made it this far by listening to their bodies as well as they listen to their coaches and trainers.
"Everything you put in the tank is going to help you in the long run," Lincecum said. "The key to durability is knowing what your body needs and knowing what your limits are."
Anthony Castrovince is a reporter for MLB.com. Read his columns and follow him on Twitter at @Castrovince. MLB.com reporters Gregor Chisholm, Steve Gilbert and Chris Haft contributed. This story was not subject to the approval of Major League Baseball or its clubs.