Buehrle first to 8 wins, Blue Jays sweep Sox
Lefty fires seven solid innings; Melky, Bautista hit back-to-back HRs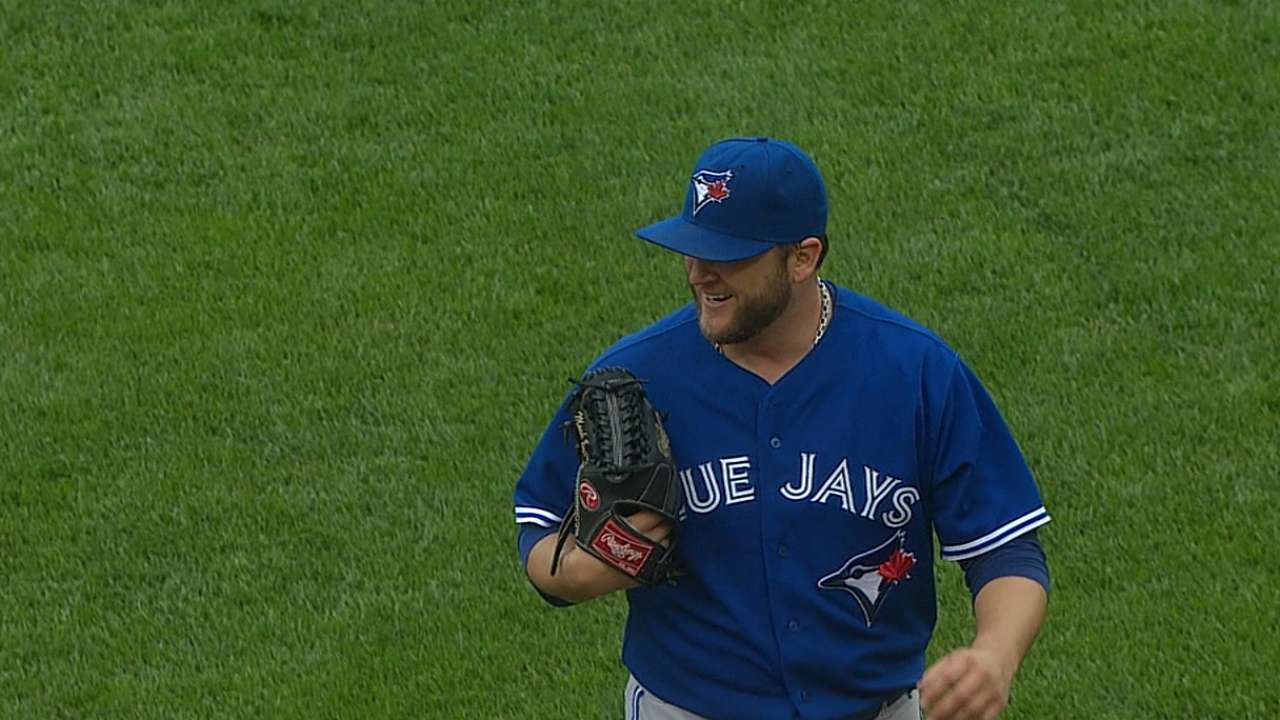 BOSTON -- The Blue Jays spent all of Spring Training talking about how they needed to avoid the pitfalls of last year. A quick start was required to avoid being pushed out of the American League East race before the season had barely even begun.
That was accomplished with a relatively decent April, but in order to become an actual contender a team has to be a lot better than that. It appears as though May has been used to finally get the edge so many people expected from the team prior to 2013.
The Blue Jays continued an impressive run by putting the finishing touches on a three-game sweep of the Red Sox with a 7-2 victory on Thursday afternoon. Toronto finds itself atop the AL East for the first time in five years, but considering the season is 50 games old, the real work is only just getting started.
"Keep playing the way we are, you can't get caught up in the standings," veteran left-hander Mark Buehrle said after picking up his Major League-leading eighth victory. "A week and a half, two weeks ago, I felt like we were 10 games out of first place and we were a game and a half or 2 1/2 out. No one's running away in this division.
"I think we knew in Spring Training it was going to be tight 'til the end. We've just got to keep playing ball. If we go on a losing streak, we can't go on a losing streak too long. We've got to turn it around and try to win games. But it seems like everything's clicking right now."
The Blue Jays possessed a one-game lead over the Yankees following Thursday's action. Considering it's only May 22, that feat would be rather insignificant in almost any other city but Toronto.
This is a place that hasn't seen its team go to the postseason since 1993. It's a spot where the Blue Jays haven't even been atop the division this late into the year since 2009. Toronto has grown accustomed to looking up in the standings instead of down, but at least for one day in May that wasn't the case.
This is the type of early-season run the Blue Jays expected to go on last year. That's when the organization was crowned the winners of the offseason by pulling off a pair of blockbuster trades. Instead of the moves leading to improved results the team fell apart because of injuries and players not living up to expectations.
Of course, this recent streak, which includes wins in eight of 10, and 13 of 18 dating to May 4, will mean nothing unless it continues until the end of the year. That's the message being delivered inside the walls of the clubhouse.
"It doesn't to me, maybe for everybody else," slugger Jose Bautista said of the standings. "If we were talking about September and we were in first, it will mean something then. To be honest with you, the only time that it counts is after the regular season is over. We still have a long road ahead of us, we're not going to settle, and we're not going to look at the fact that we're in first place now."
Toronto's offense has been on fire this month, but on Thursday it faced the unenviable task of being matched up against one of the league's best pitchers in Jon Lester. That seemed to matter very little in the series finale.
The Blue Jays scored seven runs in the first two innings. Melky Cabrera and Bautista homered back-to-back in the first inning, which marked the 24th time in the past 29 games that Toronto went deep at least once. Five more runs were added in the second as the Blue Jays took full control.
It was an overall dominating performance by the Blue Jays during the series. They outscored the Red Sox, 20-8, and extended Boston's losing streak to seven games, which is the club's longest skid since dropping eight at the end of the 2012 season. Toronto had at least 11 hits in the three games and swept a series at Fenway Park for the first time since Sept. 7-9, 2012.
"We can hit, top to bottom," Blue Jays manager John Gibbons said. "It's a strong American League lineup and that's kind of what you need in the American League. We're really a home run threat, with most of those guys in that lineup, we can burn you that way."
Buehrle allowed one run in each of the first two innings, but after being staked to such a large lead early on, he was able to coast for much of the game.
The 35-year-old allowed seven hits and didn't walk a batter while striking out four over seven strong innings. Buehrle has eight quality starts in 10 outings this year and the Blue Jays have lost just one game with him on the mound.
"Seven-run lead, he just works fast and throws it over the plate," Red Sox catcher A.J. Pierzynski said. "He knows he has room to work, and that's what he did. We hit a lot of balls hard and they made a lot of nice plays. Any time you give a guy that's going to throw it over the plate and work fast, and throw strikes and not give you extra baserunners, it's tough."
Gregor Chisholm is a reporter for MLB.com. Read his blog, North of the Border, and follow him on Twitter @gregorMLB. This story was not subject to the approval of Major League Baseball or its clubs.