Kendrick's winless streak reaches 16 as Phils fall
Right-hander drops to 0-10 in stretch dating back to last August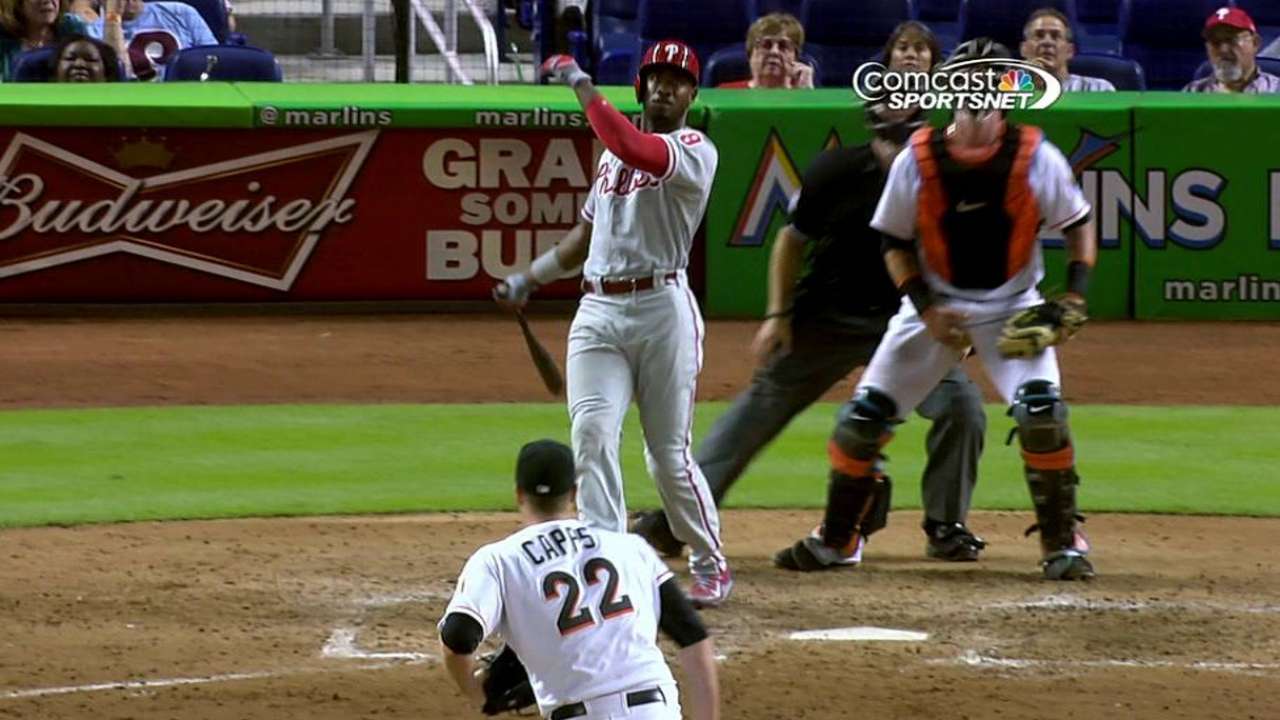 MIAMI -- It has been a rough few months for Phillies right-hander Kyle Kendrick.
He allowed six runs in 5 2/3 innings in Wednesday's 14-5 loss to the Marlins at Marlins Park, a loss that had Phillies coaches frantically signaling from the dugout to shortstop Reid Brignac to see whether he could pitch if Luis Garcia could not get out of a tortuous eighth inning in which he allowed four runs and threw 49 pitches.
The loss dropped Kendrick to 0-10 with a 5.11 ERA in 16 starts since Aug. 11, 2013. It is the longest losing streak for a Phillies pitcher since Matt Beech lost 11 straight decisions in a 22-start stretch from Aug. 13, 1996, to Aug. 2, 1997.
"You don't want to lose games and you don't want to lose games like this for this long," Kendrick said. "It's obviously frustrating."
Kendrick has endured his share of poor luck in that run. The Phillies have been shut out five times and scored one run or fewer in eight of those 16 starts. The bullpen has blown three of his leads.
But he should have had a good feeling entering the night. He had won 10 consecutive decisions against the Marlins, dating to May 28, 2010. It was the longest active winning streak by any pitcher against any team in baseball, but on a night when something had to give, the Marlins snapped their streak against Kendrick.
The Phillies took a 2-0 lead in the first inning when Ryan Howard doubled to score Carlos Ruiz and Marlon Byrd singled to score Howard.
But Kendrick's first-inning troubles continued. He allowed a one-out double to Derek Dietrich and walked Giancarlo Stanton to put runners on first and second. Casey McGehee's single to center scored Dietrich and Garrett Jones' sacrifice fly scored Stanton to make it 2-2.
Kendrick has a 9.00 ERA in the first inning this season, but it is more of a recent development than anything. He allowed two runs in the first inning against the Blue Jays on May 5, two in the first against the Mets on May 10, three in the first against the Reds on May 16 and the two against the Marlins on Wednesday.
"That needs to be fixed," Kendrick said. "I don't have a reason for why it's happened but it needs to be fixed and it needs to be fixed soon. Guys put up two runs for me and I go out and do that [stuff]. It's just bad. It needs to stop."
Kendrick allowed a one-out triple to Dietrich in the third. He scored on a fielder's choice to make it 3-2, but the Phillies tied the game in the fourth. Tony Gwynn Jr.'s single to right scored Byrd, but with runners at the corners and one out, Kendrick, who grounded into a double play in the second, showed bunt before swinging away, only to ground into another inning-ending double play.
"We are looking for some contact, preferably a sac fly," Phillies manager Ryne Sandberg said.
Kendrick, a career .131 hitter, has just one sacrifice fly in 339 career plate appearances.
"I'm not a hitter," Kendrick said. "It's frustrating, but my job is to get outs. I'm not up there to get hits. But that's frustrating, too. You don't want to hit into a double play. But on the pitching side, that needs to be handled."
Kendrick allowed two more runs in the fourth to hand the Marlins a 5-3 lead.
The Phillies had the bases loaded with two outs in the fifth when Cody Asche laced a ball to right-center field, but Stanton made a fantastic diving catch to end the inning.
"That was a game-changing play," Sandberg said. "That was potentially a 6-5 lead and a whole different type of a game."
The Marlins scored another run in the sixth to make it 6-3, and any chance the Phillies had of at least taking Kendrick off the hook for his fifth loss of the season ended when Jeff Manship served up a grand slam to Marcell Ozuna in the seventh to make it 10-3.
Domonic Brown hit a two-run homer to center field in the eighth, his third homer of the season and second in four games. Gwynn followed with a walk, but with one out and the lead cut to five, Sandberg elected to pull Jimmy Rollins from the game. Rollins had already gone 2-for-4, tying Richie Ashburn for second on the Phillies' all-time hits list with 2,217.
"I have to pick some spots every now and then with these guys," Sandberg said.
Cesar Hernandez grounded out for Rollins and Ruiz ended the inning with a lineout before the Marlins tacked on four more runs in the bottom of the frame.
Had Kendrick avoided his first-inning troubles, had Asche's ball fallen in right-center field, Rollins stays in. But those things didn't happen as the Phillies fell to 20-23.
Todd Zolecki is a reporter for MLB.com. This story was not subject to the approval of Major League Baseball or its clubs.