Marlins set season high for offense in rout of Phillies
Ozuna's slam, Stanton's catch highlight big win over division rivals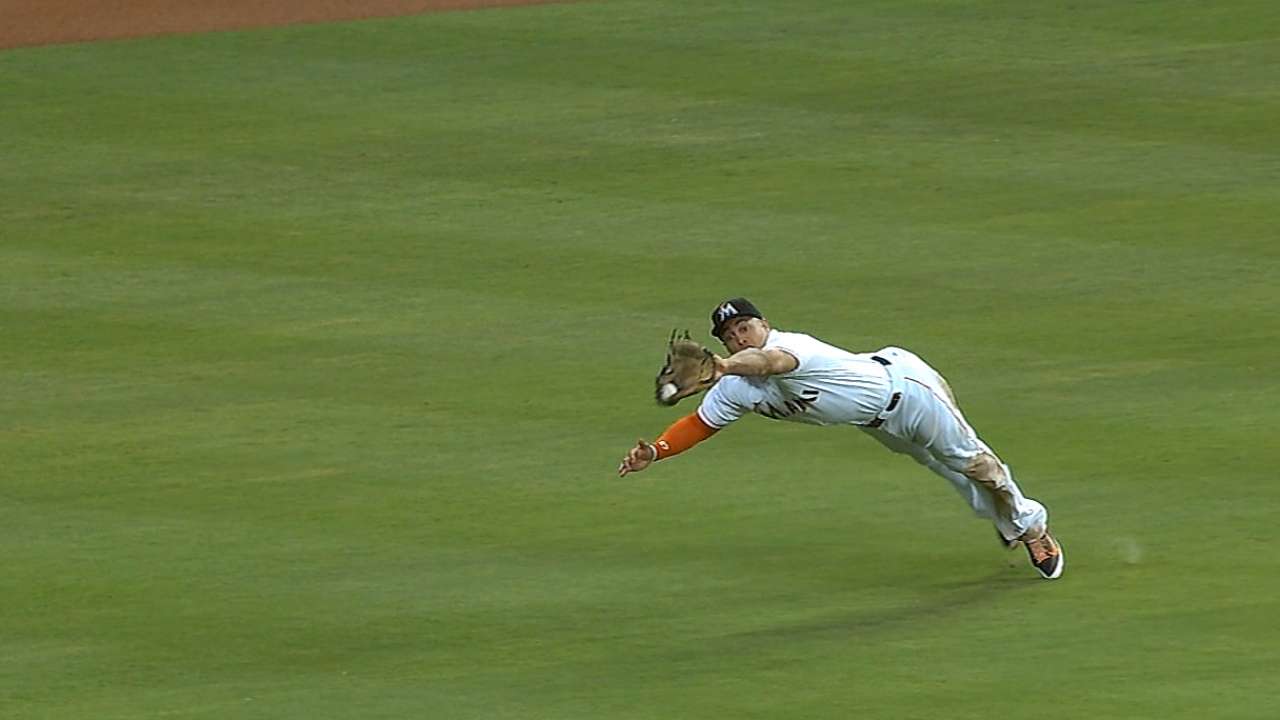 MIAMI -- Marcell Ozuna provided the power with a grand slam, but it was Giancarlo Stanton's run-saving catch that gave the Marlins a big boost on Wednesday night.
In all phases, the Marlins stepped up with a team effort in a 14-5 win over the Phillies at Marlins Park that set a new season high for runs scored.
Ozuna capped a career-high five RBIs with his grand slam in the seventh inning off Jeff Manship.
On a night the Marlins didn't need Stanton's bat, the slugger's glove had everyone talking. In the fifth inning, he robbed Cody Asche with a diving catch with the bases loaded at a time Miami led by two.
"They would have scored two or three there," Stanton said. "Doing it on the defensive side is huge on a night like tonight when I went 0-for-4. That's a key."
Stanton, who chipped in with an RBI groundout, showed why he is becoming an all-around talent in right field.
"That was huge," manager Mike Redmond said. "Huge catch at a big point in the game where if that ball got past him, they potentially would have had a big inning.
"He threw it all out there and made a tremendous catch and huge play for us."
Christian Yelich had three hits and drove in two runs.
The Marlins did receive a minor scare in the eighth inning when Jarrod Saltalamacchia, who had a two-run single in the inning, turned his left ankle while running the bases. A precautionary X-ray was taken, and the catcher said he was fine. He said he could play on Thursday, but with an afternoon game scheduled, he wasn't expected to play anyway.
Jeff Mathis caught the ninth inning on Wednesday.
"It's nothing," Saltalamacchia said. "Like I told them, it's nothing serious. It feels fine. I told them I could finish the game."
The 14 runs by Miami are a season high. On May 14 at Los Angeles, the Marlins had a 13-3 win, which was the previous high run total.
"They're swinging the bats well here," Phillies manager Ryne Sandberg said. "It looks like they have a comfort zone here."
While the Marlins hammered out 14 hits, the defense came up huge.
The Marlins were able to preserve a 5-3 edge in the fifth inning on Stanton's spectacular, sprawled out, diving catch in right-center on Asche.
The bases were full with two outs, and Asche ripped a liner that appeared to be headed for the gap before Stanton went airborne on what might have been Miami's best defensive play of the season.
"I didn't think he had a chance to get to it," Saltalamacchia said. "[Stanton] did a great job. He knew the situation. He wasn't going to give up. He made a tremendous catch."
Nathan Eovaldi picked up his first win since April 30, but he had to work. In six innings, he allowed three runs (one earned) on 10 hits. The right-hander was lifted after 110 pitches.
"His last couple starts have been a little like that where he's been a little erratic in the zone," Redmond said. "He's left some off-speed pitches up that were hit. He did that again today. He's having a tough time right now, it seems like, finishing off hitters."
Philadelphia's Kyle Kendrick was tagged for six runs on seven hits in 5 2/3 innings, and he fell to 12-3 lifetime against Miami, while extending his overall winless streak to 16 starts.
The Marlins were ahead, 6-3, in the seventh inning when Ozuna belted his first career grand slam.
"I keep playing and swinging and the team helped me a lot telling me to keep going, keep going," said Ozuna, who was struggling in May. "I've found my early swing."
Domonic Brown tacked on a two-run homer in the eighth for Philadelphia off Carter Capps.
The win pushed the Marlins to 24-23 on the season, and it was the club's first victory in five games against the Phillies. The rubber game of the series is on Thursday afternoon.
The game went back and forth until the Marlins took the lead for good in the fourth inning.
Miami pushed two runs across to grab a 5-3 lead. Garrett Jones doubled, and after Ed Lucas walked, Ozuna ripped an RBI single to center. A gamble by Phillies catcher Carlos Ruiz on Eovaldi's sacrifice bunt backfired for Philadelphia. Ruiz tried to force Lucas out at third, but the throw was late, loading the bases. Yelich provided an RBI single to left, and Eovaldi had a two-run cushion.
Ozuna's previous RBI high was four before his breakout performance on Wednesday.
"He needed that," Redmond said. "He needed to lock it in and have a couple good at-bats. He's definitely had some struggles this month, but as I said before the game, it's a game of adjustments, and we've seen 'O' struggle a little bit at times, but then have a couple good at-bats. Hopefully this is a spark for him and for us. I was glad to see him get a big hit in a big situation."
Joe Frisaro is a reporter for MLB.com. He writes a blog, called The Fish Pond. Follow him on Twitter @JoeFrisaro. This story was not subject to the approval of Major League Baseball or its clubs.