Tillman struggles early, and O's fall late to Bucs
Righty, who threw a shutout his last start, can't record an out in second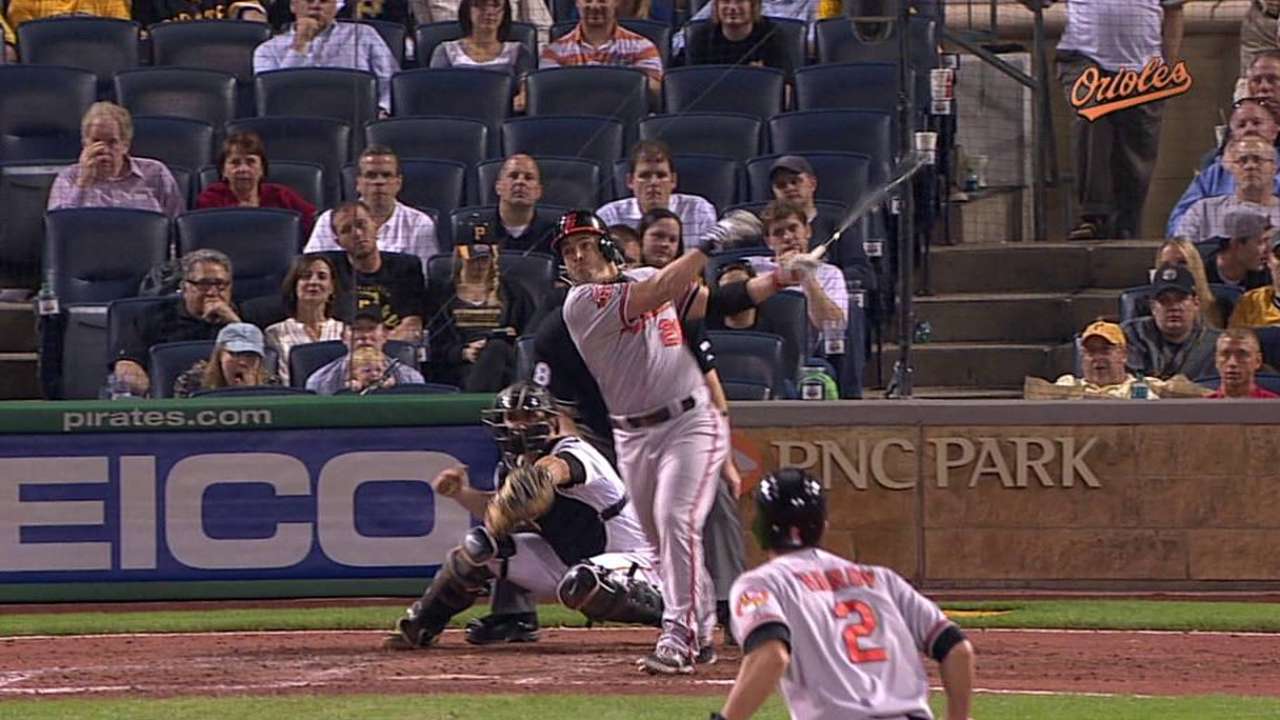 PITTSBURGH -- Coming off his first career shutout, Chris Tillman was encouraged that after a rocky few weeks he had found his footing. Consider Wednesday night an avalanche.
Tillman turned in the second-shortest start of his career -- and the shortest outing by an Orioles pitcher since he recorded two outs on July 16, 2012 -- and exited in the second inning with eight runs (six earned) allowed and a mere 44 pitches thrown. The dismal outing, despite another impressive showing by the offense, saw the Orioles fall short with a 9-8 loss to the Pirates.
"I've just got to find it early," said Tillman, who has given up 21 of the 31 runs he's allowed in the first two innings. "All season long I've been struggling early and then trying to find my way through. But I just got to recognize what's going on early and maybe find it in the bullpen. Something like that. But it comes down to fastball command. I'm falling behind with the fastball."
Tillman, who had a minor groin issue that hasn't caused him to miss a start, said he felt fine on Wednesday and in his side session between games. He also didn't feel any extra fatigue coming off nine innings on Friday night.
"What mistakes he did make were he failed to command," manager Buck Showalter said. "I've seen them score early and all of a sudden he gets back into sync. It never came to him tonight. He never got a feel for it."
Tillman struggled from his first pitch, issuing a leadoff walk to Josh Harrison, who scored the first of four runs in the frame. The Pirates sent nine men to the plate in a 34-pitch first inning, with two walks and four hits -- including Andrew McCutchen's RBI double and Starling Marte's two-run triple -- helping pave the way for an early exit.
Despite the O's six-run second inning -- which tied a season high -- giving him a two-run lead, Tillman couldn't keep it together and was unable to record another out.
Asked if it was frustrating to not make adjustments in that second inning, Tillman said, "For me, yeah. Coming off a good one, tried to carry it over and kind of get in rhythm here, but it was tough. I tried to make the adjustments, but it just wasn't coming to me."
Before exiting, Tillman issued another walk to Harrison, who scored on first baseman Chris Davis' error. The Pirates added a pair of singles before Showalter called on right-hander Brad Brach. Brach threw four scoreless innings to keep the game close, holding Pittsburgh to just two hits before lefty Brian Matusz navigated through a scoreless sixth.
Right-hander Ryan Webb, the Orioles' fourth pitcher on the night, allowed the go-ahead run in the seventh inning with Marte -- who reached on a leadoff bunt single -- scoring on Tony Sanchez's one-out hit. And while Webb took the loss, it was Tillman who set the tone in one of the worst games of the All-Star's career.
"I think it was a similar situation we saw in Baltimore," Pirates manager Clint Hurdle said of Tillman's struggle. "His command was off, getting behind in counts, elevating the ball. We put good swings on pitches out over the plate."
Down four runs after the first inning, the Orioles rallied back with a six-run second inning that started with Cruz's 14th homer. The left fielder, who drove in two more runs with a double in the same frame, has 41 RBIs and continues to lead the offense. The O's recorded six hits in that frame off Pirates starter Wandy Rodriguez, who outlasted Tillman by just two outs. Rodriguez allowed six runs, but only one was earned as his own throwing error -- on Tillman's sacrifice bunt -- helped extend the inning.
"Any loss is a loss. We've got to focus on what we did positive," Cruz said of an offense that has scored 23 runs over the past three games. "We scored a few runs and gave the pitchers a chance to throw some good innings. It was a rough first two innings. We shut it down. I think we did a real good job coming back from behind and tying the game."
Despite tying the game, the O's left the bases loaded in the seventh inning in a chance they let slip away. Pinch-hitter Steve Pearce, in his first at-bat since May 13, delivered a single to right field off reliever Bryan Morris that scored Cruz, but J.J. Hardy was tagged out trying to score the go-ahead run for the inning's second out. After Nick Markakis worked a walk to reload the bases, Morris struck out Manny Machado to keep it knotted at 8.
"Our guys had a couple of opportunities to score even more, but I can't fault the offense," Showalter said. "The grind effort of the offense and the job that Brad did gave us a chance to win a ballgame. We'll take our chances there.
"I wouldn't say it was what we hoped for on the [3-3] road trip, but we go home for a few days and then go back out. After this next road trip, we'll have 35 games on the road and 23 at home. If we can keep grinding and get through that stretch, we'll see what the season has in store for us."
Brittany Ghiroli is a reporter for MLB.com. Read her blog, Britt's Bird Watch, and follow her on Facebook and Twitter @britt_ghiroli. This story was not subject to the approval of Major League Baseball or its clubs.