Pirates take slugfest on Sanchez's RBI single
Catcher lifts Pittsburgh with go-ahead hit in seventh inning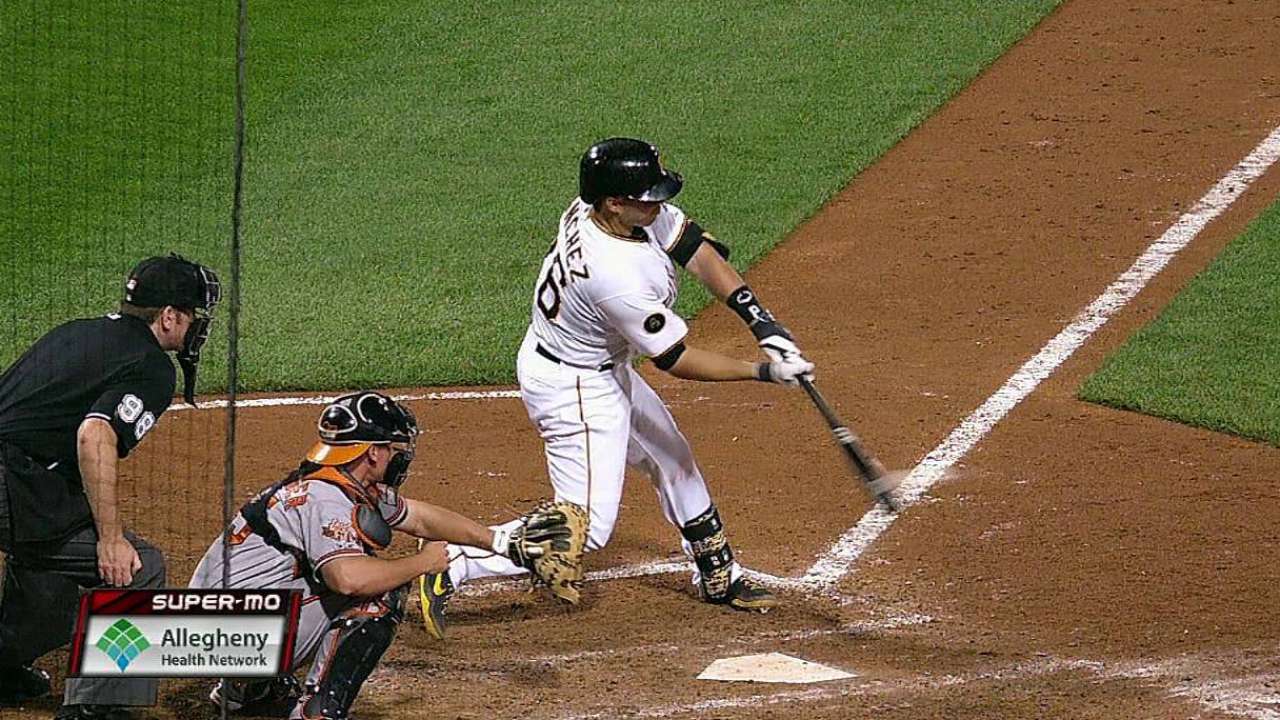 PITTSBURGH -- Tony Sanchez may have one foot back in Indianapolis. With veteran catcher Russell Martin on the verge of coming off the disabled list, Sanchez may soon return to his Triple-A lab.
Before departing, Sanchez gave one more swing of his clutch bat, singling in the seventh inning Wednesday night to break a tie and give the Pirates an exhausting 9-8 Interleague victory over the Orioles at PNC Park.
Consider it his going-away gift, and Sanchez wrapped it with a smile anchored in reality.
"I know this team needs Russell Martin, and is infinitely better with him behind the plate," said Sanchez. "I'm not naive enough to think I'm the better option, just because I've had some success with the bat."
Most of that success has been conspicuous. Sanchez has a relatively modest total of 12 RBIs, but the majority have come late in close games, a large slice of the positive impression he has crafted from unexpected opportunities, first subbing for Chris Stewart as Martin's backup, and more recently for Martin as the primary receiver.
Sanchez's bat had the last word after Andrew McCutchen, Starling Marte and Ike Davis had each collected three hits to keep the Bucs in the hard-hitting Birds' faces.
Returning sanity to an out-of-control game, Sanchez drilled his opposite-field single off Ryan Webb to score Marte, who had led off with his second bunt single of the night and motored to third on Davis' third single of the game.
"A game-winning hit, and he's gotten a few of them," said Pirates manager Clint Hurdle, visibly at the end of his emotional candle after the survival. "He's got extreme confidence when he gets in that batter's box."
A catcher's primary responsibility is looking out for his battery mate, and Sanchez also did that with the key hit, removing some of the sting from another harrowing start by Wandy Rodriguez.
The lefty allowed six runs, albeit only one of them earned, in 1 2/3 innings, in the process squandering a 4-0 lead he had been given in the first.
The Bucs' initial four-run inning was just a first-inning warm up. McCutchen lit the scoreboard fuse by doubling to drive in his 51st run in Interleague Play, tying Brian Giles' club record, then Marte tripled for two runs and scored himself on Davis' single.
The opening assault came against right-hander Chris Tillman, and the production was somewhat ironic. When the Pirates faced Tillman in the nightcap of their May 1 doubleheader in Baltimore, they forced him to make 49 pitches in the first inning, yet could net only two runs out of that pressure.
"I think it was a similar situation we saw in Baltimore," Hurdle said. "His command was off, he was getting behind in counts, elevating the ball. We put good swings on pitches out over the plate."
The last time the Pirates had muscled up for a big, early lead was behind another left-hander. On May 5, Jeff Locke had an 8-2 lead over the Giants after five innings. Soon after, Locke was gone, and so was the lead in what became an 11-10 defeat in 13 innings.
This big lead vanished quicker, in a second inning that fit Rodriguez for a straitjacket. Tillman, of the American League, laid down a two-strike bunt on which Rodriguez threw wildly for an error. Chris Davis, a night after hitting a quarter-mile worth of home runs, check-swung a 60-foot single. A 4-4 tie was snapped when Nelson Cruz -- who had led off the inning with a homer -- bounced a two-run double off the third-base bag.
"I throw good, quality pitches and they hit the ball at a base, past me ... lot of situations," Rodriguez said, quietly, still shaking his head.
"I don't know how it turns out if we execute and get an out on the bunt play. The second inning just strung him out," Hurdle said, "and there was some bad luck involved."
It all added up to six runs, and a departure with two outs in the inning for Rodriguez, who sprinted off the mound in a futile attempt to outrun the boos.
Remarkably, thanks to his own error making five of those runs unearned, Rodriguez's ERA actually went down, from 6.84 to 6.75.
Even more remarkably, minutes after that debacle, the left-hander was off the hook, as the Bucs responded with another four-spot to chase Tillman. So Rodriguez wasn't alone in squandering run support.
"Yeah, it's always a big thing as a pitcher," Tillman conceded. "[When they] go out and score runs, put up a zero. Like I've said, the fastball command, it always comes back to it."
Run-scoring hits in that second were delivered by Pedro Alvarez and Ike Davis, with two other runs scoring on an error and a double-play grounder.
Ike Davis' single off reliever Brad Brach snapped a 6-6 tie and came with the bases loaded, enhancing his '14 reputation in that situation. Davis has had five plate appearances with the bases loaded and has converted them into 11 (of his total of 15) RBIs, going 4-for-5 with a pair of grand slams.
After four innings of silence at the arms of Vin Mazzaro and Justin Wilson, the Orioles, perhaps inevitably, broke through for the two tying runs in the seventh. Wilson departed after Chris Davis' leadoff double, and the O's got to Bryan Morris on RBI singles by J.J. Hardy and pinch-hitter Steve Pearce.
The outcome could not wash away the Rodriguez dilemma, quickly becoming pressing, if not already there. Although his prior start was relatively encouraging -- two runs yielded in five innings in Milwaukee -- his season summary is unchanged. Rodriguez has averaged shorter than five innings in six starts and has allowed 25 runs and 37 hits in 26 2/3 innings -- including 10 home runs.
Hurdle was not prepared to address Rodriguez's rotation tenure.
"I'm not even gonna go there right now," the manager said. "I'm a little worn out, quite frankly. We just won a game. We'll go talk about a lot of things when I get in [the clubhouse]."
Tom Singer is a reporter for MLB.com and writes an MLBlog Change for a Nickel. He can also be found on Twitter @Tom_Singer. This story was not subject to the approval of Major League Baseball or its clubs.