Pollock gets ovation after great catch in St. Louis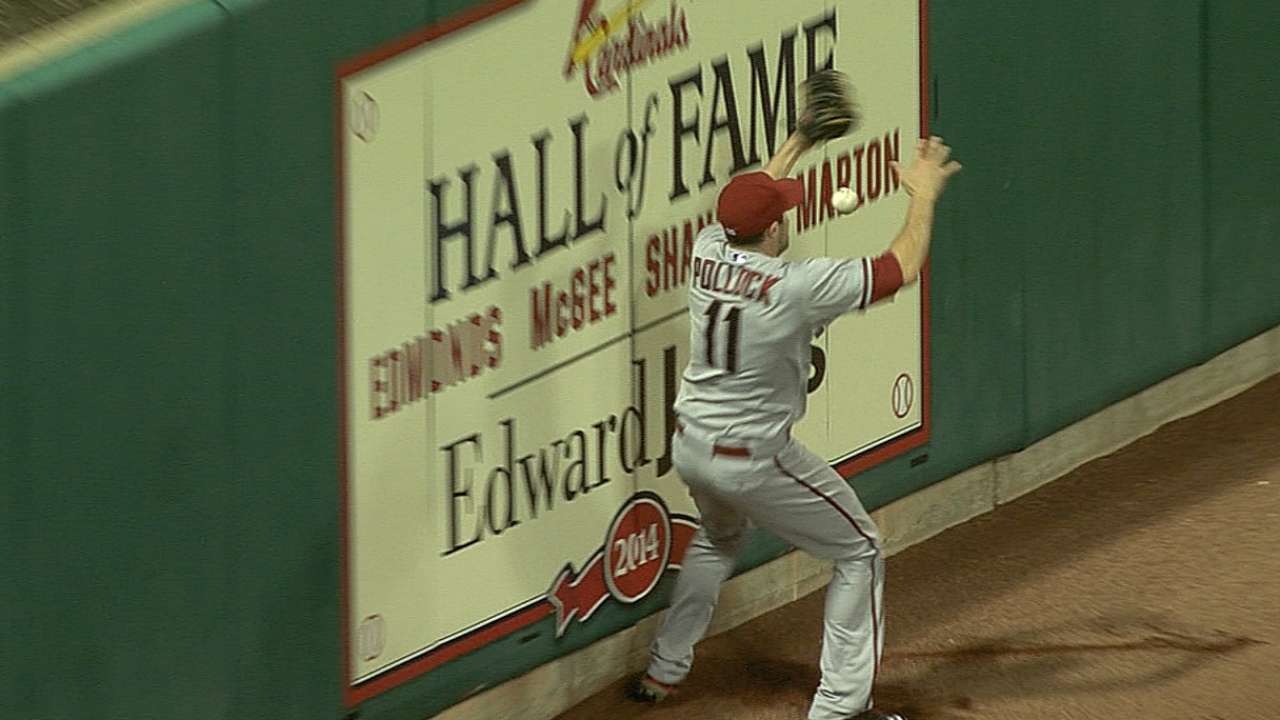 ST. LOUIS -- D-backs center fielder A.J. Pollock actually caught Yadier Molina's fly ball twice on Tuesday night.
Molina lifted a deep drive to left-center in the sixth inning and on a dead run, Pollock reached out and backhanded the ball just before crashing into the wall.
As he hit the wall, the ball popped out of his glove and as Pollock was falling to the ground, he snatched the ball with his glove just before it hit the ground.
"I caught it and then I felt it come out of my glove," Pollock said. "I was fortunate that when I looked over, the ball was in front of my face. I hit the wall and just kind of turned around. It was like the ball was just floating right there and I snatched it out of the air. It was a cool play."
Initially it was not clear that the ball had come out of Pollock's glove, but when the catch was replayed on the Busch Stadium scoreboard and the sellout crowd saw it, they rose and gave him a standing ovation.
"It's a pretty cool place," Pollock said of St. Louis. "They're on you the whole game and then you make a play and the same guys who are on you are now cheering you. You don't really see that in too many places. This is definitely a special place for baseball. The fans are very, very passionate and they respect good baseball."
D-backs manager Kirk Gibson has long been an admirer of the fans in St. Louis dating back to his playing career.
"That's how it goes here," Gibson said of the standing ovation for Pollock. "That's why it's a great environment to play in. The fans are definitely very knowledgeable and that's a neat thing. It's very classy and really the right thing to do."
Steve Gilbert is a reporter for MLB.com. Read his blog, Inside the D-backs, and follow him on Twitter @SteveGilbertMLB. This story was not subject to the approval of Major League Baseball or its clubs.