McHugh takes hard-luck loss as Astros held in check
Righty works seven strong frames, but offense manages two hits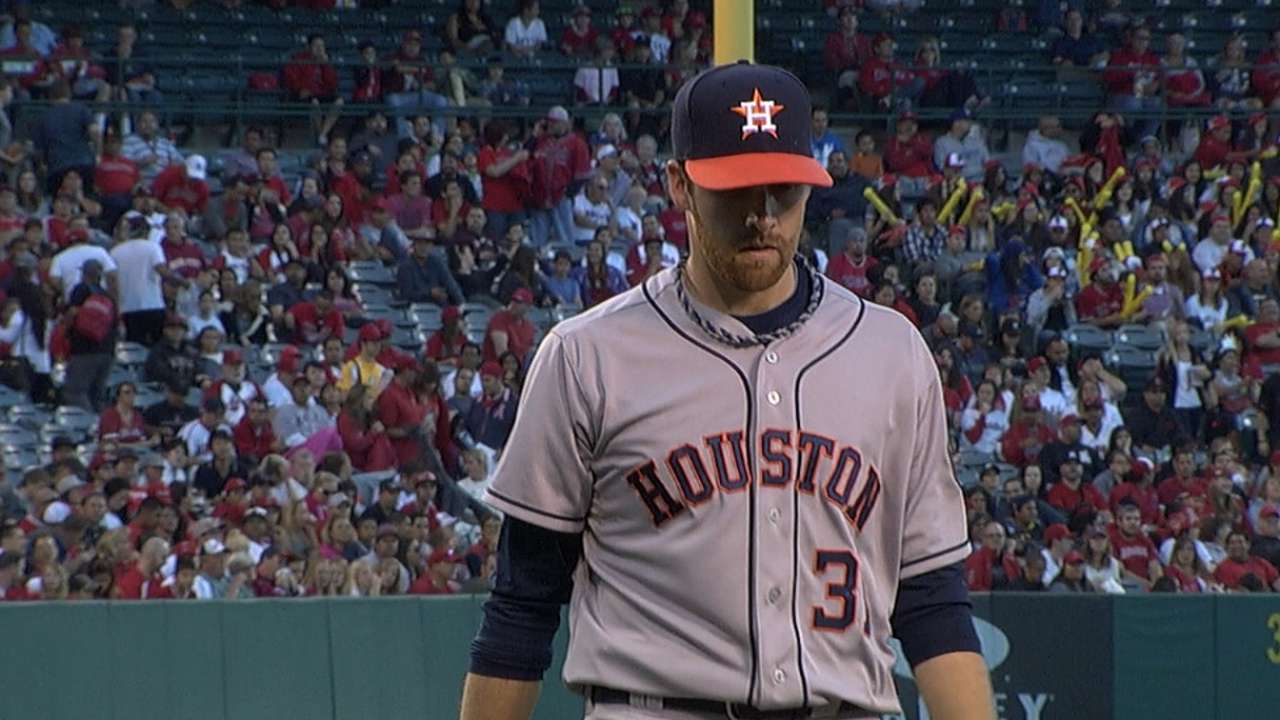 ANAHEIM -- Right-hander Collin McHugh took another step forward Wednesday night in his progression as an Astros starting pitcher.
It just didn't add up to a victory.
"If you could feel good about a loss -- which, as competitors it's hard to do -- I guess," McHugh said when asked if there were positives in the Astros' 2-1 loss to the Angels at Angel Stadium.
Albert Pujols hit his latest milestone home run and Jered Weaver was masterful in throwing a two-hitter for the Angels.
"Collin was really good tonight, and their guy was even better," manager Bo Porter said. "It just looked like he [Weaver] had us out in front all night."
McHugh (2-3), featuring a tight curveball, worked seven innings with seven strikeouts, two walks and just four hits allowed. He threw 112 pitches, and likely would want a do-over on just one.
Pujols gave the Angels a 2-1 lead with one out in the sixth. His 505th career home run -- giving him sole possession of 25th place all-time, breaking his tie with Eddie Murray -- came on a 2-1 McHugh slider.
It was just the third homer McHugh has allowed -- one each in his last three starts.
"It was a hanging slider," McHugh said. "It was supposed to be away. It was right down the middle."
McHugh added: "I had a good curveball tonight. It got me out of a lot of situations. My fastball was good."
But he's a four-pitch pitcher, and the slider's part of that mix. So, that's why Pujols got one, which didn't slide.
Weaver (5-3), far more economical in his pitch count than McHugh with 94 pitches, struck out five and walked one.
"He's arguably one of the best, if not the best, in the league," McHugh said of Weaver. "You know he's not going to give up a lot, so you've just got to battle and keep it close."
The Astros' George Springer hit Weaver's first pitch of the fourth inning, a slider, out in left field for his fourth home run -- just moments after the Angels took a 1-0 lead on Erick Aybar's two-out RBI single in the bottom of the third.
"He [Weaver] threw the ball extremely well tonight," Springer said. "He's one of the best in the game. I was just trying to get hit something hard to start something. I just hit it [the homer], I wasn't trying to."
Weaver was at his vintage best in the ninth after hitting Springer with a pitch with one out. Dexter Fowler got ahead 3-0 in the count, but Weaver came back with a 77-mph change and a 68-mph curve for strikes, then picked Springer off first on a 3-2 pitch as Springer's right leg gave out on him.
Springer hurt his right hip flexor on the play, but said that he'll be fine. Asked if he was going on the 3-2 pitch, he coyly said: "Maybe."
Fowler popped out on the next pitch to end the game.
Jose Altuve's career-best, 12-game hitting streak came to an end, in large part because Angels center fielder Collin Cowgill robbed him of hit with a diving catch to lead off the game.
And the Astros' streak of getting at least nine hits ended at 10 games. Weaver, smacked around in Houston on April 6 in a 7-4 loss, would have none of it.
"Those guys roughed me up a little bit there in their place, and I wanted to come in and have a good game and keep us in the game as much as possible," Weaver said. "Their guy on their side was throwing a heck of a game, too. Good pitchers' duel. It was nice to come out on top there."
Earl Bloom is a contributor to MLB.com. This story was not subject to the approval of Major League Baseball or its clubs.