In vintage form, Weaver deals two-hitter for hot Halos
Pujols smacks 13th homer as Angels capture fourth straight series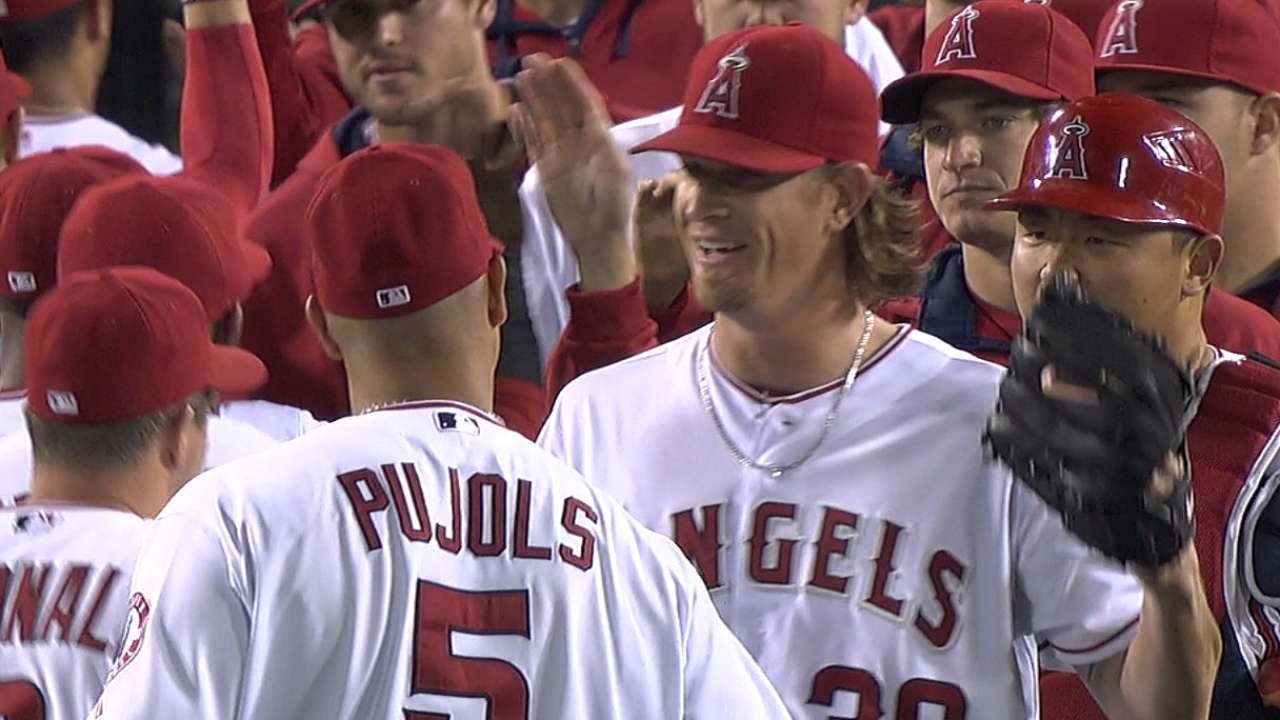 ANAHEIM -- Jered Weaver came out to pitch his first ninth inning in 21 months, and 40,112 fans cheered. He threw three straight balls to Dexter Fowler, with one on and one out, and a near-sellout crowd broke out a "Let's Go Weaver" chant. He spun quickly to pick off an overeager George Springer, and Angel Stadium went into a frenzy. He induced a harmless popup behind third base, securing a 2-1 victory over the Astros, and they all stood and applauded.
Inside, in yet another celebratory postgame clubhouse, Weaver's Angels teammates were just as satisfied.
Finally, their ace is back.
"I call that 'The Xbox Game,'" Angels catcher Hank Conger revealed. "I just call a pitch and throw it out there and he just hits his spot."
It wasn't just that Weaver threw his first complete game since 2012; it's that he did it with less than 100 pitches.
Weaver needed only 94 of them -- along with Erick Aybar's two-out RBI single and Albert Pujols' 505th career home run -- to beat the Astros and continue to trend upward. Over his last seven starts, the 31-year-old right-hander has allowed just nine earned runs in 47 2/3 innings, walking 12 batters, striking out 34 and seeing his ERA drop from 5.79 to 2.85.
Every five days now, Weaver is getting noticeably better, stronger.
It's showing up in his fastball command, it's showing up in his pinpoint location, and, as was especially the case in Wednesday's series finale, it's showing up in the way he can maintain his stuff deep into starts.
"I'm definitely feeling stronger towards the end of the game more than I did early on," Weaver said. "Just the endurance part of it has been back; velocity is getting back to where it needs to be. I'm just trying to figure this thing out, man. I feel great, I feel healthy, but I still feel like strength can get better."
Coming off a 2013 season that was flawed by a broken left elbow and was down by his standards, Weaver -- his fastball velocity continuing to erode -- dedicated himself to an intense regimen of stretching and massage therapy for the first time in his career, to "work out all the kinks" in a right arm that had been through so much abuse.
He arrived at Spring Training completely healthy, his right arm feeling better than it has in about five years, but then the season began, and Weaver wasn't seeing that translate into success on the mound.
"It was frustrating, man," Weaver said. "You feel great, but something just wasn't clicking still. Something wasn't working the way it was supposed to work."
Weaver had to trust the program; trust the process of gradually building strength back into a right arm he couldn't lift weights with for months. Slowly but surely, the strength started to return.
"It wasn't just one start where it kind of exploded," Conger said. "He just had to slowly start getting there."
Early in the season, Weaver was working out with cable exercises that wouldn't put too much strain on a bicep tendon that had been tender for a few years. Then, after a home start against the Indians on April 29, Weaver got back to old-school bodybuilding and "just started throwing weights around again, because it just wasn't working and I knew that I needed to get back to the way I used to lift."
In the four starts that have followed, Weaver has posted a 1.49 ERA and completed at least seven innings thrice.
"I think he's having fun pitching now because he's able to get a ball by you and get a ball into a good zone and set up a lot of his off-speed stuff, too," said Angels manager Mike Scioscia, whose club has won 10 of 13 and is six games above .500 for the first time since 2012.
"He's arguably one of the best, if not the best, in the league," said Astros starter Collin McHugh, who got the loss despite seven innings of two-run ball. "You know he's not going to give up a lot, so you've just got to battle and keep it close."
Weaver threw the fastball mostly at his typical 88-mph on Wednesday, but he commanded it as good as he has all year, pitched inside with it effectively and used it to play up his plus off-speed stuff. He gave up only a Springer home run to lead off the fourth, then retired the next 10 batters in order. He walked just one, struck out five to move past Mike Witt for third in franchise history with 1,286 punchouts. And he threw less than 15 pitches in every inning.
Weaver took the mound for the ninth with 86 pitches, facing the top of the Astros' order, and got Jose Altuve to fly out on a first-pitch fastball. The very next pitch plunked Springer, and the next three went for balls. Then Weaver flipped two off-speed pitches in for strikes against Fowler. Then Scioscia called for a pickoff move, and Weaver easily got the Astros' standout rookie to turn the momentum in his favor.
"That was as quick as you're going to see," Scioscia said of Weaver's move.
"Usually when I look over, I can kind of see a little bit of the runner," Weaver said. "But when I looked over before that pick, I couldn't see him so I figured he was off pretty good."
One pitch later, Weaver had his first complete game in two years -- since that 20-win 2012 season when the world still considered him among the upper-eschelon of starting pitchers. The sentiment has changed since then, and the naysayers have piled on for a while, harping on his diminishing velocity and wondering if he'll ever dominante again.
But Weaver keeps re-inventing himself, and continues to show he still can.
"One of my main goals was to prove that I was still capable of going out there and throwing the ball well for this club," Weaver said. "Obviously I started off slow, but I knew that I was healthy, that it was just some kind of change that needed to be made. Hopefully we've found that change."
Alden Gonzalez is a reporter for MLB.com. Read his blog, Gonzo and "The Show", and follow him on Twitter @Alden_Gonzalez. This story was not subject to the approval of Major League Baseball or its clubs.