D-backs drop 12-inning nail-biter in St. Louis
Parra goes deep to spark offense, but near-misses prove costly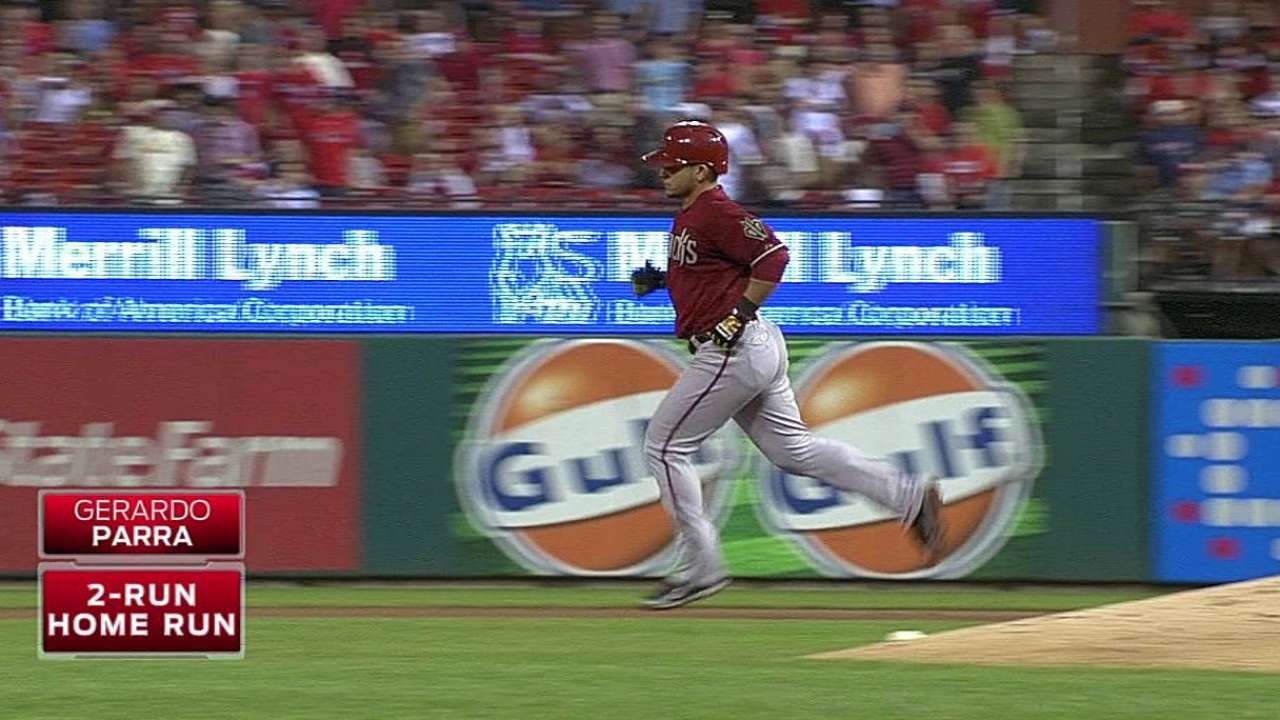 ST. LOUIS -- It was the final play of the game, but by no means can you solely pin the D-backs' 3-2 loss to the Cardinals on Wednesday night on shortstop Chris Owings.
With the bases loaded and no outs in the bottom of the 12th, Allen Craig hit a grounder to short and Owings backhanded the ball and his throw bounced by catcher Miguel Montero as Matt Holliday scored the game-winner.
But the D-backs had chances to wrap the game up long before that, and the Cardinals simply outplayed them when it mattered most.
To start with, the D-backs held a 2-1 lead after Gerardo Parra smacked a two-run homer off Carlos Martinez in the eighth inning.
The runs were the first for the D-backs in the series after St. Louis pitchers had held them down for 16 innings.
The D-backs were unable to close things out, though.
After lefty specialist Joe Thatcher retired left-handed hitter Matt Adams to open the eighth, reliever Brad Ziegler gave up a double to Yadier Molina, a single to Craig and a sacrifice fly by Jon Jay as the Cardinals tied the game, 2-2.
"We had everything set up. We brought Thatch in to get Adams and we had righties and Ziggy has done a great job for us this year," Arizona manager Kirk Gibson said. "Molina kind of hit a pitch actually down and in. [He] hit it to right field, got it over our head and then they got him in."
The D-backs had a shot to score in the 10th, when with two outs and Ender Inciarte on first, Paul Goldschmidt laced a double to left. Holliday did a nice job of picking the ball up cleanly in the corner and got the ball to relay man Daniel Descalso and the shortstop made an on target throw to Molina to nail Inciarte at home.
"You've got to be aggressive in that situation," Gibson said of third-base coach Glenn Sherlock's decision to send Inciarte. "You've got to make him catch it and throw it. you've got to tip your cap. They made the plays tonight, and they ended up beating us."
The D-backs again had a scoring chance in the 12th, and again it was snuffed out by an excellent defensive play.
This time with the speedy Inciarte on first and two outs, Parra lifted a fly ball to left-center and center fielder Jay made a diving catch on the warning track to rob Parra of extra bases. With two down, Inciarte was running all the way and would have scored a go-ahead run had the ball got to the wall.
"We still had a chance to win it," Gibson said. "They made a great play there in the 12th inning on Parra. Jay made a great play on Parra's ball then the last play of the game we were unable to make a play and stop them from scoring."
Said Holliday of the play, "With two outs you have to try that. Especially with a guy who can run. I expected them to be trying to score. Descalso has a strong arm, made up quite a bit of ground on that."
Trevor Cahill, who was in his second inning of relief, walked Holliday to lead off the 12th and then allowed a double to Adams before the D-backs intentionally walked Molina to load the bases, setting up Craig's grounder to Owings.
"He walked the leadoff guy," Gibson said of Cahill. "You just can't do that. It ended up costing us."
Overshadowed along with a decent performance by starter Brandon McCarthy was the work of reliever Evan Marshall.
The rookie found himself in a bases-loaded jam with one out in the 10th, and he managed to wiggle out of it by striking out Jay after a visit to the mound by Gibson and then getting Descalso to hit a tapper back to the mound.
"I just focused in on Miggy there," Marshall said of catcher Montero. "He keeps me calm. It was good to go up there and get a couple of zeros as eventful as they were. With Gibby coming out and talking to me and Miggy keeping me calm, I don't want to say it was fun, but it was exciting out there."
What did Gibson say to him?
"He just wanted to talk to how to pitch to Jay," Marshall said. "He just looked me in the eyes, kept me calm and gave me a game plan."
Steve Gilbert is a reporter for MLB.com. Read his blog, Inside the D-backs, and follow him on Twitter @SteveGilbertMLB. This story was not subject to the approval of Major League Baseball or its clubs.