Lohse stops skid as bats wake from slumber
Veteran throws eight strong, gets support from Reynolds, Gomez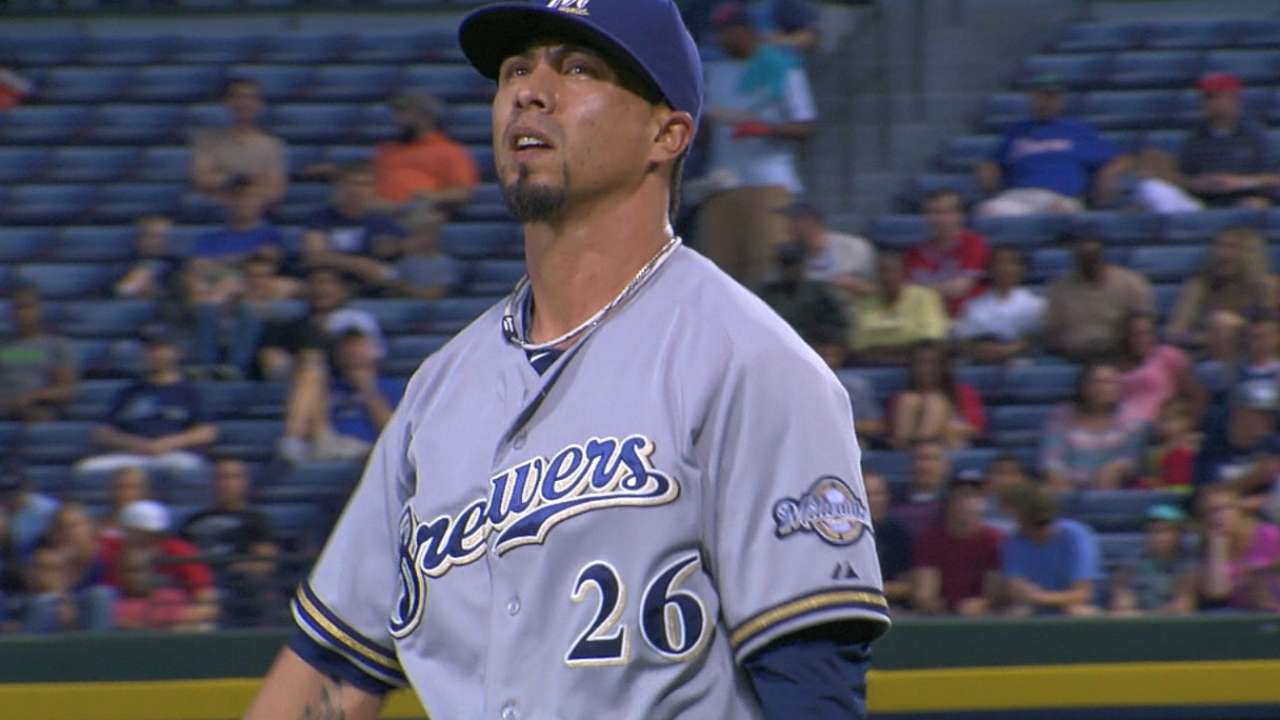 ATLANTA -- Call Brewers starter Kyle Lohse a stopper. The right-hander gave up only one run on four hits in eight innings to earn a 6-1 victory against the Braves as he helped snap Milwaukee's four-game losing streak on Wednesday night at Turner Field.
Brewers manager Ron Roenicke described Lohse's outing as, "exactly what we needed."
Mired in a slump, Milwaukee also needed some big hits. Mark Reynolds delivered with his third career grand slam to blow the game open in the first inning, and Carlos Gomez added a two-run shot in the fourth for good measure.
The Brewers scored as many as six runs in a game for the first time since May 11 and just the second time in the past 14 games.
"We needed some runs early," Roenicke said. "It's a struggle to get them, and to get them early, the guys can relax a little bit. I thought it was huge."
Call Lohse a psychic, too. As he and catcher Jonathan Lucroy walked to the Brewers' dugout after warming up in the bullpen before the game began, Lohse unknowingly offered some foreshadowing for Milwaukee's monstrous first.
"It's kind of funny, I told Luc, just kind of joking and keeping him loose, as we walked into the dugout, I said, 'I've never lost a game where I've batted in the first,'" Lohse said. "And then here I was batting in the first."
With superstition in play following the victory, Roenicke joked about canceling batting practice for the second consecutive day as his decision to do so Wednesday led to one of Milwaukee's best offensive showings this month.
"No BP tomorrow," Roenicke said. "They'd like not doing it again."
The early offensive onslaught by the Brew Crew put Lohse in danger of having a third straight strong outing at Turner Field overshadowed.
Lohse made his most recent start at Turner Field on Sept. 25, 2013, when former Braves catcher Brian McCann took issue with Gomez standing at the plate to admire a solo homer in the first inning of a 4-0 Brewers win.
The right-hander quietly gave up two hits and threw only 89 pitches in a shutout on that night. He was not as untouchable nearly eight months later, but he gave up one run or fewer for the seventh time in his past 15 starts.
He also recorded his ninth quality start, which would have been tied for the most in the Majors this season at the start of play on Wednesday.
"He mixes it well," Braves manager Fredi Gonzalez said. "You expect a fastball and he throws you a little cutter. You expect a cutter and he throws a fastball. He's not overpowering, but he mixes in a changeup and a big curveball. He kept us off balance tonight."
Mostly, Lohse was just happy to pitch a controversy-free game at Turner Field. Prior to the incident with Gomez and McCann last September, Lohse's most recent start in Atlanta came for the Cardinals in the National League Wild Card Game on Oct. 5, 2012.
In that game, fans caused a 19-minute delay when they littered the field with trash following a controversial infield fly ruling in the eighth inning of a 6-3 Braves loss that proved to be the final game of Chipper Jones' 19-year career.
"Oh, yeah. I forgot about last September," Lohse joked. "I think I had a little streak of weird stuff going on in my starts, huh?"
After giving up a run on back-to-back doubles by Freddie Freeman and Justin Upton in the first, Lohse settled down. He gave up two singles and nothing else in his final seven innings, retiring 22 of the final 24 batters he faced.
"The rhythm is really important with him," Roenicke said. "When things are flowing, you do see him get right back on the mound. [He] wants the ball and can repeat pitches a lot. If you watched, he repeated a lot of really good pitches today. When he's throwing well, that's what he does."
Lohse's good night extended to the batter's box, where he finished 1-for-3 and drew a two-out walk in the fourth to set up Gomez's two-run shot. Logan Schafer was the only Brewer in the starting lineup who did not reach base in the victory.
Gomez and Scooter Gennett, who went 5-for-10 combined, led off the decisive first inning with a single and a double, respectively. Lucroy then drew a one-out walk to set the stage for Reynolds, who hit his third career grand slam.
"I was looking for a pitch up in the zone to try to hit a fly ball, worst-case scenario," Reynolds said. "I was able to put a pretty good charge into it. I think he was trying to throw a get-me-over slider and get ahead in the count."
Milwaukee entered the game hitting .040 (1-for-25) with runners in scoring position during its season-long losing streak and only finished 1-for-7 on Wednesday night, but sometimes that one timely hit is all it takes to get a club going.
"It felt good to have our team play loose and have some fun," Lohse said. "We've been grinding pretty hard lately, and sometimes, guys put too much pressure on themselves to get the job done. Tonight, with that big four-run first, it kind of loosened the guys up."
Joe Morgan is an associate reporter for MLB.com. This story was not subject to the approval of Major League Baseball or its clubs.