Encarnacion's 2nd straight 2-HR game lifts Blue Jays
First baseman belts Nos. 10, 11 in May to help set up sweep attempt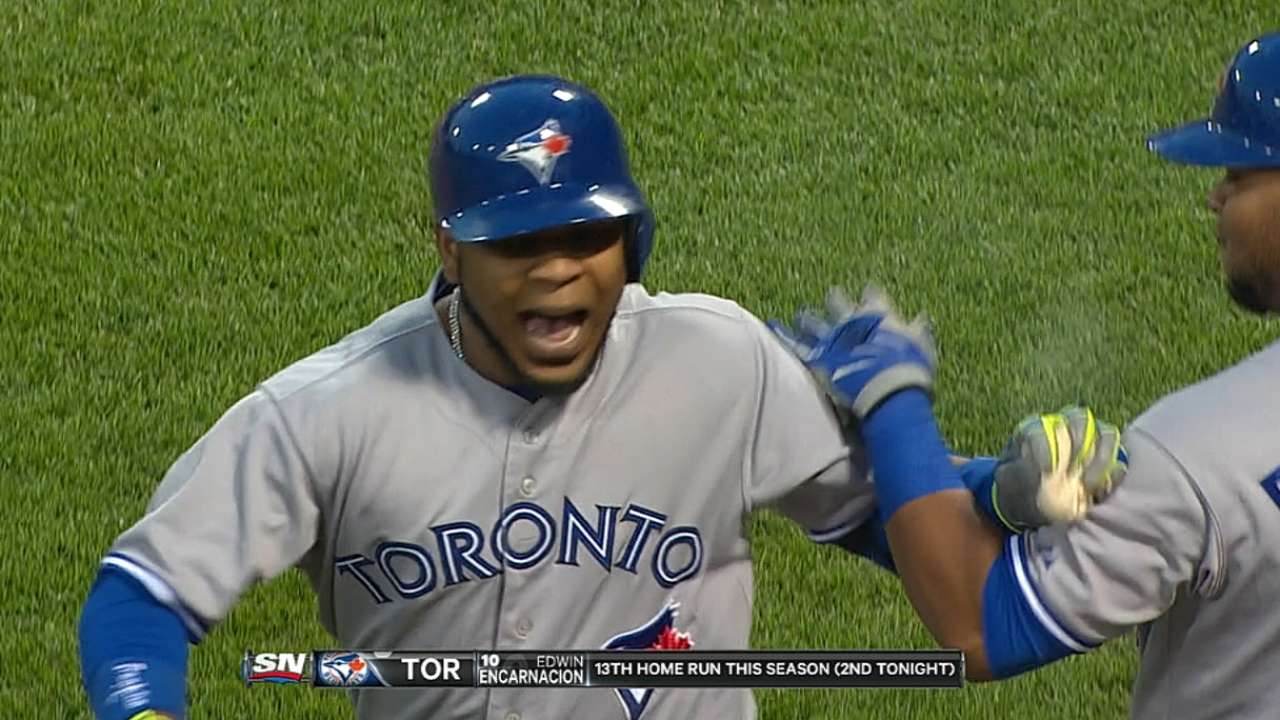 BOSTON -- The Blue Jays have started to make a move in the American League East and it's no coincidence that the recent success had coincided with the red-hot production of Edwin Encarnacion.
Toronto's first baseman has been one of the hottest hitters in baseball over the past several weeks. He leads the American League with 28 extra-base hits and has become the offensive catalyst for an organization on the rise.
Encarnacion's torrid pace continued on Wednesday night as he homered twice for the second consecutive game while the Blue Jays won for the seventh time in their past nine with a 6-4 victory over the Red Sox at Fenway Park.
"For me, it's a great feeling, the way I'm hitting and the way I've been swinging right now, because when I have my timing right, I know I can help this team to win a lot of games," said Encarnacion, whose team is 7-3 this season when he hits a home run. "It's the best feeling I've ever had before so I'm going to enjoy the moment."
The two-homer night was Encarnacion's second of the series, going deep twice in Tuesday's 7-4 victory. He's the first player in Blue Jays history to have four multiple home run games in one month and the first Major Leaguer to do it since Colorado's Troy Tulowitzki (four times in September of 2010).
The first of Encarnacion's two homers on Wednesday night came in the second inning against right-hander Clay Buchholz. Encarnacion got ahead in the count 2-0 and when Buchholz tried to challenge him with a fastball over the heart of the plate, Encarnacion sent it over the Green Monster. One inning later, it was more of the same, as Encarnacion drilled a 1-0 curveball over the wall in left for a two-run shot.
Encarnacion now has a team-leading 13 home runs, which is especially remarkable considering he didn't even have one until April 22. The 11 homers during May mark the first time in Encarnacion's career that he has reached double-digit figures in any given month. He's still only batting .253 this season, but the recent surge has completely overshadowed a slow start.
"Eddie's on fire," Blue Jays manager John Gibbons said. "He hit that homer in Texas on Sunday and then back-to-back nights. I don't think you can get any hotter."
Encarnacion began the year hitting .225 with one homer, eight extra-base hits and nine RBIs in 23 games. Opposing teams took advantage of that by consistently pitching around Jose Bautista in order to face Encarnacion, and the end result saw the Blue Jays go 11-12 while averaging 4.3 runs per game.
Since that time, Encarnacion has hit .280 (26-for-93) with 12 home runs and 20 extra-base hits with 29 RBIs over 24 games. That's sparked an offense which has averaged 5.3 runs per game over that span and an overall record of 14-10.
Encarnacion's reasoning behind the recent surge is rather simple. There's no magic formula here, it comes down to getting his timing down at the plate and he's been able to do that for the past 24 games.
"I'm feeling great," Encarnacion said. "I've been seeing the ball good at the plate. I've been trying to get my timing right like the way I'm supposed to have it.
"It's crazy the way this game is. In April, I only had two homers and now I have (11) this month and two in one day. That's crazy, this game is crazy. I've just tried to keep working hard and keep this going."
Blue Jays right-hander Drew Hutchison was coming off a shutout of the Rangers and while he wasn't as effective vs. Boston, the 23-year-old still did enough to get the job done.
Hutchison allowed at least one baserunner in every inning, but the only mistake that counted came in the fourth when he allowed a solo homer to Shane Victorino. Hutchison eventually was removed with two outs in the sixth inning having allowed six hits and two walks while striking out four.
In a lot of ways, the mark of a good pitcher isn't the success they have with their best stuff on the mound, but the way they can still put up good numbers even when everything might not be working.
"You're not going to go out there every single time and be firing on all cylinders, unfortunately," said Hutchison, who has allowed one run or fewer in four starts this year. "You'd love for that to happen, but the reality of it is, you're not.
"So on nights when you're just a little bit off, the ability to grind through there, get through it, is good. I would have liked to go a little bit deeper, but I threw too many pitches early, but with the exception of that, it was a good sign that I wasn't at my best and was able to get through it."
Toronto and Boston now appear to be heading in opposite directions. The Blue Jays have won 12 of their past 17 games and are three games above .500 for the first time since June 25, 2012. Boston has lost six consecutive games, which is the club's longest losing streak since it dropped eight in a row at the end of the 2012 season.
A major reason for the results on both sides of the diamond over the past two days has been because of Encarnacion.
"He's a dangerous hitter, tremendous power," Red Sox manager John Farrell said. "You make mistakes, he makes you pay. That's a quick-strike offense from a number of guys in their lineup."
Gregor Chisholm is a reporter for MLB.com. Read his blog, North of the Border, and follow him on Twitter @gregorMLB. This story was not subject to the approval of Major League Baseball or its clubs.