Buchholz, Red Sox burned again by homers
Right-hander yields pair to Encarnacion; Victorino hits first in loss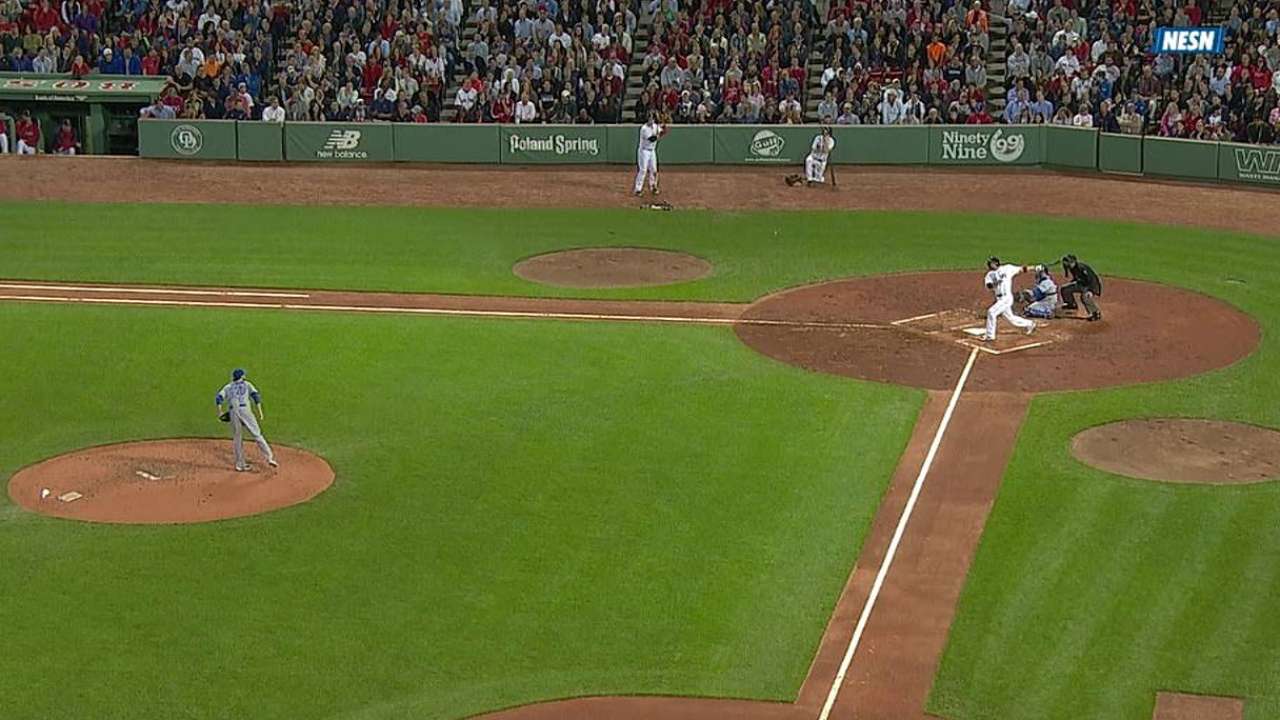 BOSTON -- Hitting with runners in scoring position and leaving runners on base are among the problem areas for the Red Sox this season.
For the pitching staff, one of the issues has been allowing opponents to score first. The Red Sox entered Wednesday night's game against the Blue Jays having allowed opponents to score first in 24 games -- winning just five of those.
Boston's futility in such games continued with a 6-4 loss in the middle game at Fenway Park.
Right-hander Clay Buchholz took the loss, falling to 2-4 while watching his ERA rise to 6.32. He needed 90 pitches (53 strikes) to get through 4 2/3 innings, giving up five runs (four earned) on nine hits and two walks with two strikeouts. He tied a season high with two home runs allowed, which he also did in his first start of the season.
"Inconsistent command," said manager John Farrell. "Far too many at-bats where he pitched behind in the count. And uncharacteristic for what we know of Clay is that mistakes found their way to the middle of the plate. We find ourselves down quickly, 4-0, and we're digging out of a hole from the third inning on. I thought there was better finish to his stuff from the middle of the third inning through, unfortunately, the time he came out of the game.
"But physically there's no complaints, there's no issues. We've got to make either an adjustment or a correction mechanically because too many misfires up to the arm side."
Buchholz was at a loss to explain his struggles.
"As far as stuff goes, I felt like I had the best stuff in this start velocity-wise than I've had all year," he said. "So there's absolutely nothing physically bothering me. It's tough when you go out there and you miss with one pitch, and it gets hit every time. So that's where I'm at right now."
Asked if he was frustrated, Buchholz replied:
"Would you? Yeah, I'm frustrated."
Toronto right-hander Drew Hutchison earned the win. He went 5 2/3 innings, giving up one run on six hits and two walks with four strikeouts and a home run.
The lone run Hutchison allowed came in the fourth inning on Shane Victorino's two-out home run, his first of the season.
"You're not going to go out there every single time and be firing on all cylinders, unfortunately," Hutchison said. "You'd love for that to happen but the reality of it is, you're not. So on nights when you're just a little bit off, the ability to grind through there, get through it, is good. I would have liked to go a little bit deeper, but I threw too many pitches early. But with the exception of that it was a good sign that I wasn't at my best and was able to get through it."
Buchholz allowed the Jays to get on the scoreboard first and jump out to a four-run lead after three innings powered by a pair of home runs by Edwin Encarnacion, his second straight two-homer night.
Buchholz needed just 13 pitches to get through the first inning. After allowing leadoff hitter Jose Reyes to reach on a single, he retired the next three in order. But Buchholz labored in the second inning, needing 33 pitches to complete the frame as the Jays sent eight batters to the plate.
Encarnacion greeted him with a leadoff homer, a laser beam into the first row of Green Monster seats in left. Buchholz then walked Juan Francisco before getting Brett Lawrie to fly out. But Dioner Navarro singled and No. 9 hitter Anthony Gose walked before Reyes' single scored Francisco. Buchholz retired Melky Cabrera and Jose Bautista, but the damage had been done.
Encarnacion entered the game just 1-for-21 in his career against Buchholz.
"For me, it's a great feeling, the way I'm hitting and the way I've been swinging right now," Encarnacion said, "because when I have my timing right, I know I can help this team to win a lot of games. It's the best feeling I've ever had before so I'm going to enjoy the moment."
Catcher A.J. Pierzynski saw enough in Buchholz's outing to hope the right-hander can build on it in his next start.
"Actually, I think the last two innings were better," Pierzynski said. "I know he gave up a run in the last inning. But we talked, we made some adjustments the last couple innings and he actually threw the ball better. So hopefully it carries over to his next start. He had a good first inning. And then second and third it kind of got away, but then I thought the next couple, he was OK. And unfortunately the result in the last inning didn't reflect that because he made a good pitch in to Navarro. He put a good swing on a good pitch. Hopefully, he can learn from that and it helps him in his next start in five days."
In the second, Adam Lind led off with a triple, his first since June 29, 2013, and scored on Encarnacion's second home run of the game, giving Toronto a comfortable four-run lead.
Meanwhile, the Red Sox offense struggled to figure out Hutchison, who allowed just three baserunners through the first three innings -- a leadoff walk to Grady Sizemore in the first, a Mike Carp double in the second, and a Dustin Pedroia single in the third.
But the Blue Jays added another run the following inning when Navarro's two-out single to left scored Lind to make it 5-1. That ended Buchholz's outing, with left-hander Chris Capuano entering the game.
The Jays got a run off Capuano in the seventh when Gose's two-out single scored Steve Tolleson, who singled pinch-hitting for Francisco.
The Sox got a late surge with three runs in the eighth inning off reliever Esmil Rogers. Carp's double scored Victorino, who reached on a fielder's choice. Xander Bogaerts' double scored Carp, and Brock Holt's double scored Bogaerts, cutting the Sox deficit to 6-4. But that was all the Sox could manage.
The Sox went 2-for-6 with runners in scoring position and left 11 runners on base.
"The bottom line is we keep getting guys on base eventually we're going to get hits," Pierzynski said. "We have too many good hitters, too many good players, and too many guys that have done it for too long for it to stay like this. I think that as long as we have the opportunity and keep getting guys on base and keep having the at-bats, the people here are grinding it out. There's no doubt in my mind everyone here is trying. No one's changed anything. Everyone's working their tails off. It'll turn, and when it does someone's going to pay."
With the loss, the Sox extended their losing streak to six games, their longest since an eight-game slide to end the 2012 season.
Maureen Mullen is a contributor to MLB.com. This story was not subject to the approval of Major League Baseball or its clubs.