Cubs can't close out Yanks for Samardzija, fall in 13
Seven scoreless frames go for naught as Rondon, Veras struggle late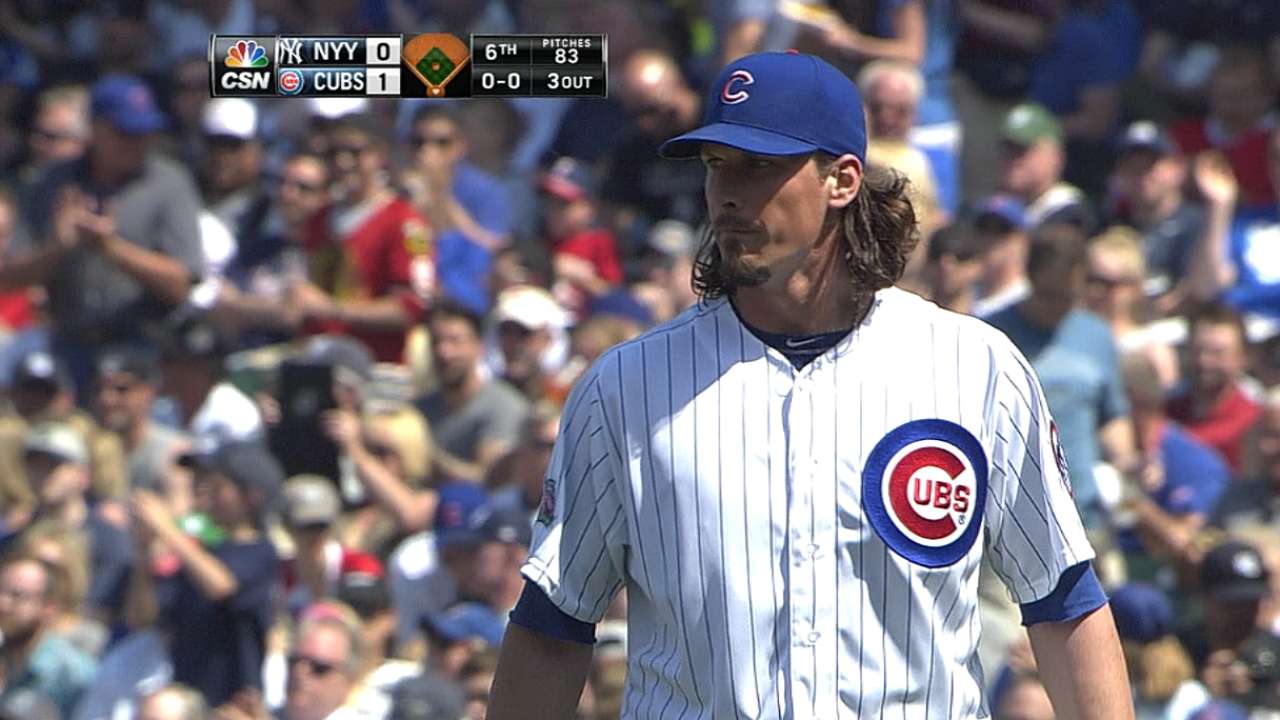 CHICAGO -- Jeff Samardzija's winless streak is now at 16 games.
Brendan Ryan scored the tie-breaking run on a wild pitch by Jose Veras, and John Ryan Murphy added an RBI single in the 13th inning Wednesday to lift the Yankees to a 4-2 Interleague victory over the Cubs and Samardzija, who was was once again denied his first win of the season.
"It was a very tough ballgame," Cubs manager Rick Renteria said.
Ryan led off the 13th against Veras with an infield single that third baseman Luis Valbuena knocked down. Yangervis Solarte walked, and both he and Ryan moved up on Preston Claiborne's sacrifice in his first Major League plate appearance. Veras' 2-1 pitch to Murphy sailed to the backstop, and Ryan scored. Murphy then delivered a bloop RBI single to right.
The game should have never gone to extra innings, but an error by second baseman Darwin Barney led to a tying run in the ninth. Trailing 2-0 against Hector Rondon, Mark Teixeira singled, Brian McCann walked and Solarte singled to load the bases. Ichiro Suzuki hit a grounder to shortstop Starlin Castro, who got the force at second. A run scored on the play, but the Yankees added another as Barney's relay throw skipped past first baseman Anthony Rizzo for an error.
"It just got away," Barney said. "Ichiro running, grass is slow. I thought I had to rush it a little bit. You look at it again and maybe I should've ate it. I'm trying to make the play, and I'd rather go down that way than holding it. My teammates picked me up after that. That doesn't happen very often. I'll work and not let it happen again."
Barney hasn't had consistent playing time this season as he did the last two years. Could that be the problem?
"Those are excuses," he said. "I'm not going to make an excuse right now. I tried to make a play and the throw got away from me."
And nobody felt worse for Samardzija than he did.
"I feel terrible," Barney said. "The guy went seven scoreless again. He's the best pitcher in the league right now -- American League, National League, Japanese league. The wins will come. It's one of those funny things -- some days you come out and put up five runs in the first two innings, and it hasn't happened for him yet.
"We're trying hard. Maybe we're trying too hard for him."
Samardzija has the best ERA in the Major Leagues at 1.46. He has zero wins in 10 starts.
"He did a great job, did everything he's supposed to do," Renteria said.
The Cubs are 1-9 in his starts, and simply haven't scored any runs for Samardzija, who ranks fourth in the NL in lowest run support average. On Wednesday, he scattered four hits, walked two and struck out three, and he was lifted after 95 pitches.
"He's a handful," Derek Jeter said of Samardzija. "He's throwing 95, 96 [mph]. He's throwing the two-seamer, he's throwing a cutter, he's throwing a sinker. Mixes in his slider. I know he hasn't gotten a win, but you see why he's tough to deal with. We were fortunate to win this one."
Any team needing a starting pitcher has to be watching Samardzija's outings and wondering what he could do for their staff. Since last season, Samardzija has been the subject of trade rumors, and he knows the chatter will increase as the July 31 non-waiver Trade Deadline approaches. Is he wasting his outings with the Cubs?
"We're not wasting anything," Samardzija said. "Modern technology, every game gets seen and watched. I don't think it's any secret with what I'm doing. I can get better, and I'm doing some things out there that are good and we look to keep building on that. It's 10 starts in, and we have another handful to go hopefully and just keep doing it."
The righty was vying for his first win since last Aug. 24 in San Diego. Since that date, 383 different Major League pitchers have earned at least one "W." How can he not be pulling his hair out?
"I've seen it go the other way, too," Samardzija said. "I go back to early in my career in '08, '09, when I didn't know what I was doing, but somehow managed a ERA in the 2's my rookie year. You keep throwing the ball, and it'll turn around."
Renteria hasn't seen Samardzija destroy anything in the dugout or clubhouse.
"His performances are continuing to speak to his professionalism, his ability to pitch," Renteria said. "This was a tough loss for the Cubs. This is beyond individuals. His efforts and what he's capable of doing out there on the hill continue to shine. It's not taking anything away from what he's doing. As a team, we haven't been able to capitalize on closing out some of his outings."
The Cubs loaded the bases with one out in the fourth and only managed one run on Mike Olt's sacrifice fly. With one out in the seventh, pinch-hitter Ryan Kalish tripled and scored on a sacrifice bunt by Emilio Bonifacio. The Cubs then loaded the bases, but Adam Warren got Castro to ground out to Jeter, who turned a nifty double play.
The game was the last at Wrigley Field for Jeter, who is retiring after this season. The Yankees shortstop was cheered by the crowd of 34,808 before each at-bat. The extra innings gave the fans extra chances to salute him.
"I kept hoping it was the last one, every time I went up there," Jeter said of his at-bats in the 10th, 12th and 13th. "I was hoping the game wouldn't take that long, but I told you, the way the fans have been treating me on the road this year -- it's been unbelievable. There's a lot of history here, a lot of tradition with the Cubs and their fans and this stadium. It's much appreciated."
Said Veras, who played with Jeter: "He deserves it."
Carrie Muskat is a reporter for MLB.com. She writes a blog, Muskat Ramblings, and you can follow her on Twitter @CarrieMuskat. This story was not subject to the approval of Major League Baseball or its clubs.