Rangers find their power stroke, beat Mariners
Elvis belts second homer; Choo snaps tie with solo shot in fifth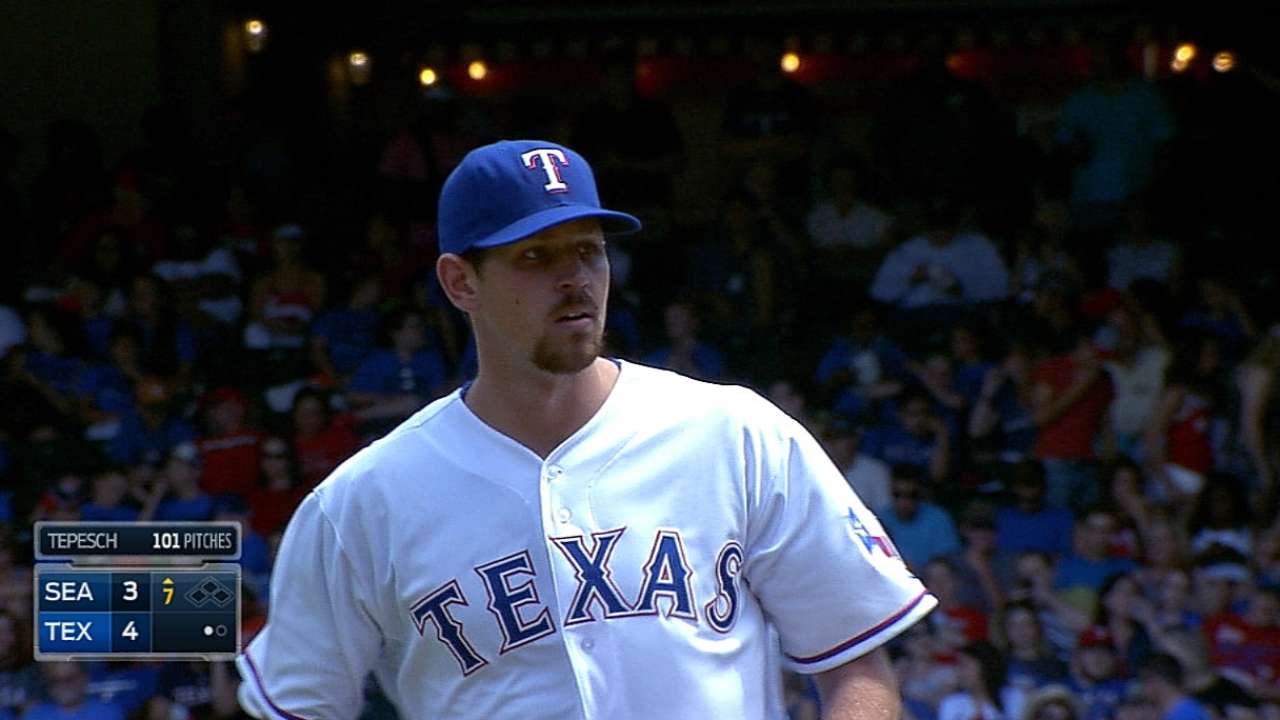 ARLINGTON -- The look in his eyes told Ron Washington everything he needed to know at that moment.
It was the seventh inning of the Rangers' eventual 4-3 win against the Mariners Wednesday, and Washington had made his way to the pitcher's mound to have a brief chat with starter Nick Tepesch. Washington was ready to pull him, if need be.
"I just wanted to know how he was feeling and did he think he had enough to get this lefty up there, because I had a lefty ready," Washington said. "He convinced me."
But Washington wasn't alone.
Tepesch convinced nearly everyone at Globe Life Park, earning his first win of the season and pitching for 6 1/3 innings, allowing five hits, three runs, and four strikeouts. It was his first win since July 5, 2013, and with 112 pitches, he set a new career high for pitch count. His ERA is now 3.09.
"I don't have any complaints really at all," Tepesch said. "I think it was just getting ahead of hitters earlier and throwing more strikes early on in the counts."
It also didn't hurt that for the first time in several games the starting pitcher had run support to help him get through the outing.
Before Wednesday, the Rangers had scored two or fewer runs in five of eight games. But in the first inning alone, they registered three. Elvis Andrus had a two-run home run -- his second of the season and his first at Globe Life Park in 177 games, a record-high. Shin-Soo Choo, Adrian Beltre and Alex Rios then all singled, and Rios drove in Choo for the 3-0 lead.
"I just didn't have my rhythm the first inning," said Mariners starter Chris Young. "I dug us in a hole and it was just too deep. I'm frustrated by it."
The Mariners tied the game at 3 in the fourth when James Jones tripled, converted a 10-game hitting streak into 11, and scored on Michael Saunders' single to left field. Robinson Cano then hit his second home run in Arlington -- and second of the season.
But Choo homered in the fifth for the Rangers, which ended up being the last run of the game.
"[ I had] two strikes, I was in the leadoff spot," Choo said. "I don't try too much. [Young's] not really a power pitcher, but he can elevate a fastball and has good offspeed, so I tried to hit it hard."
Choo's home run sent Tepesch back to the mound with the Rangers clinging to a 4-3 lead. Once Tepesch was pulled after putting runners on first and second with consecutive walks and just one out, the responsibility fell on the shoulders of Robbie Ross Jr., a starter turned reliever just a day before .
"I was pretty amped," said Ross of the pressure situation. "I was just sitting there thinking, 'I hope I can help [Tepesch].'''
And that he did.
With just two pitches, Ross forced Stefen Romero to ground into a double play and the inning was over.
"You come out of the 'pen in a situation like that, and all you're wanting to do is feel like, 'Gosh, here we go," Ross said.
Neal Cotts and Joakim Soria closed the game, pitching the last two innings, and Soria registered his eighth save of the season with a 1-2-3 ninth inning.
With the victory the Rangers improved to 22-24 on the season -- and perhaps more importantly, gained some of their confidence back in the midst of offensive struggles and hard-hitting injuries to key players.
"I don't think you could've written it up any better, especially in the type of game that was played out there today," Washington said. "We did exactly what we had to do."
And it yielded exactly the results they were hoping for.
Grace Raynor is an associate reporter for MLB.com p> This story was not subject to the approval of Major League Baseball or its clubs.