Royals eke out finale victory over White Sox
Aoki's bunt single starts eighth-inning rally; Guthrie solid for seven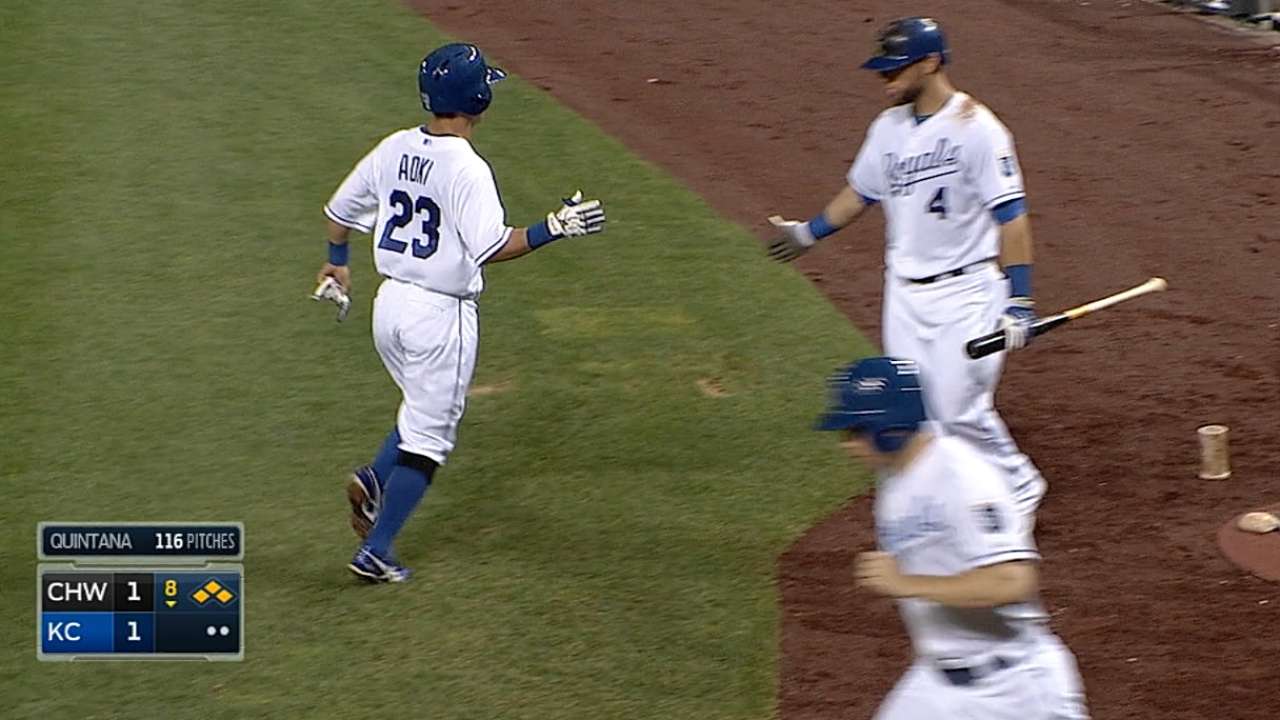 KANSAS CITY -- It was an international first. Nori Aoki bunted for a base hit with two strikes, something he'd never done or even attempted in his career.
Aoki's bunt single got Kansas City started on a two-run eighth inning that beat the Chicago White Sox, 3-1, on an 85-degree Wednesday night at Kauffman Stadium. That salvaged the last game of the series and gave the Royals a winning homestand at 5-4 and a .500 record at 23-23.
Never before in eight years with the Tokyo Yakult Swallows in Japan or two years with the Milwaukee Brewers had Aoki tried to bunt for a hit with two strikes. He'd put down two-strike sacrifice bunts but not this. It took some urging from Royals hitting coach Pedro Grifol.
"That's actually the first time I've ever bunted with two strikes, so I was pretty nervous," Aoki said. "Pedro had to convince me to do it. I guess I have a pretty high chance of getting a bunt down, so it really doesn't matter what the count is."
There was one out in the inning and the count got to 1-2, prompting White Sox third baseman Conor Gillaspie to move back. If Aoki hits a foul ball, he's out, but Aoki put down a perfect bunt and made it to first without a throw.
"They play him tight up until two strikes, then back up," Royals manager Ned Yost said. "He's such a good bunter, go ahead and try it. It could help us get a rally started, it could do a lot of positive things, and tonight it won the game for us."
Alcides Escobar followed with a double to left-center field, sending Aoki to third. White Sox starter Jose Quintana was still in the game and Eric Hosmer, up next, was just 2-for-24 against the left-hander in his career. But the White Sox had Quintana intentionally walk Hosmer to load the bases. Right-handed reliever Jake Petricka took over for Quintana and faced righty Billy Butler. The White Sox envisioned an inning-ending double play.
"Jake's been pretty good at getting ground balls, and if Billy puts it on the ground, you have a better chance of getting a double play, with one guy instead of him facing two guys. It just didn't work out," White Sox manager Robin Ventura said.
Butler lined a hard drive directly to right fielder Dayan Viciedo, giving Aoki plenty of time to score after the catch for a 2-1 lead.
"I knew what their thinking was when they walked Hoz. At the end of the game the other day, I hit a sharp ground ball right at the second baseman," Butler said. "So if I get on top of one, it's a double play. And the guy induces a lot of ground balls, so I had to get underneath a pitch and get a line drive. I got the job done. It's a big situation, that's why I'm in the lineup."
Then Yost assessed the White Sox strategy as Alex Gordon came to the plate.
"When it was first and third after the sac fly, they moved [first baseman] Adam Dunn back, which told me that if Hosmer stole, they were going to intentionally walk Gordon. So we made Hoz stay there in case Petricka made a mistake. He didn't," Yost said.
Gordon walked anyway to load the bases again, bringing up Danny Valencia.
"Gordy did a good job of laying off and then Danny's at-bat was really good because that was the at-bat they were going after -- they wanted to get Danny. For Danny to push across the third run was a great at-bat," Yost said.
Valencia worked Petricka for a 3-1 count and then took ball four to force in the Royals' third run. Lorenzo Cain grounded out with the bases full, but enough damage had been done.
Not that the White Sox didn't stir up some trouble in the ninth for Royals closer Greg Holland. With one out, Viciedo singled and Dunn walked and swifter pinch-runners were sent into the game for both. But Holland got his 13th save by getting Alexei Ramirez to rap into a double play.
Holland followed up on a perfect eighth inning by reliever Wade Davis, who got the win. Davis has a string of 10 consecutive scoreless innings including 20 strikeouts.
"Wade and Holly have been absolutely dynamite," Yost said.
Royals starter Jeremy Guthrie threw seven strong innings but got no decision. He gave up the only White Sox run in the second. Dunn walked and was forced at second by Ramirez as the Royals were unable to complete a double play. Ramirez then stole second base and Paul Konerko singled him home.
"Tremendous," Yost said of Guthrie. "He should have got out of there scoreless. He got the double-play ball and we couldn't turn it for him."
The Royals tied the score, 1-1, in the third with a flurry of three singles off Quintana. The first was by Pedro Ciriaco with one out. He took second as Brett Hayes bounced out to first and scored on Aoki's single to left.
Yep, Aoki had a busy night, but he shrugged off the RBI hit. He was thinking about that two-strike bunt single.
"It's something that Pedro and I have talked about in the last two games," Aoki said. "He told me to go ahead and bunt with two strikes, so I'm glad I was able to do that today."
Aoki has been working on his bunting with first-base coach Rusty Kuntz.
"I really appreciate Pedro for talking to me about that and also Rusty -- we always work on bunts before BP, so I'm just really thankful for them," he said.
The Royals were just thankful for the two-strike bunt hit, Aoki's international first.
Dick Kaegel is a reporter for MLB.com. This story was not subject to the approval of Major League Baseball or its clubs.