A's appear poised to anoint Doolittle as closer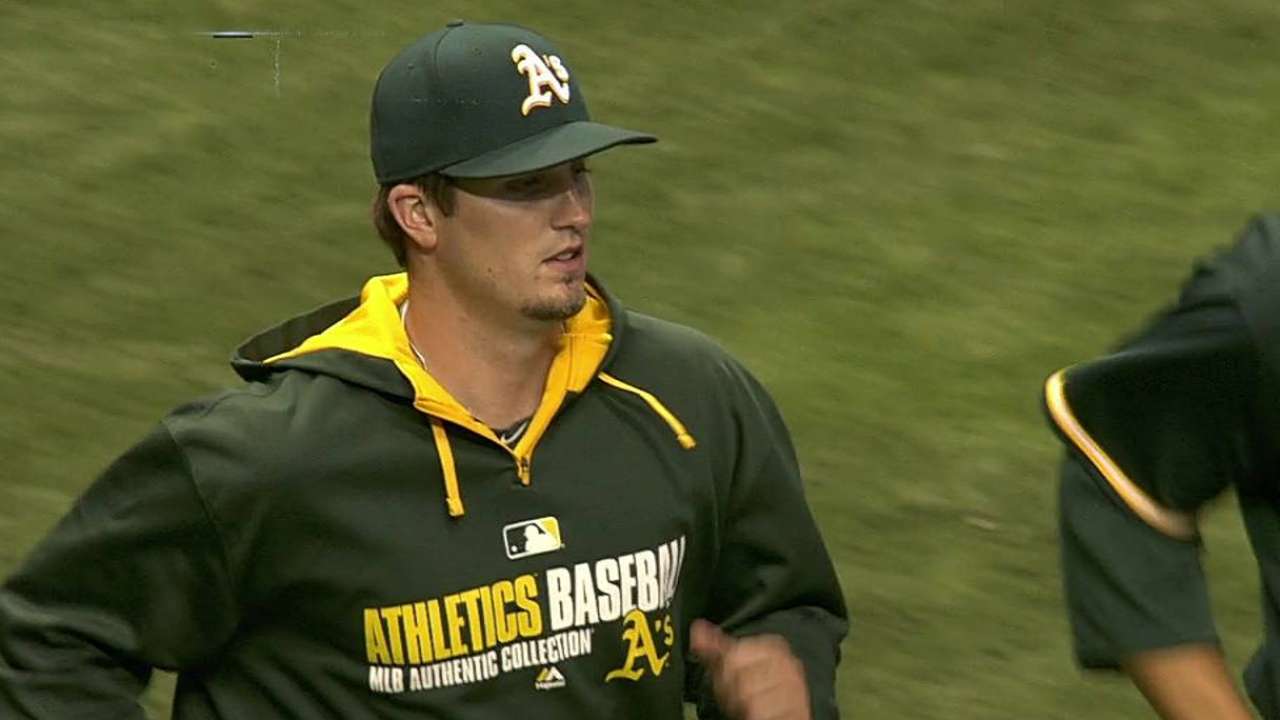 ST. PETERSBURG -- The A's are done playing musical chairs in the ninth inning.
Having toyed, sometimes unsuccessfully, with a closer-by-committee approach following Jim Johnson's demotion from the role just 11 days into the season, the A's appear ready to anoint Sean Doolittle as their new guy.
Manager Bob Melvin didn't say so directly after Doolittle locked down the save in Tuesday's 3-0 shutout in St. Petersburg, but he sure suggested it, relaying as close to an official announcement as he had all year.
"The way things are setting up," Melvin said, "there's a good chance he will be in the closing role."
To which Doolittle responded, "It's pretty cool, I guess."
"He's done a good job of communicating with us as far as what our roles are all season long, so it's not exactly a surprise when the phone rings," the lefty continued. "We know what's going on. I've said to him a number of times, 'Whenever you need me to pitch, I'll pitch. Whether you need me for two outs in the sixth or in the ninth, I'm ready to go.'"
Doolittle's promotion comes just four weeks after the A's rewarded him with a five-year deal on the premise that, one day, he would be their closer. No one expected it to happen this soon, though, given the club's decision to reel in Johnson via trade in the offseason and pay him $10 million in arbitration salary.
Johnson's role is anything but defined at the moment. He's allowed seven runs, all earned, over his last six outings following a 10 1/3-inning scoreless streak and has a 7.00 ERA in 19 appearances, compared to Doolittle's 3.27 mark in 21 outings.
Doolittle issued his first walk since Aug. 31, 2013, with two outs in the ninth inning Tuesday. His strikeout total, meanwhile, stands at 30 over 22 innings -- including 19 against right-handers.
Lefty closers are an exclusive class, but Doolittle has always felt "like I've been able to get righties out just as well as lefties. That's something I take a lot of pride in, being able to get guys out on both sides of the plate."
The A's are now showing confidence in his ability to do it in the ninth inning.
"I've gotten to do it very sporadically over the last couple of years and a little bit this year, and it is a little bit different out there when you're trying to nail down the last three outs of the game in a tight ballgame," he said. "But the more I've done it, the more and more I've been able to control that adrenaline and use it to my advantage and feed off it, and I'm starting to feel more comfortable in that spot."
Jane Lee is a reporter for MLB.com. Read her blog, Major Lee-ague, and follow her on Twitter @JaneMLB. This story was not subject to the approval of Major League Baseball or its clubs.