Tribe keyed by Bauer's solid showing against Tigers
Right-hander impresses, shows promise with sharp six-plus frames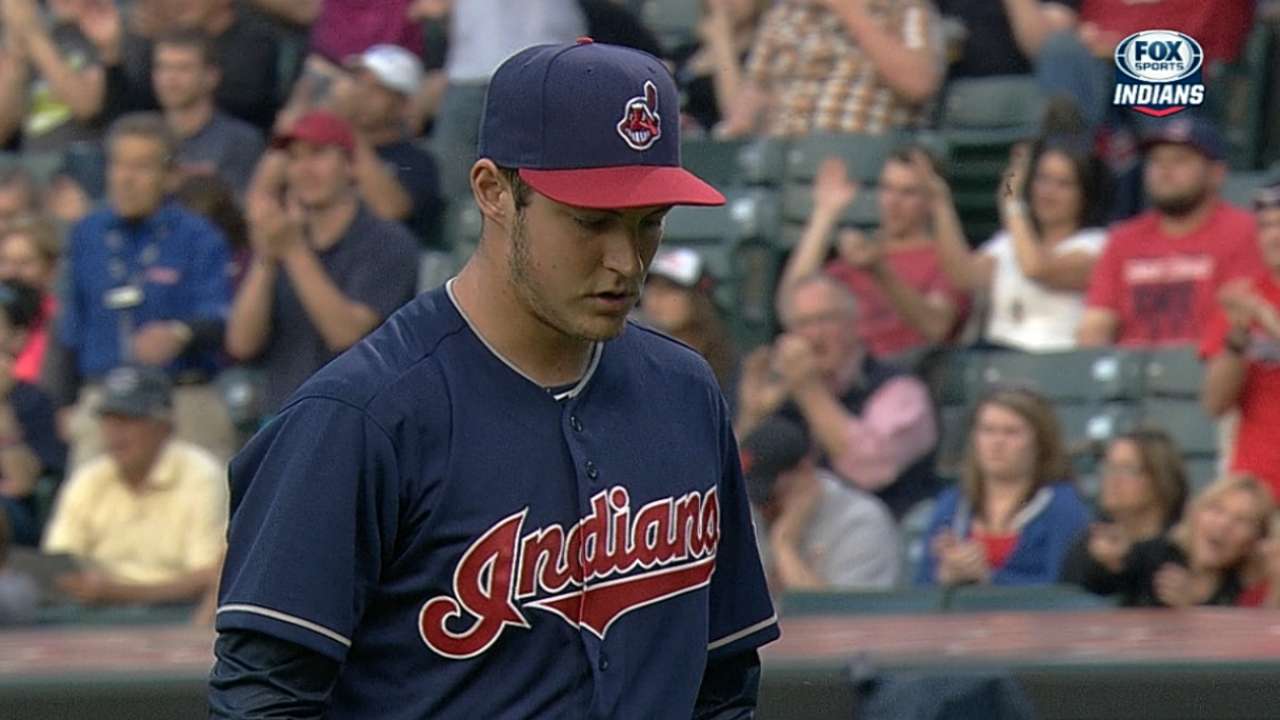 CLEVELAND -- It felt like summer had arrived on Tuesday night in Cleveland. The Indians are hoping a future cornerstone for their rotation arrived along with it.
In a true test of his mettle, Tribe pitching prospect Trevor Bauer was summoned from Triple-A, gifted with a home in the starting staff and asked to match wits with Tigers ace Justin Verlander at Progressive Field. In a series that means as much for the Indians as one can in May, Bauer led the charge in a 6-2 victory over division-leading Detroit.
"That's not the easiest assignment," Indians manager Terry Francona said, "when you come up from Triple-A to face them. I thought he really did a great job."
A mechanical mess last season, Bauer has returned to Cleveland featuring the kind of arsenal that convinced the Tribe to pry him away from Arizona in a blockbuster trade two offseasons ago. Bauer fired an array of darting pitches and lit up the stadium's radar gun, handling Detroit's potent lineup with apparent ease in stretches.
Cleveland warned against reading too much into the statistical results of Bauer's showing last season, when he appeared to regress in the Minors and was forgettable in four spot starts with the Tribe. The team and pitcher both insisted that he was in the midst of a dramatic mechanical overhaul and it would take time to experience on-field dividends.
Seeing Bauer now is believing.
"It's night and day compared to what we saw last year," Indians third baseman Lonnie Chisenhall said. "We knew he had the stuff, but from Spring Training on, I feel like he's been shoving."
Bauer shoved to the tune of a 2.15 ERA in seven starts with Triple-A Columbus this season and was impressive in his April 9 spot start against the Padres. Against the Tigers, the right-hander returned to the big leagues and turned in six-plus strong innings, striking out five and sidestepping the amount of harm that could have come from the three walks and seven hits he allowed.
Bauer (1-1) sat around 94-96 mph with his fastball and hit as high as 98-100 mph at points throughout the win, which was Cleveland's second in a row to clinch the series.
A lot has changed in one year.
"The most frustrating thing to me about last year," Bauer said, "is that I'd go out there and didn't feel like I was contributing to help the team win."
Bauer's outing was not without some minor setbacks, though. There was Torii Hunter's 429-foot home run two batters into the game, for example. The baseball rocketed off Hunter's bat and clanked off the bleacher seats in left-center field, giving Bauer a rude welcome back to the big leagues. The righty set down the next two hitters in order to avoid further harm.
In the fifth inning, Tigers catcher Alex Avila followed suit, crushing a 2-2 offering just over the wall in left-center for a leadoff blast -- one that was confirmed to be a home run after a brief crew chief review. Bauer avoided more damage in that frame, too. That was a trend throughout the evening for the 23-year-old right-hander.
"He did a lot of things good," Francona said. "He competed. He pitched in. He was aggressive attacking the strike zone. He changed speeds. He used all his pitches. With men on base, he executed pitches."
With one out and a runner on first in the fifth, Bauer surrendered a single into the left-field corner to Ian Kinsler, but was soon the beneficiary of some stellar defense. Indians left fielder Michael Brantley corralled the ball, spun and fired it to second base, where Kinsler was sliding in with a double in mind.
The throw narrowly beat Kinsler and second baseman Mike Aviles applied the tag, giving Brantley his Major League-leading fifth outfield assist of the season. Brantley then waved to the fans in the left-field bleachers as they chanted his last name.
"Michael Brantley made a huge play," Francona said. "He's so good at that and he practices it. He's done it time and time again."
Bauer's final escape act came in the sixth, when he issued back-to-back walks to Victor Martinez and Austin Jackson with one out.
The right-hander responded by inducing a grounder off the bat of Nick Castellanos. First baseman Nick Swisher gloved the ball and fired to shortstop Asdrubal Cabrera to initiate a double play. Cabrera recorded the out at second and fired back to Bauer, who was hustling to cover first.
The pitcher stretched and received the ball in time, but Castellanos was ruled safe by first-base umpire Tim Timmons. Francona immediately jogged out of the dugout and challenged the ruling, which was overturned following a replay review. The crowd roared as the change was announced, rewarding the Indians with an inning-ending double play.
"It was definitely nice to get that overturned," Bauer said.
Bauer also benefited from Cleveland's showing against a very human-looking Verlander.
The Indians struck for one run in the first behind three straight singles -- the last in the series being an RBI base hit from Chisenhall. Cleveland then chewed through a pile of pitches in the second to push four more runs across against Verlander (5-3), who then gutted his way through 116 pitches and six innings in a losing effort.
"It was a tough night early, really the first four innings," Verlander said. "Those guys put together a bunch of pretty good at-bats."
For good measure, Tribe right fielder David Murphy contributed a solo home run against reliever Evan Reed to pad Cleveland's lead in the seventh inning.
That was plenty for Bauer to collect his first win as a true member of Cleveland's rotation.
"Last year, he had to work through some frustrations," Francona said. "Now, we're starting to see a young pitcher develop into what we think can help our rotation be a winning rotation. That's very exciting."
Jordan Bastian is a reporter for MLB.com. Read his blog, Major League Bastian, and follow him on Twitter @MLBastian. This story was not subject to the approval of Major League Baseball or its clubs.