Iwakuma has usual dominance as bats connect
Starter's third straight eight-inning outing benefits from four-run third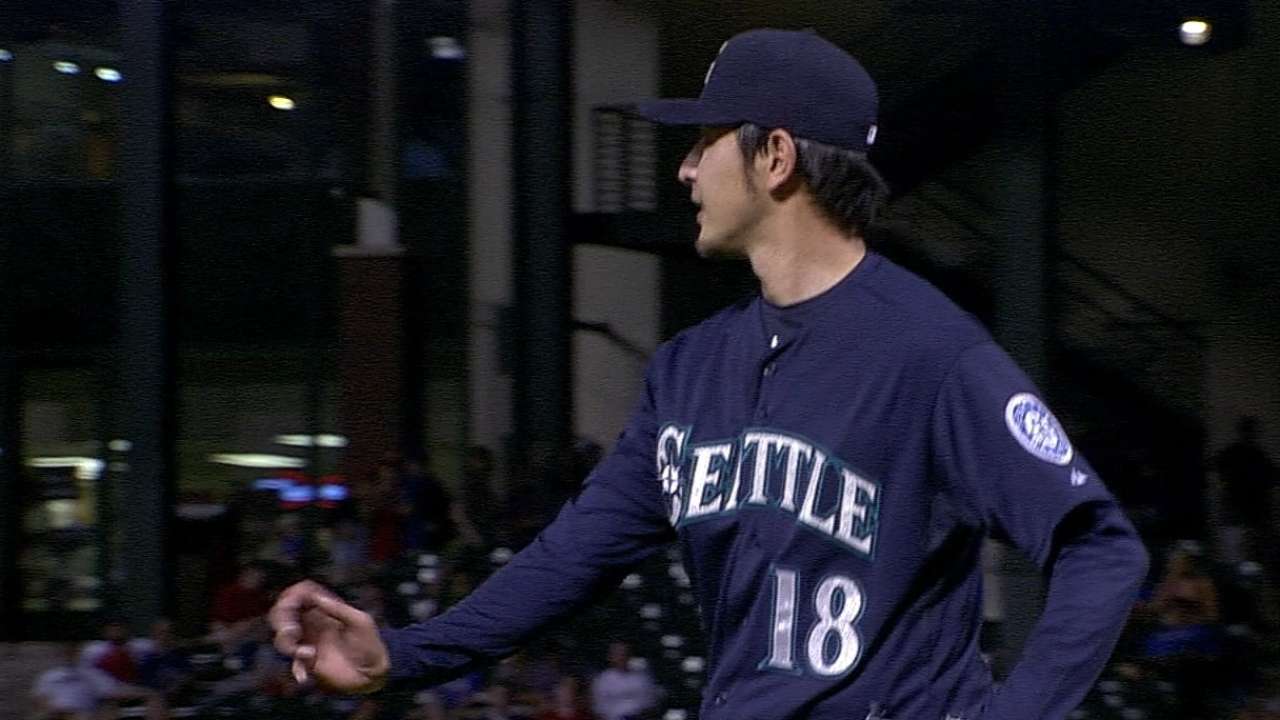 ARLINGTON -- Hisashi Iwakuma certainly does not look like a pitcher who missed all of Spring Training and the first month of the season.
The veteran from Japan on Tuesday night fired his third straight gem, and this time the Mariners right-hander got some help from Robinson Cano and friends as Seattle topped the Rangers, 6-2, in the opener of a two-game set at Globe Life Park.
After missing April with a torn tendon in his right middle finger, Iwakuma has given Seattle's rotation a huge boost as the All-Star right-hander improved to 3-0 with a 1.76 ERA in four starts. He allowed six hits and two runs over eight innings.
"I'm just focusing day in and day out, staying strong with my routine," Iwakuma said through translator Antony Suzuki. "I need to make up for that one month that I lost, so that's all I have in mind."
Iwakuma had a walk and three strikeouts while throwing 99 pitches. The two runs were his only ones allowed over 24 innings in his past three outings, and he is now 6-0 in his past eight starts against American League West foes.
Manager Lloyd McClendon and catcher Mike Zunino said Iwakuma was still building up his arm strength, though he continues to befuddle opposing teams in the process.
"When it comes to pitching, it's location, location, location," McClendon said. "It has nothing to do with power and everything to do with location and throwing timing off. And he does that very well."
"You may not believe it when I say this, but I don't think it was his best stuff today," Zunino said. "I don't think his command was where he wanted it, but he did a great job mixing his pitches and keeping them off balance enough and missing barrels."
Despite his delayed arrival, Iwakuma has pitched eight innings in three straight outings for the first time in his Major League career. McClendon said he felt Iwakuma was weakening in the seventh and eighth, so he went to Charlie Furbush and Danny Farquhar to finish things out and get some needed work for his relievers after two recent off-days.
And that certainly was not a problem with Iwakuma, who takes a long-term view of his season.
"I'm not very obsessed with going nine innings," he said. "I just go out there and do my part, and I feel like I did my part today."
Other than a second-inning home run by Adrian Beltre that ended Iwakuma's scoreless streak at 17 innings, the Rangers never solved the right-hander.
"He looked like he was in control the whole game," Rangers right fielder Alex Rios said. "His split was good, his slider was good. There was not much we could do."
The win evened the Mariners' record at 22-22 entering Wednesday afternoon's finale, which concludes a five-game road stretch. Texas fell to 21-24 with its fifth loss in six games.
The red-hot Cano paced Seattle's offense on a 2-for-4 night with a walk, an RBI and a run scored. The second baseman has raised his batting average to .322 from .303 over the past two games while going 6-for-9.
Cano has also reached base in 27 consecutive games, the longest active streak in the Majors, breaking his previous career high of 26 while with the Yankees in 2012.
Kyle Seager went 3-for-5 with a double and two RBIs, hiking his career average to .358 in 29 games in Arlington, while Dustin Ackley and newly recalled Nick Franklin each had two hits as Seattle totaled 12 for the night.
"I've always seen the ball pretty well here," said Seager, who is hitting .364 (12-for-33) against Texas this season and .200 (23-for-115) against everyone else. "It's a good park to hit in, at the end of the day. The infield is pretty quick, it shoots through there, and the outfield you get the wind factor. You look at their staff, and they've got some really good arms over there, so it's certainly not that."
The offense was welcomed by Iwakuma, who had thrown back-to-back eight-inning scoreless games against the Royals and the Rays but received just one run of support in each game, winding up with a no-decision after seeing a 1-0 lead blown in the ninth in his previous start.
"I think we played a good game in general," Iwakuma said. "The first game in a series is always an important game to take, and I'm very happy I had some runs early and was able to run with it."
Seager's two-run bloop single to left was the big blow in a four-run third, with Michael Saunders also lacing an RBI single and Franklin launching a sacrifice fly to left for the final tally.
Seattle upped the lead to 5-1 with an RBI single from Cano before Texas got one back in the fourth on Rios' run-scoring base hit. The Mariners added a run in the seventh on an RBI double by Ackley.
Franklin, in his first game since being recalled from Triple-A Tacoma, went 2-for-3 with a sacrifice fly, a hit by pitch, a stolen base and a run scored.
Rookie center fielder James Jones dropped a bunt single and scored in the third inning, giving him a hit in his first 11 starts to break the club record of 10 to open a career by Edgar Martinez in 1987.
Greg Johns is a reporter for MLB.com. Follow him on Twitter @GregJohnsMLB as well as his Mariners Musings blog. This story was not subject to the approval of Major League Baseball or its clubs.