Rangers unable to recover from four-run third
Lewis pitches season-high six innings, but ERA rises after big inning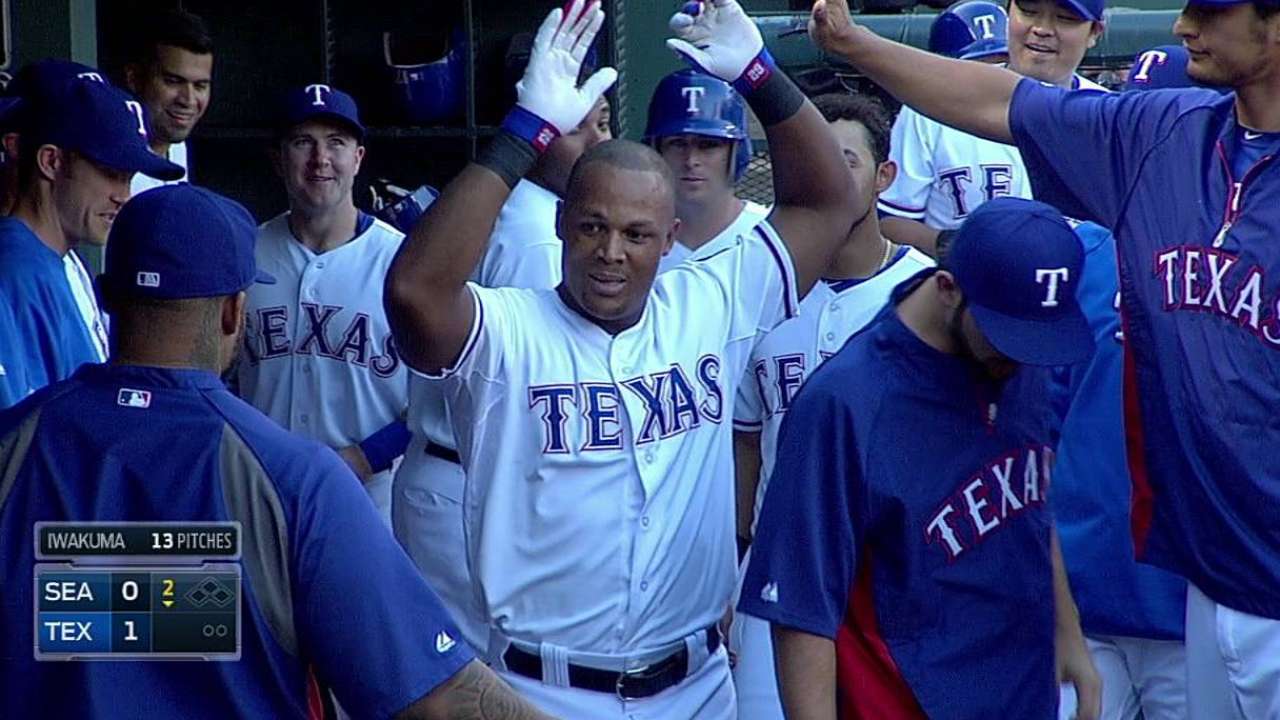 ARLINGTON -- Just hours before the Rangers were set to open up a two-game set at home with the Mariners on Tuesday night, more bad news -- more injuries -- forced them to readjust yet again.
Gone from the lineup was Prince Fielder, the veteran first baseman who had been scheduled to play Tuesday but was kept out for the third game in a row due to weakness from a herniated disk in his neck. Gone was Leonys Martin, the center fielder who was supposed to lead off for the Rangers but was instead sidelined with a stiff neck.
The result was a younger lineup that had to face Mariners starter Hisashi Iwakuma without two of its key players -- and the club needed the missing experience. The Rangers lost, 6-2, for their fifth loss in the past six games, the 10th in their past 14. The Mariners have now evened the season series at 4-4.
"Everyone is trying ... the guys I put up in there, I feel like they're capable of putting something together and helping us win a ballgame. It just didn't happen," Rangers manager Ron Washington said. "It happened that to take a Prince Fielder out, to take a [Leonys] Martin out and to put those kids up there to face Iwakuma -- that was a disadvantage to begin with."
Iwakuma was dominant once again, throwing eight innings while allowing six hits and two runs to go along with three strikeouts. He has three wins and a no-decision since a torn tendon in his finger forced him to miss the whole month of April.
"I know that we had a team out there that was competing and trying to win the ballgame," third baseman Adrian Beltre said. "It doesn't matter who is out there; we believe in whoever we have next to each other can get the job done."
With his performance, Iwakuma forced Rangers starter Colby Lewis to pitch without run support, a concept not totally unfamiliar to Texas starters of late.
"He kept attacking," Washington said. "We just didn't put anything on the board to support him."
For the first time this season, Lewis threw for at least six innings, striking out six in the process. But a four-run third inning from the Mariners proved to be insurmountable.
Lewis gave up consecutive singles to Brad Miller, James Jones and Michael Saunders to start the inning. Saunders scored Miller, and Jones and Saunders were brought home from Kyle Seager, who went 3-for-5 with a double and two RBIs.
"In some situations I thought [Lewis] made some good pitches, but they were able to muscle them over in field. He battled," Washington said. "When he was in the third inning, I didn't think he'd make it to the sixth."
Lewis is now 3-3 with a 5.40 ERA, and he has not won in three starts against the Mariners. His ERA against them this season is 6.61. "I didn't get hit around; it was just a bunch of singles, a bunch of jam jobs," Lewis said of the third. "Maybe one or two hits kind of hit hard all night, so it was one of those things."
The Mariners also scored in the fourth and seventh, with Robinson Cano and Dustin Ackley driving in Mike Zunino and Nick Franklin.
The Rangers' runs came from Adrian Beltre, who homered over the left-field fence in the second for his fourth home run of the season, and Elvis Andrus, who scored on a single from Alex Rios in the fourth. Beltre is hitting .345 in his past seven games after going 2-for-4 on Tuesday.
"It's just a matter of time before Adrian starts swinging the bat," Washington said. "And I think he's starting to get there now."
But Beltre can't do it alone, as he seemed to attempt Tuesday night without Fielder and Martin.
"It's baseball. We're just going through a rough time right now," Beltre said. "Hopefully we can get out of it quick."
Grace Raynor is an associate reporter for MLB.com. This story was not subject to the approval of Major League Baseball or its clubs.