Davis crushes trio of home runs as O's rout Bucs
Slugger breaks out while posting second three-homer game of career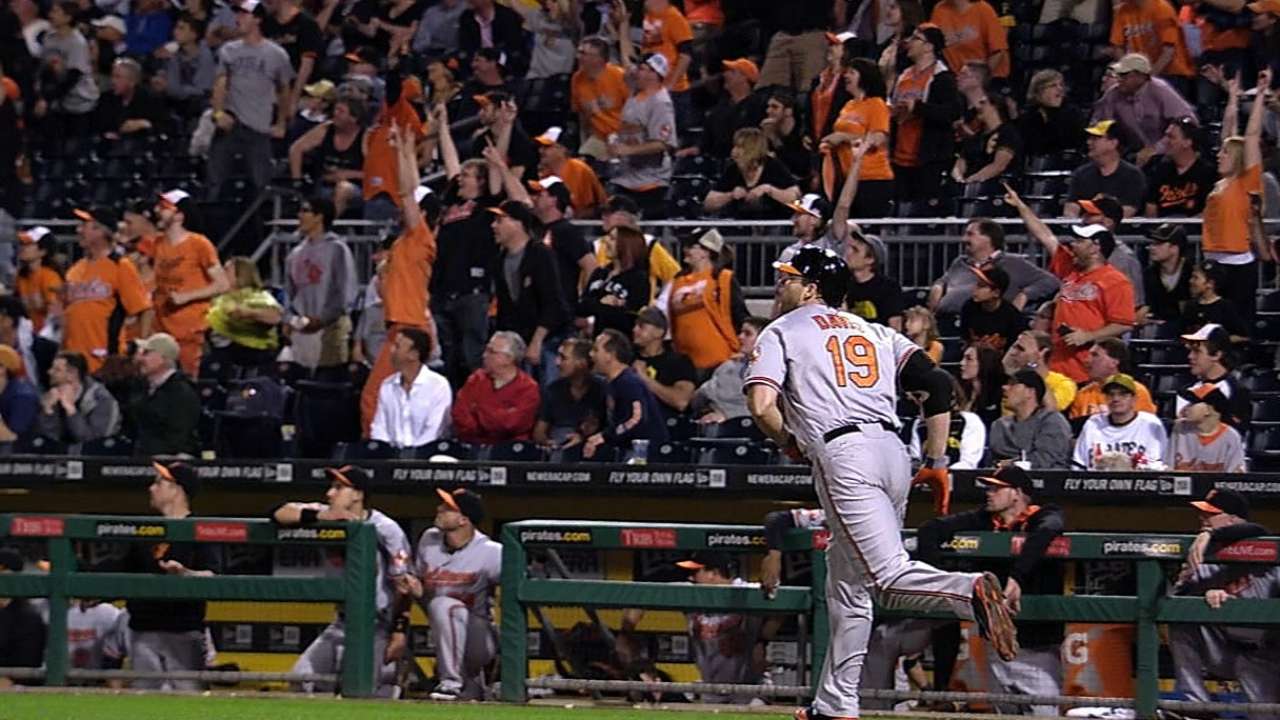 PITTSBURGH -- Chris Davis had already decided he was wiping the slate clean on a season filled with ineffectiveness and injury when he headed to PNC Park for early work on Tuesday afternoon, determined to get back in sync and back to form.
"It was frustrating Sunday," said Davis, who felt like he rolled over a few hittable pitches in the Orioles' loss to the Royals. "I think it was good to have a day off and clear my head. I told [my wife] Jill, 'Today I'm just going to start over. I'm going to start the season over today.' And that's kind of what I did."
And if Tuesday's three-homer game is any indication, what a follow-up season it could be for Davis. The All-Star first baseman doubled his season total, homering in three consecutive at-bats off three Pirates pitchers in an impressive display of offense that highlighted Baltimore's 9-2 series-opening win.
After a see-saw month-and-a-half in which the O's offense struggled to consistently put it together, a Baltimore lineup that was widely regarded as one of the best in baseball this spring is starting to look that way. For the second time this season, the Orioles posted back-to-back games of at least six runs scored, and Davis' five RBIs were a big reason.
"I think every guy is important in this lineup, one through nine," Davis said. "I said early on I felt like at least I was getting on base, seeing a lot of pitches. I knew that it would pay off. But I know what my role is in the lineup, and it felt good to go out there tonight and kind of earn my paycheck, so to speak."
The O's, who pounded out double-digit hits, shook off a disappointing series split in Kansas City -- one that included losses on Saturday and Sunday -- and used a solid six-plus-inning outing from starter Miguel Gonzalez to piece together the victory and improve to 3-2 on the six-game road trip.
"It's fun," Gonzalez said of watching Davis, who turned in the O's last three-homer game on Aug. 24, 2012, return to his old self. "He's been struggling a little at the plate, but I'm happy we got all those runs and run support. Our defense was great. So I thought we played a great game overall."
Held to a pair of two-out singles in the first three innings, the Orioles used Bucs starter Francisco Liriano's fading command to take the lead with a two-run fourth. After Davis reached on an infield single, Cruz worked a walk and shortstop J.J. Hardy's blooper put Baltimore on the board. Jonathan Schoop delivered another infield hit, and rookie Caleb Joseph worked a walk to record his first career RBI.
The O's, who left the bases loaded in that inning, didn't let up on Liriano and scored four in the fifth during the lefty's final frame. Things got started with Manny Machado scoring from first on Adam Jones' double to left field, and Davis sent a ball out to right field for a two-run shot. Two pitches later, Nelson Cruz made it a five-run lead with his 13th homer of the season, marking the second time the Orioles have hit back-to-back homers this season.
"Very crisp through the first three, then struggled with his command in the fourth, then in the fifth, balls were up and just flat," Pirates manager Clint Hurdle said of Liriano, who dropped to 0-4. "That team [is] a big-swing, damage team, and if you leave the ball up over the plate, they get hit."
Davis certainly didn't miss Tuesday night, extending the lead to six with a first-pitch solo shot off reliever Jared Hughes one out into the seventh to mark his seventh career multihomer game. He made it three homers with a two-run shot off Jeanmar Gomez in the ninth to complete the second three-homer game of his career.
"As you get more experience and mature, you start using off-days for what they are," Orioles manager Buck Showalter said of Davis giving himself a fresh start. "You get to step back and look at things through realistic eyes and realize the sky's not always falling."
Instead, Davis, who entered the game with three homers in 30 games, is now batting a respectable .257 with six homers and 20 RBIs.
"The first ball I hit, I just tried to stay through it and get on top of one instead of working underneath everything, and I was able to do it," Davis said. "After that I just looked for the ball and tried to see it and hit it. It wasn't anything that I was doing specifically. Earlier today in BP I felt like it kind of clicked for me, and it showed up for me today in the game."
Gonzalez, who had his last turn in the rotation skipped, also stepped up for the Orioles in turning in his fourth quality start in nine games (eight starts). The right-hander tied a season high with seven strikeouts and held the Pirates to seven hits in the 100-pitch outing, exiting after a leadoff seventh-inning homer to Ike Davis.
"[The offense is] there, but I was happy with Miguel," Showalter said. "I knew they hadn't seen him before and kind of slotted him right. I thought Miguel was sharp tonight, and I thought Caleb did a nice job with him."
Gonzalez had been working on staying more compact and keeping things close with all his pitches, and he was pleased with how it worked out on Tuesday.
"Pitch in more," he said of one of the things he hoped to accomplish from staying close. "And I thought that's what I did more and it helped me."
Gonzalez was replaced by right-hander Tommy Hunter, who pitched around a pair of hits to keep the Pirates from narrowing the gap. Lefty Zach Britton, who recorded his first career save in his last outing on Thursday night, pitched around a one-out walk to Andrew McCutchen -- who drove in the Pirates' other run -- and a single in the eighth. Darren O'Day recorded the final two outs of the game.
Brittany Ghiroli is a reporter for MLB.com. Read her blog, Britt's Bird Watch, and follow her on Facebook and Twitter @britt_ghiroli. This story was not subject to the approval of Major League Baseball or its clubs.