Liriano labors, and Bucs can't solve O's Davis
Lefty allows six runs; Baltimore slugger hits three home runs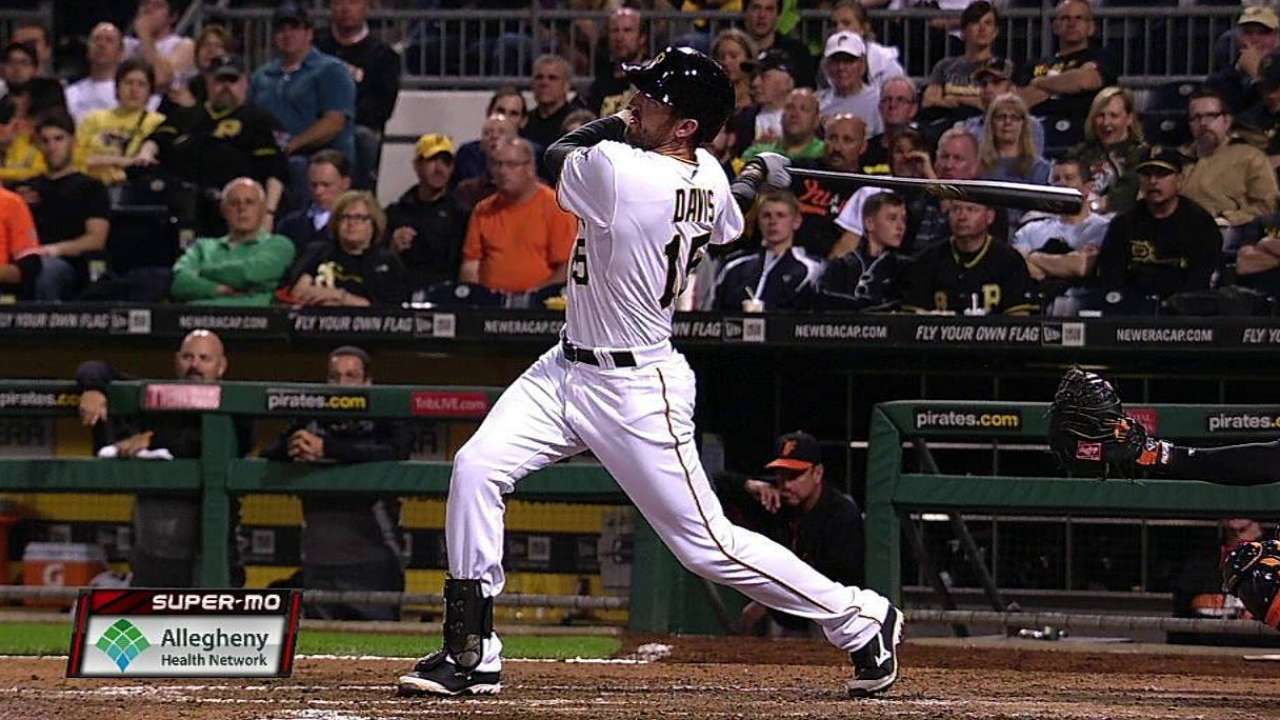 PITTSBURGH -- Pirates manager Clint Hurdle's instincts usually are reliable. His sixth sense is sharp, a locked-in GPS for pinpointing whether his team is in a good place.
Tuesday night, however, Hurdle got his wires crossed. Prior to the Pirates taking on the Orioles, he had proclaimed that play at "a championship level starts tonight," and he could not have been more wrong.
Francisco Liriano imploded quickly after three strong innings and his offense was muffled by a 29-year-old right-hander with a 4.76 ERA as the Bucs bowed to the O's, 9-2, at PNC Park.
Nobody could muffle the Birds' Chris Davis, who homered off three Pittsburgh pitchers -- within a total span of four pitches -- to pace the assault. Davis, the 2013 Major League leader with 53 homers, hit a two-run blow off Liriano in the fifth, a solo shot off Jared Hughes in the seventh and another two-run knock in the ninth off Jeanmar Gomez.
According to the Pirates, Davis became only the second visiting player to hit three homers out of PNC Park in one game. The Astros' Vinny Castilla did it on July 28, 2001, in the ballpark's maiden season.
The loss sank the Pirates (18-26) back to eight games below .500, matching their season low. Yet, Hurdle brushed off matching depression.
"I've been around too long to get too high or too low. We've got to get better," Hurdle proclaimed. "We're well aware of what we didn't do well, and what ground we've got to cover to get better. Tomorrow is a fresh start. This one's done."
And it wasn't done well.
The Orioles were in a month-long scoring slump, until emerging from the Fort Pitt Tunnel. They had not scored more than six runs in a game since April 24.
The Pirates gave their supporters in the Orioles-fans-heavy crowd of 22,787 little time to cheer.
That brief interlude came in the third inning. Andrew McCutchen got to bat with two men on base -- in any configuration -- for only the 23rd time this season. That means he finds himself in a situation where teams can't comfortably pitch around him about once every two games.
So might as well take advantage, which McCutchen did with a solid two-strike single to left to score Josh Harrison, who had legged out an infield single ahead of Neil Walker's outfield single.
Liriano reached the other side of a chasm few Pirates starters have lately traversed -- three shutout innings to open a game. Barely. One out into the fourth, he trailed 2-1.
"He was very crisp through the first three," Hurdle said, "then he struggled with his control in the fourth."
With one out, Davis beat the Bucs' shift, sort of. With a dive, Walker gloved Davis' drive in medium right, then had his long throw sail wide of first. Following a walk of Nelson Cruz, J.J. Hardy singled to score Davis. Jonathan Schoop's infield single -- on another ball smothered by a diving Walker -- loaded the bases, setting up a walk of Caleb Joseph to force in the go-ahead run.
"Then in the fifth," Hurdle continued, "balls were up and just flat. That team -- that's a big-swing, damage team, and if you leave the ball up over the plate, they hit it."
That fifth inning, only paying customers were diving for the Orioles' drives. Adam Jones had already doubled for a run before Davis launched a two-run homer and Cruz followed with a solo shot -- four runs within the span of four pitches.
"I was leaving too many pitches in the middle of the plate. Missing my spots a lot," said the even-tempered Liriano, whose body language never betrays whether he had a good outing or bad. "I couldn't repeat two good pitches in a row."
Davis came close to homering on three pitches in a row, delivered by three pitchers -- a feat he shrugged off.
"I don't think that really mattered," said Davis, who has spent two weeks of this young season on the disabled list with a strained left oblique and doubled his previous season total of home runs. "The first ball I hit I just tried to stay through it and get on top of one instead of working underneath everything, and I was able to do it. After that I just looked for the ball and tried to see it and hit it. Earlier ... in batting practice, I felt like it kind of clicked for me, and it showed up for me in the game."
The one he hit off Liriano was the second by a left-handed batter off the southpaw this season. No lefty hitter was able to take him out in all of 2013.
"It was a hanging slider ... right there," Liriano said of the pitch Davis crushed. "What else is there to say? A mistake pitch."
Liriano was done with that fifth, remaining winless for a 13th straight start as he allowed nine hits and six runs, with two walks and four strikeouts.
Meanwhile, Miguel Gonzalez held the Pirates to that one third-inning run through six. When Ike Davis led off the seventh by lifting Gonzalez's 100th pitch over The Clemente Wall, Baltimore manager Buck Showalter considered it a good time to end his evening. Gonzalez went to bed having given up seven hits and two runs, striking out seven without a walk -- and his second win in eight starts.
Tom Singer is a reporter for MLB.com and writes an MLBlog Change for a Nickel. He can also be found on Twitter @Tom_Singer. This story was not subject to the approval of Major League Baseball or its clubs.