Weiss gives club a needed jolt in dugout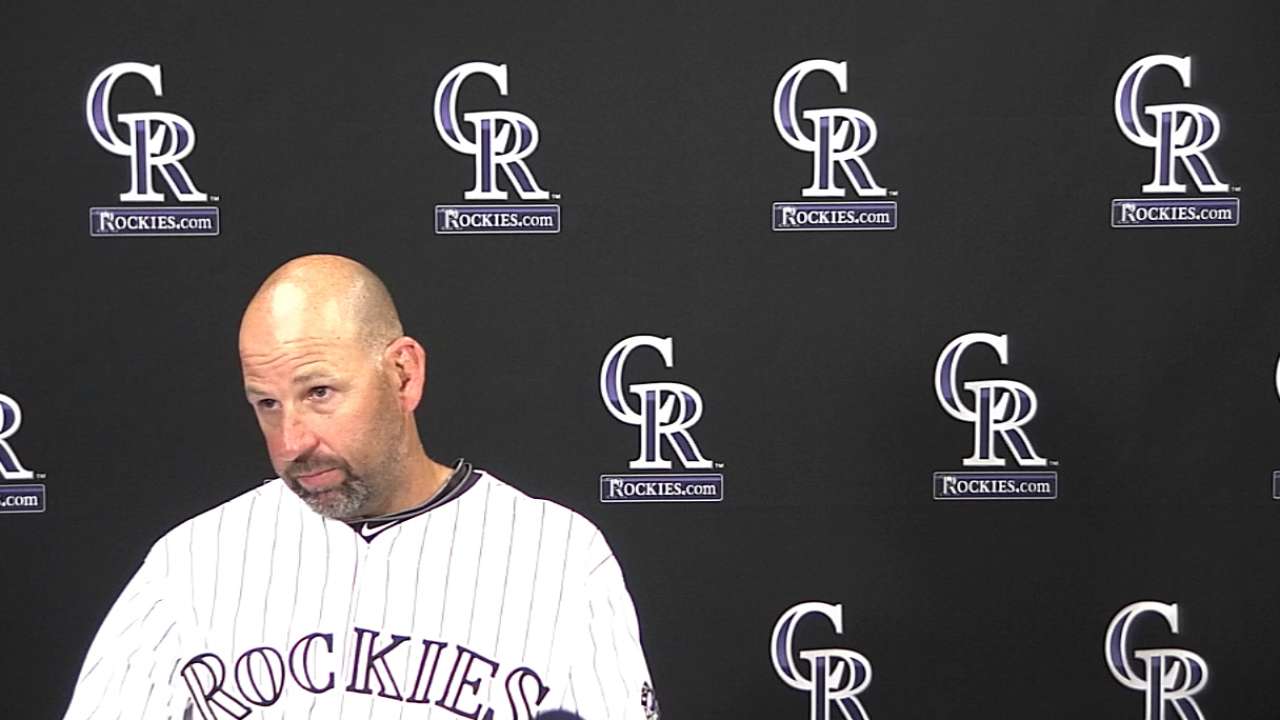 DENVER -- Rockies manager Walt Weiss shocked his players by yelling at them in the dugout when they lacked energy in Sunday's eventual 8-6, 10-inning victory over the Padres.
Weiss said it's the first time he felt the need to do it. Players say it came at the right time, and they understood Weiss was correct to blister them.
"I just felt the energy level wasn't where it was supposed to be on Sunday," Weiss said. "But these guys police themselves very well. That's not an issue for this club, but we all need to be reminded from time to time when you play virtually every day.
"All of us, including myself, need to be reminded of the importance of each game, every day -- especially when you're in the [National League West] division and trying to win a series. We've got a good group."
Charlie Blackmon and Corey Dickerson were thrown out trying to steal in the first inning, even though Padres starter Donn Roach -- a reliever who was starting because of injury -- was slow to the plate. The second inning consisted of three groundouts to second base.
Justin Morneau, who hit the winning homer with two out in the 10th, said he detected waning focus at the end of the team's 2-5 performance on a road trip to Texas, Cincinnati and Kansas City.
"It was a tough road trip, but the games where we didn't feel like we played as well as we could in Kansas City, those were tough," Morneau said. "[James] Shields threw the ball really well, but I feel like the intensity could've been a little bit better, the fire could've been better. We need to find that same fire we play with at home and play with it on the road."
The lack of fire at home was too much for Weiss to take. Carlos Gonzalez, who was on base for Morneau's homer, said the manager was right to speak up when it looked like the Rockies were on their way to throwing a game and a series away against a sub-.500 team in the division.
"He's not a guy that shows a lot of emotions, I'll tell you that," Gonzalez said. "It's good. I try to be one of those players, always in control, and I'm sure when he was a player he was the same way.
"But it was nice to see your manager get excited. That meant it was something big and important. He usually lets you play the game, but that's why you pay more attention. When a guy like him is yelling, it's because you got away with something and he's trying to show you that you've got to get back your intensity."
Thomas Harding is a reporter for MLB.com. Follow him on Twitter @harding_at_mlb. This story was not subject to the approval of Major League Baseball or its clubs.