Lee on DL with left elbow strain; Ruf recalled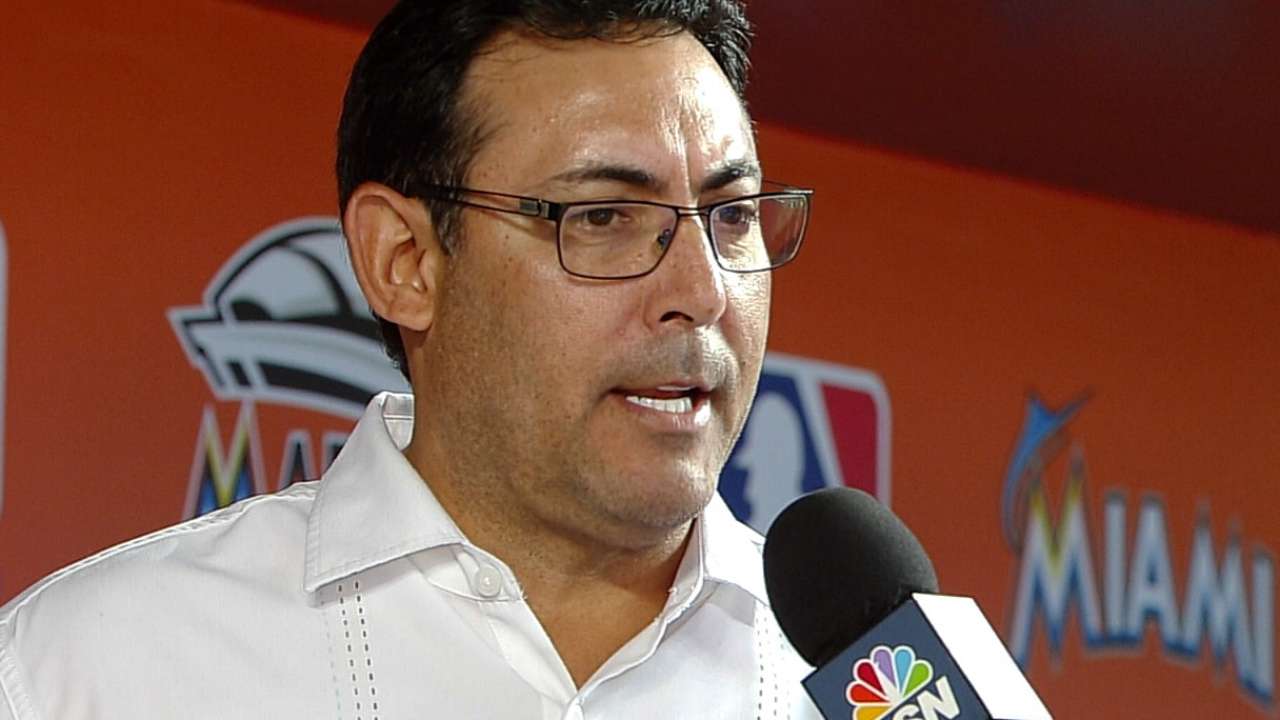 MIAMI -- Cliff Lee has landed on the 15-day DL with a mild strain in his flexor tendon in his left elbow.
Ruben Amaro Jr. broke the news to reporters after Tuesday's 6-5 win in Miami.
Lee underwent an MRI on his elbow Tuesday in Philadelphia that revealed the strain. He experienced soreness in the elbow after his last start on Sunday against the Reds.
"We're going to be cautious with him, and there's no reason to try to push it," Amaro Jr. said. "Hopefully he's going to be ready by the time the DL's over."
On Wednesday, the Phillies recalled outfielder/first baseman Darin Ruf from Triple-A Lehigh Valley to take Lee's spot on the 25-man roster.
Lee said he initially experienced discomfort in his April 16 complete game against Atlanta. After undergoing treatment, it began to feel better, but the soreness returned in the later frames of his 6 2/3-innings outing on Sunday in an 8-3 win.
Lee tried playing catch on Monday, but he said he felt the pain on every throw, and trainers decided to conduct an MRI.
"I was hoping it would be really minor," Lee said in Miami after Tuesday night's win. "I don't know if this is minor. It's definitely not a ligament. A Tommy John thing is not what it is, so I think that was good, but we basically knew that from the tests they did before that."
The Phillies will be without Lee for a minimum of his next three starts.
"Cliff is a loss," manager Ryne Sandberg said. "Hopefully it was caught early enough with the mildness that it is. He's had some good outings up right to it. It just came on the day after [his Sunday start]."
Added Amaro: "It's not good news when you lose your No. 1 pitcher, but it's pretty mild."
The question now is if the 15 days Lee will be allotted to the DL is a realistic timeframe for his return.
"I hope so," Lee said. "I've never had anything like this. [Doctors and trainers] seem to think that without throwing for a week it should be quite a bit better. I don't know if it's going to be gone. We don't really know till you get there."
Lee will go the next seven days without throwing before testing it again.
"He's battled some elbow tenderness for about three weeks," said Amaro earlier Tuesday, before the results came back. "He's been able to pitch through it. He felt a little more uncomfortable in his last couple of innings Sunday. He saw Dr. [Michael] Ciccotti and Dr. Ciccotti felt it was alarming enough to do an MRI."
Lee's velocity on his fastball has dipped 1 mile per hour from last season, and it has consistently been 2 miles per hour slower than what it was in 2012, according to Fangraphs.com.
The 35-year-old left-hander is 4-4 with a 3.18 ERA in 10 starts this season.
Amaro was not ready to name candidates to replace Lee in the rotation, but the Phillies may go to Triple-A for Spring Training standout David Buchanan. Other Triple-A options include Greg Smith, Barry Enright and Sean O'Sullivan.
Ruf was batting .265 with three doubles, one home run and two RBIs in nine games for Lehigh Valley. He missed the first month of the season after sustaining a left oblique strain during Spring Training.
David Furones is an associate reporter for MLB.com. This story was not subject to the approval of Major League Baseball or its clubs.