After latest heroics, Arenado's slump is history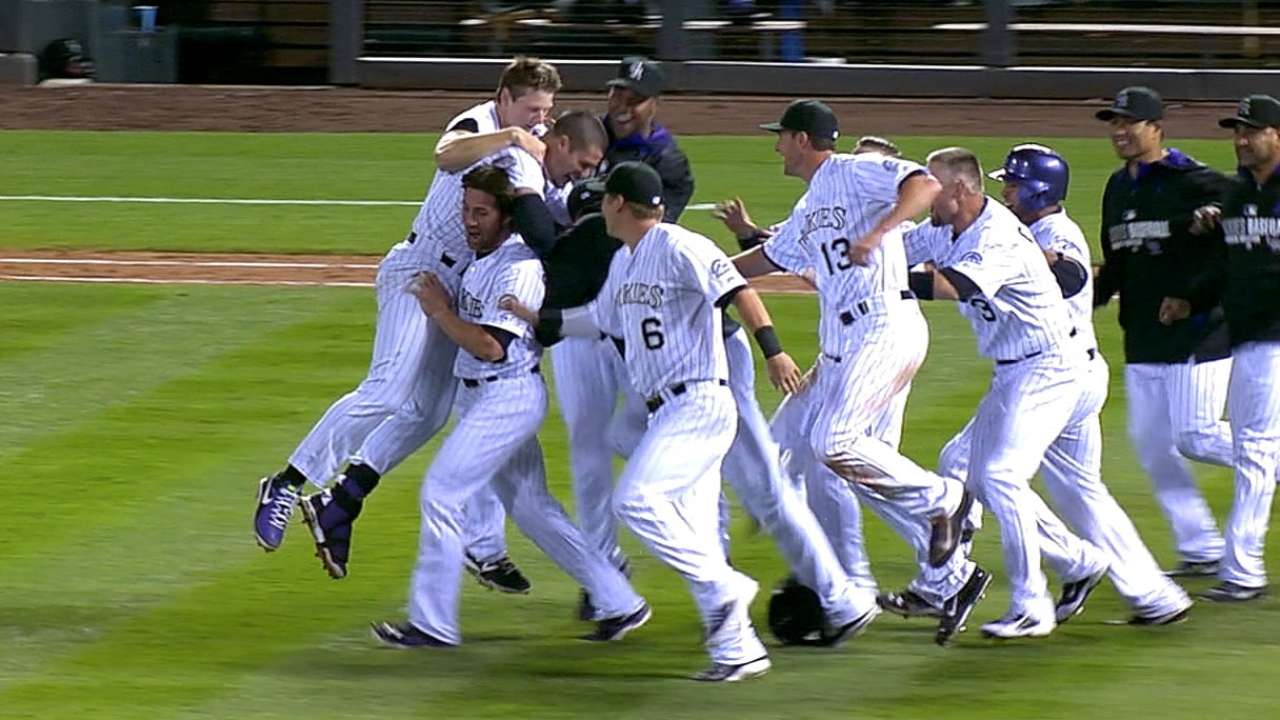 DENVER -- Rockies third baseman Nolan Arenado gripped his baseball bat and peered at the grain the way the art aficionado would try to decipher the artist's color theory on a fine work.
The bat was still beautiful, still his friend. And was happy with it in his hand. Never mind that through his first two at-bats Tuesday night against the Giants, his slump would extend 0-for-15, and 5-for-30.
Arenado, who had a 28-game hit streak before his 5-for-30, had hits in his last three at-bats. No hit was bigger than the last, a two-run double off the top of the left-field wall with two out in the bottom of the ninth for a 5-4 Rockies victory.
"Working in the cage, I was just trying to focus on going to the big part of the field, and just react to everything else," Arenado said. "That whole game plan worked out."
Arenado never felt he lost his swing when the hits weren't coming, so he didn't worry.
Neither did Rockies manager Walt Weiss.
"He works so hard at it, the only thing I worry about with Nolan is that he grinds himself into the ground," Weiss said. "I felt like he'd been taking some good swings. I just thought it was more a case of the cycle of the season, where there are ebbs and flows."
Unfailingly positive hitting coach Blake Doyle, who doesn't even bring up obvious flaws because "my wife can see that," watched Arenado's hitting sessions, but saved his reaction for when he can reinforce a correct technique.
"He puts things in perspective," said Arenado, whose batting average dropped .324 on May 7 to .292, but climbed back to .301 by the end of Tuesday night. "When things are going bad, which obviously sometimes they do in this game, he lets you know, 'It's still early. Your swing looks fine. Keep battling.'
"That's what you need. You don't need the guy who says, 'Hey, you're doing this wrong. You need to change this.' He wants to work with what you have, and that helps me out and helps a lot of guys out. When I take a bad swing and things are going bad, he knows it and he knows that I know exactly what I did. That's why he doesn't criticize so much."
Before the streak, Arenado's balance was inconsistent. During batting cage sessions, Doyle stayed quiet except for the times when he could say, "That's great balance."
Doyle had Arenado on the field hitting off a tee before one of the games of the weekend series with the Padres, letting him try to find the rhythm of the full, inside-out swing rather than the cut-off pass that slices the ball foul on the right side. Doyle is confident that Arenado can find the feel, so he doesn't load him with information.
"When a guy feels good about himself at the plate, you're not concerned about mechanics, and when you're not concerned about mechanics you let the athleticism come out," Doyle said before Tuesday night's game. "When the athleticism comes out, everything is good. It sounds really simple, and actually it is that simple.
"His swing path right now is really good. He's just got to let the ball travel a little bit. There's nothing in his mechanics that he needs to change right now. The only thing I've told him is, 'Be Nolan.'"
The only cross words for Arenado came from his parents.
Having raised a hitter, they know not to hit him with mechanical advice. But they were quick to correct him after he earned his first career ejection for disputing home-plate umpire Seth Buckminster's called third strike in the bottom of the eighth. The top of the ninth in the Rockies' 3-1 victory was the first action Arenado has missed this season.
"My parents were not too happy with me getting tossed and talking back to the umpire," Arenado said. "My dad wasn't happy about that, but he knows that's part of the game and I got frustrated."
Arenado was on his best behavior and it seemed his best swing showed up Tuesday night.
Thomas Harding is a reporter for MLB.com. Follow him on Twitter @harding_at_mlb. This story was not subject to the approval of Major League Baseball or its clubs.