Suzuki's inside-the-park homer caps victory
Correia turns in quality start against his former team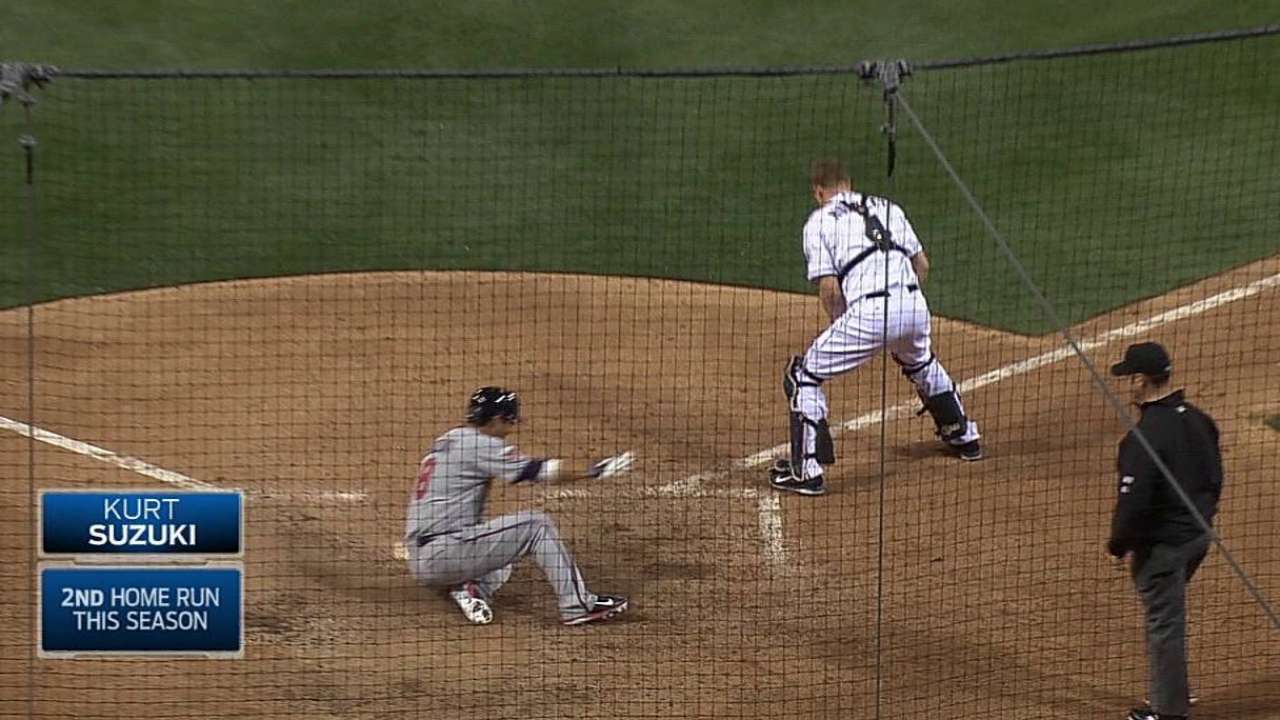 SAN DIEGO -- Maybe all Kevin Correia needed was a little home cooking.
Pitching in his hometown, Correia turned in his first quality start in more than two weeks, and Josmil Pinto delivered a go-ahead, pinch-hit sacrifice fly in the seventh to lift the Twins to a 5-3 win over the Padres on Tuesday night at Petco Park.
Correia went six innings, giving up three runs on four hits and a walk with a season-high six strikeouts. It was his first victory and quality start since May 3, as he improved to 2-5 with a 6.52 ERA on the year.
It was a nice bounceback performance for Correia, who has struggled early this season but fared much better at familiar Petco Park, as he played with the Padres from 2009-10.
"It's great to come home and pitch well in front of people you know," said Correia, who grew up in the San Diego area. "But it could've been anywhere. I've pitched here a lot so it's not incredibly special. But it's still nice to come home, sleep in my own bed and pitch well."
He exited with the score tied after six innings but the Twins gave him the win with the go-ahead run coming in the top of the seventh against Padres right-hander Ian Kennedy.
Eduardo Escobar led off the inning with a walk before reaching second on a sacrifice bunt from Aaron Hicks. Escobar reached third on Kennedy's second wild pitch of the night before scoring on a sacrifice fly from Pinto, who was pinch-hitting for Correia.
"It wasn't a big explosion offensively," Twins manager Ron Gardenhire said. "We did what we had to do. Hicksy got a bunt down. Those things are important with that National League stuff."
The Padres did all their damage against Correia in the fifth inning after he opened the game with four perfect innings. Chase Headley picked up the first hit of the night for the Padres with a leadoff double before Will Venable singled to put runners at the corners with nobody out.
Jedd Gyorko followed with an RBI single before Yasmani Grandal brought home a run with a sacrifice fly. Kennedy helped his own cause with an RBI single to left with two outs to score Gyorko. But Correia was able to throw a scoreless sixth after giving up three in the fifth, and was pleased with his outing after making some tweaks mechanically.
"My delivery felt the best it's been," Correia said. "I had better movement. I was able to get a lot of ground balls. I was doing a pretty good job of getting ahead of guys and when I didn't, I still was able to keep the ball down and not give them a good pitch to hit."
Chris Parmelee got the Twins on the board in the second with a solo shot to right-center field. It was his third homer of the year, and came on an 0-1 fastball from Kennedy.
"We had a couple guys come through," Gardenhire said. "Parmelee got us off to a good start."
The Twins added a run in the third, as Brian Dozier, Joe Mauer and Trevor Plouffe opening the inning with three straight singles with Dozier scoring on Plouffe's single back up the middle. But the Twins couldn't cash in with the bases loaded and one out, as Kurt Suzuki grounded into an inning-ending double play.
Minnesota scored again in the sixth with Plouffe starting the rally with a leadoff double before scoring on a wild pitch from Kennedy with two outs and Jason Kubel at the plate.
"The first pitch to Kubel was a curve down and in," Kennedy explained. "That was the pitch we were trying to get. It hopped up and got away. It really stinks to be in that situation."
The Twins added an insurance run in the eighth on an inside-the-park home run from Suzuki off reliever Nick Vincent. The ball appeared to clear the left-field fence but was never ruled dead by the umpires, and Suzuki raced around the bases for the first inside-the-park homer for the Twins since Mauer did it on July 27, 2007.
"It was very weird," Suzuki said. "I just kept running. I had a pretty good idea it went. I thought for sure it went out. But once I got to third, I thought I might as well keep going."
Twins reliever Jared Burton got out of a big jam in the top of the seventh, coming in with two runners on and nobody out but didn't allow a run to score. Fellow reliever Casey Fien threw a scoreless eighth for the Twins before handing it over to closer Glen Perkins, who picked up his 13th save of the year with a scoreless ninth to preserve the win.
"Burton was huge," Gardenhire said. "He got some big outs for us. Fien and Perk got it done there at the end."
Rhett Bollinger is a reporter for MLB.com. Read his blog, Bollinger Beat, and follow him on Twitter @RhettBollinger. This story was not subject to the approval of Major League Baseball or its clubs.