Arenado knocks walk-off double to sink Giants
Third baseman shakes out of slump, tallying three hits vs. division rival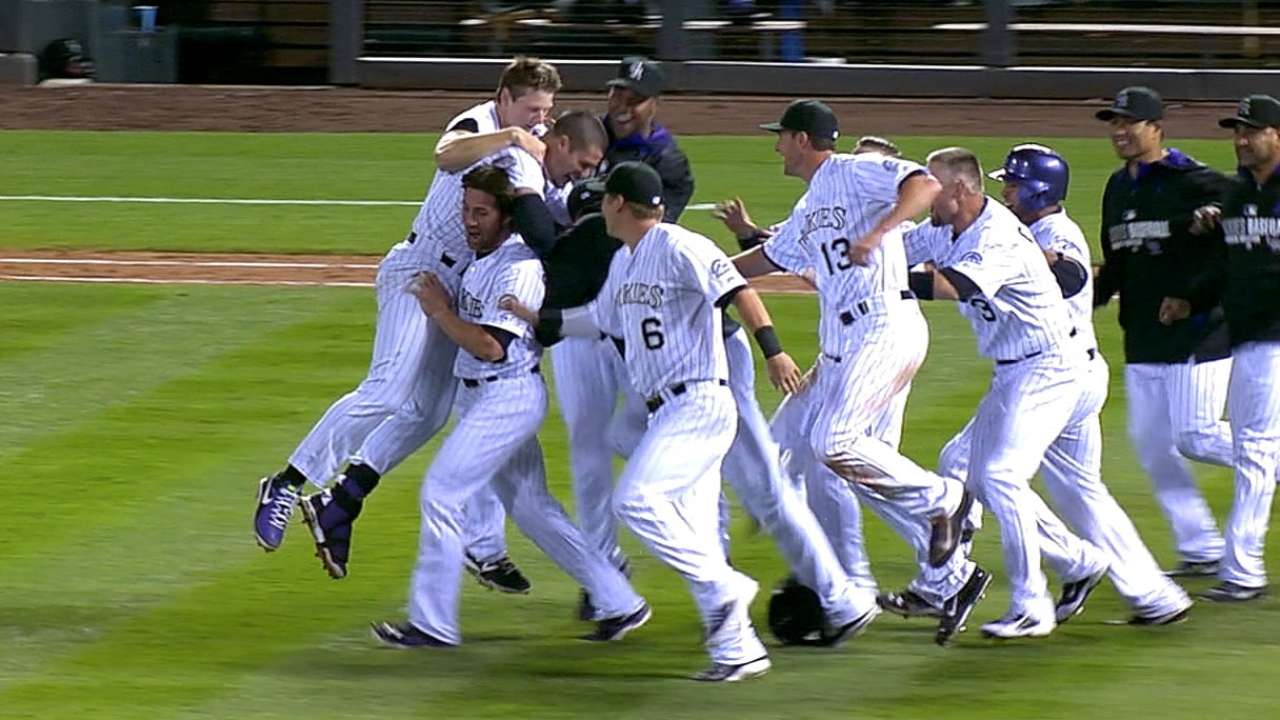 DENVER -- The doubt that usually creeps into hitters' psyches when Giants closer Sergio Romo pitches melted away with each strong at-bat in the bottom of the ninth Tuesday night. Finally, Nolan Arenado made the outcome a sure thing for the Rockies.
Arenado's two-run, two-out double off the top of the left-field wall gave the Rockies a 5-4 victory at Coors Field in front of 31,046.
The victory drew the Rockies to two games behind the National League West-leading Giants, and improved the Rockies, who haven't dropped a home series this season, to 8-0 in series openers at Coors.
Arenado's hit, to complete a 3-for-5 performance that pulled him out of a slump that reached 0-for-15 after his first two at-bats, culminated a ninth-inning hitting performance that would wear down pitchers among the game's best. Romo, who suffered his second blown save in 17 attempts, would qualify.
Justin Morneau laid off a full-count fastball for a leadoff walk. Michael Cuddyer, back after missing 25 games with a left hamstring injury, flied to deep right. Troy Tulowitzki grounded to second, but beat out the double play attempt. Carlos Gonzalez singled to right to set up Arenado, who won it by hitting Romo's hanging 2-2 slider on the seventh pitch of the at-bat.
All of the hitters except Tulowitzki had reached strike two.
"We had the meat of our order up, we were able to get a couple guys on base, and he just hung one," said Arenado, who has three career walk-off hits -- two against the Giants -- since debuting in the Majors late last April. "I was able to put a good swing on it.
"It's nice having guys like this that really bring it every day."
Arenado received the ice bath during the star-of-the-game interview, but player after Rockies player pointed to the walk from Morneau, who on Sunday won a game over the Padres in the 10th with a two-run, two-out homer.
On many occasions, especially during last-place finishes in the division the last two years, Romo was the worst kind of pitcher for the Rockies, with his nasty slider and the Rockies' penchant for chasing low-and-away pitches. But Morneau's patience from the left side seemed to rub off on the right-handed hitters that battled Romo.
"It's trust, trust in the guys around you," said Morneau, who has fostered just that since signing with the Rockies during the winter. "That makes a big difference.
"If we get anybody on base, there's always a chance. When you have everyone moving in the same direction, that's when you do well."
It wouldn't have been Rockies-Giants without a strange twist, which tends to be heartbreaking for the visitor.
This time, former Rockie Tyler Colvin put the Giants ahead, 4-3, with his second double of the game, off Rockies closer LaTroy Hawkins. Manager Walt Weiss had lefty Boone Logan warming up to face Colvin, but Weiss had noticed Buster Posey -- who didn't start because of back pain -- warming up a pitcher at the start of an inning, and figured Giants manager Bruce Bochy would go to Posey.
At any rate, Arenado bailed out Hawkins the way Morneau did when Hawkins blew a lead in the ninth on Sunday against the Padres. Colvin's RBI was merely a footnote in a series that has seen the Rockies win 11 of the last 15 games at Coors. The Giants have won 23 of the last 31 at AT&T Park.
"It's become a very competitive rivalry," Weiss said. "It always seems that somebody wins in the last at-bat, or late, anyway. There have been come crazy finishes when we get together, whether it be at their place or here."
The Rockies received a solid starting pitching performance from lefty Franklin Morales, who had given up 17 earned runs in his previous four starts covering 21 innings. Morales gave up three runs in six innings, matching heralded Giants lefty starter Madison Bumgarner. Each starter struck out six against one walk.
Morales beat Bumgarner and the Giants in a rare 2-1 decision at Coors on April 22.
"The last couple outings when I pitched with Bumgarner, I tried to get more focus of myself and pitch," Morales said. "He's one of the best pitchers in the National League. I know when I run into him it's going to be close. "
The runs off Morales, who gave up five hits, came in the fifth, in Gregor Blanco's two-run double and Hunter Pence's infield bouncer that Tulowitzki couldn't handle. The play was originally ruled an error, which would have been Tulowitzki's first of the season.
Rockies catcher Wilin Rosario drove in three runs -- one on a fourth-inning double after a Tulowitzki double, and two more on a sixth-inning homer -- in his second game in the lineup after missing 12 contests with the flu. The homer, Rosario's fourth this season, traveled more than halfway up the left-field bleachers, and it tied the game at 3.
Bumgarner, who jawed with the Rockies after being hit with a pitch in the bottom of the sixth, but chalked it up to the "heat of the moment," said the Rockies have what it takes to make a push in an NL West that, going in, was expected to be ruled by the Giants and the defending division-champ Dodgers.
"It's not a surprise [given] the kind of offense they've got," Bumgarner said. "But they've really been pitching good, too. I expect them to be there the whole year, so it's going to be a battle between them and everyone."
It's nice to be able to go to Arenado.
"In the little over a year that he's been up here, he's been clutch, a lot of big hits, walk-off hits," Weiss said. "It's a great at-bat against one of the tougher right-handers in the game."
Thomas Harding is a reporter for MLB.com. Follow him on Twitter @harding_at_mlb. This story was not subject to the approval of Major League Baseball or its clubs.