Mets unable to overcome Montero's shaky start
Righty allows five runs in 4 1/3 innings; bats squander late chances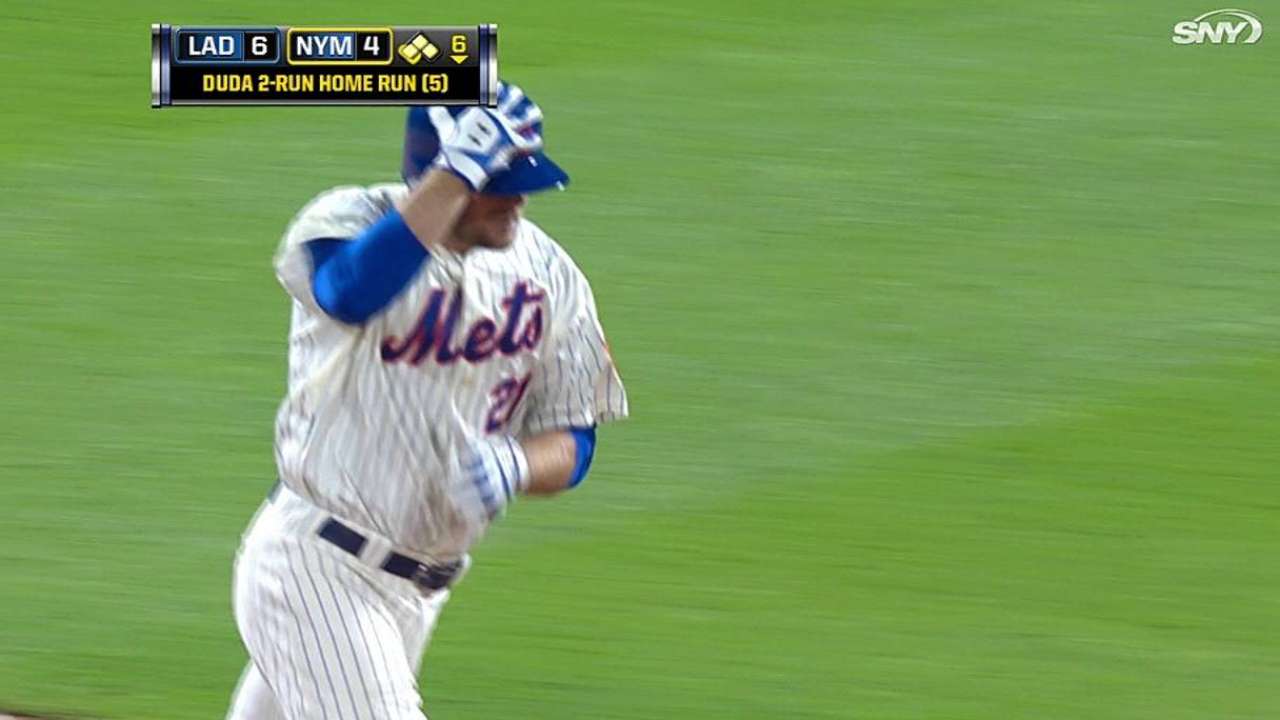 NEW YORK -- Perhaps tired of losing the easy way, the Mets on Tuesday found a new, circuitous way to drop a game.
Their 9-4 defeat to the Dodgers fell less than a minute shy of the longest nine-inning game in franchise history. Thirty-four players took part in the madness, which totaled 13 runs, 26 hits, five mid-inning pitching changes and two double-switches -- including an unorthodox one by the Mets that saw five players shift positions. It proved difficult for the Mets, in third baseman David Wright's words, "to get into a good flow of the game."
But, Wright continued, "It wasn't that hard for them."
All the Mets seemed to do was delay the inevitable, considering they have now lost five of six, eight of 12 and 13 of their last 18 games. Rafael Montero stumbled in his second career start, and his offense -- despite putting multiple runners on third base with less than two outs -- could not do enough to take him off the hook.
The rookie right-hander allowed just one run over his first four innings, but needed to pitch out of two major jams to do so. That forced him to throw 66 pitches through three innings and 77 through four, ensuring a brief night.
Whether due to fatigue or some other factor, Montero finally crumbled in the fifth. After Yasiel Puig drew a leadoff walk, Adrian Gonzalez hit a two-run homer to give the Dodgers their second lead of the game. Matt Kemp and Carl Crawford followed with back-to-back hits to chase Montero.
"I always try to throw strikes," Montero said through an interpreter. "I continue to do what I've always done. Batters are always going to try to get one on you."
Crawford later scored on Juan Uribe's single off Jeurys Familia, and one inning later, Hanley Ramirez singled home a run off Carlos Torres. That helped thwart the New York comeback attempt yet to come.
The Mets had hoped to face a difficult decision later this month, once Dillon Gee is ready to return from the disabled list. They hoped Montero and fellow prospect Jacob deGrom would both be performing at high levels, forcing them to boot a productive starting pitcher from the rotation.
Montero shook the Mets out of that daydream Tuesday, submitting a second career start that looked nothing like his first.
"I don't really view it as a competition," Montero said. "I think it comes down to whatever decision the heads want to make. I just keep doing the same things I always do."
The Mets, who scored their first run on Wilmer Flores' RBI infield single in the second inning, broke through for three more off Dodgers starter Josh Beckett in the sixth. After Curtis Granderson led off the inning with a homer, Chris Young doubled and Lucas Duda followed with a two-run shot.
But Duda was not so successful one inning later, breaking his bat on a popup with the bases loaded and one out. Flores then grounded into a fielder's choice to end a promising scoring threat.
Granderson was the only Mets batter to contribute with consistency, collecting his first three-hit game of the season. Daniel Murphy and Wright endured particularly rough nights, going a combined 0-for-4 with runners in scoring position. On both occasions the Mets put a runner on third base with less than two outs, they came away without a run. Wright in particular regretted a fifth-inning at-bat in which Beckett threw him three consecutive 3-2 curveballs with the bases loaded, inducing a weak groundout on the last of them.
"That's a favorable matchup, favorable position, and we got ourselves in a couple," Wright said. "But you've got a veteran guy who knows how to pitch on the mound. He knows how to make good pitches and he did that."
Beckett threw 99 of them and the two teams combined for 370. All told, the loss took 248 minutes to complete, falling just shy of the 249-minute nine-inning games the Mets played against the Dodgers in 2000 and the Brewers in 2005.
They weren't thrilled to approach history for that reason, but, as manager Terry Collins said, their job is to fight through such adversity.
Their new job is to recover from it.
"It happens," Wright said. "We've played two-hour, 15-minute games and we've played some five- and six-hour games before. It's not that big of a deal. You hope to win and win quickly, but this just comes along with the territory."
Anthony DiComo is a reporter for MLB.com. Follow him on Twitter @AnthonyDicomo. This story was not subject to the approval of Major League Baseball or its clubs.