Revere feels healthy, but not in lineup to open series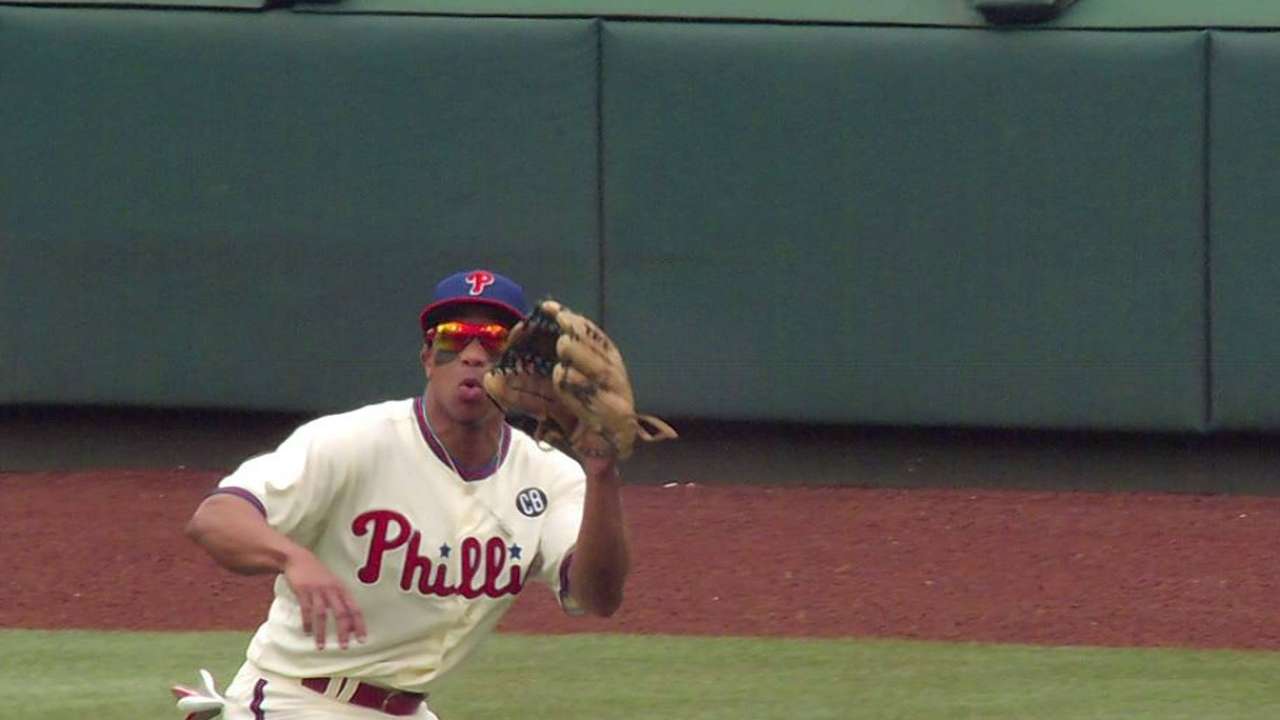 MIAMI -- The Phillies were without Ben Revere in the starting lineup for the fourth consecutive game on Tuesday in Miami after he sat the entire weekend series against the Reds with a stomach virus. Revere, who led off and played center field in 30 of the Phillies' first 41 games, says he's feeling all better now.
Although manager Ryne Sandberg didn't start Revere on Tuesday, he agrees with the outfielder.
"He's fine," Sandberg said. "He came out and had extra hitting. He's going to be good."
Revere participated in some light batting practice and fielding before the game on Tuesday. He also hit on Sunday before Philadelphia's day off Monday.
"Getting a blow before I get out there, get going again," Revere said.
Revere, who is batting .268 with 17 runs and 12 stolen bases, thinks he'll probably get the nod to start on Wednesday, and he has been told he is likely to pinch-hit in a late-game situation Tuesday.
Revere says he picks the brain of Tony Gwynn Jr. due to how long he and his father have been around the game, and Gwynn Jr. will start in center field and hit eighth in the Phillies lineup on Tuesday. Both Gwynn Jr. and Revere serve well to cover a spacious Marlins Park outfield.
"It's beautiful scenery," Revere said. "Roof closed, ball's definitely not going to carry as far, so you get to go track down balls. It's a lot of field to play. This team hits very well. It's going to be times where you have to go after some stuff, get chances to make some great catches."
Sandberg has toyed with the idea of moving Marlon Byrd from right field back to center, where he played in his younger days, but the manager would prefer not to go that route.
"Maybe a game here or there," Sandberg said. "He's doing so well in right field. It's hard to move him out of right field because he's doing such a great job out there. That's a pretty hard position, especially at our place. That's one of the tougher right fields to play.
"He's shown it on the road too. It'd be messing with a good thing."
The Phillies have also gotten two starts in center from John Mayberry Jr., both over the weekend against Cincinnati.
"There's some good options there," Sandberg said. "It's also an opportunity to try some different things."
David Furones is an associate reporter for MLB.com. This story was not subject to the approval of Major League Baseball or its clubs.