Waino's first career one-hitter rattles D-backs
Ace strikes out nine, yields double in 4th; Adams, Peralta hit homers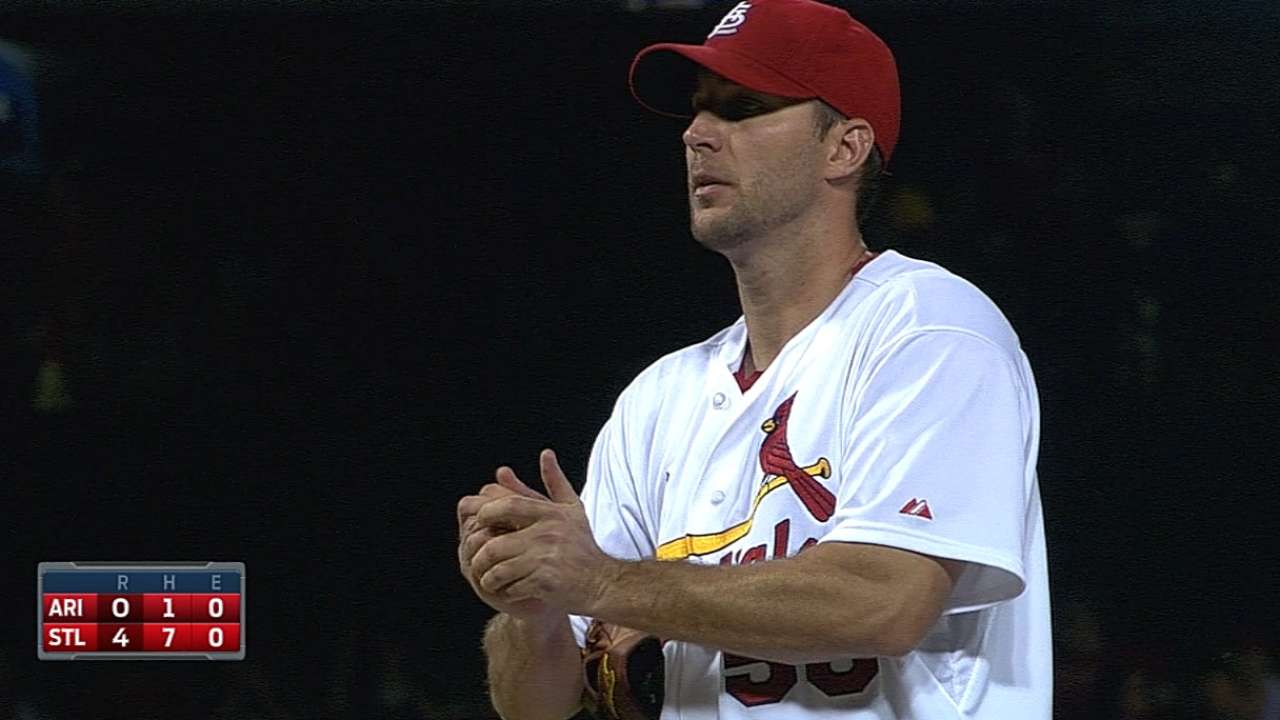 ST. LOUIS -- Candid with his pregame acknowledgement that Trevor Rosenthal would be unavailable to close out Tuesday's series opener against Arizona, manager Mike Matheny nevertheless had no answer when asked who would fill that role.
Hours later, the skipper then watched his starter also step up as closer.
Backed by an offense that finally flaunted some power, Wainwright pitched another gem en route to becoming the National League's second seven-game winner. With the first one-hit shutout of his career, Wainwright dominated in a 5-0 victory that pulled the Cardinals to within 2 1/2 games of first-place Milwaukee.
It's the closest that St. Louis has been to the NL Central leader in a month, though the clubhouse chatter postgame was not about mid-May standings, but rather about an ace who continues to prove that he is better now than at any other point in an already decorated career.
"Wow," said Matt Adams, who boosted Wainwright to an early lead with a two-run homer. "The other team's in for a rude awakening. He just had everything working."
"A pitch away from a perfect game," Matt Carpenter added. "Typical Waino, doesn't surprise me one bit."
Wainwright may have made history in front of a sellout crowd of 42,252 at Busch Stadium had D-backs first baseman Paul Goldschmidt not driven a fourth inning two-strike, two-out curveball off the wall in center for a double. It snapped Wainwright's string of 11 straight batters retired to open the night.
"I don't ever second guess a pitch to Goldy out there," Wainwright said.
The interruption would be brief. Wainwright responded by setting down the next 16 to secure his second shutout of the season -- the eighth of his career. He matched a season-high nine strikeouts and moved into an eighth-place tie with Slim Sallee for most wins (106) in franchise history.
Of those 106, none had statistically been this dominant.
"I knew early on in my warmup session that I was going to have good stuff," Wainwright said. "Today, I just felt like my body was in control. And when my body is in control and getting to the right checkpoints to throw a baseball, you throw it where you want it. It's not rocket science."
It felt as such for the D-backs, who were shut out for the sixth time this season and held to one hit for the 12th time in club history. It was evident early, too, that Wainwright would be tough to solve. He threw 23 of his first 30 pitches for strikes and finished with a strike percentage of 75.
The only inning in which Wainwright threw more than 15 pitches was the fourth, which was delayed when the home-plate umpire became ill and left the game.
"He was on his game," said Arizona outfielder A.J. Pollock. "When you see guys who are on their game early on, you're hoping something happens so you can shake his confidence a little bit. I felt it right away that he had some special stuff tonight."
It did, however, take a bit of bartering from Wainwright to get an opportunity for his second complete game of the season. With a pitch count of 105 through eight innings and a sense that Matheny was close to calling in Jason Motte, Wainwright made a request.
Twelve pitches, he told his manager. If he couldn't get through the ninth in 12 pitches, Matheny could take the ball.
"I really wanted to finish that one off," Wainwright said.
It took him 10.
"You don't very often get those opportunities with that one-hit shutout," Matheny said. "He hadn't worked that hard. He did a nice job of being very efficient, so we gave him a few pitches to work with that inning and he finished it up."
Wainwright said it helped, too, that he was pitching on a week's rest. A day off and a rainout gave him the additional time to shake an illness and prepare. His ERA dropped to 1.86 with the start, pushing Wainwright to second among the league's ERA leaders behind only Chicago's Jeff Samardzija.
Wainwright had support aplenty from a Cardinals offense that scored all five of its runs with two out against D-backs starter Bronson Arroyo. The group banged out seven extra-base hits, one short of the team's season high, after having gone eight straight games without a home run.
Adams ended that homerless drought of 281 at-bats when he followed Matt Holliday's two-out, first-inning single with his third long ball of the season. Matheny had moved Adams back into the cleanup spot after having Allen Craig hit there for the previous three games.
"Watching our guys be able to manufacture something after we do get a couple outs, those are big hits," Matheny said. "How many times we talk about it, we had multiple guys tonight get some really good at-bats."
Jhonny Peralta contributed a two-out RBI double in the fourth and a two-out solo homer -- his team-leading ninth -- on an 0-2 pitch in the sixth. In between, a two-out double by Kolten Wong set up an RBI opportunity for Holliday, who singled.
Arroyo, though more efficient than Wainwright on Tuesday, has now lost 17 of his 37 starts to St. Louis.
"With two outs tonight, they were tough, they just got it done," Arroyo said. "One of those where every inning I was out there two outs, base hit, boom, scored a run. And you just can't do that with Wainwright. The two I gave up in the first that's about where I needed to leave it to give us a chance."
As it was, even that wouldn't have been enough. To outduel Wainwright, Arroyo would have had to have been perfect.
"Once we scored two runs and saw what he was doing with them, we had a pretty good feel that we were in a good position to win this game," Carpenter said. "We had good at-bats and found some ways to score some runs on a night when we had a guy who was lights out. That's how you win games."
Jenifer Langosch is a reporter for MLB.com. Read her blog, By Gosh, It's Langosch, and follow her on Twitter @LangoschMLB. This story was not subject to the approval of Major League Baseball or its clubs.