Encarnacion's two-homer game powers Blue Jays
Kratz, Melky launch solo homers to win series opener at Fenway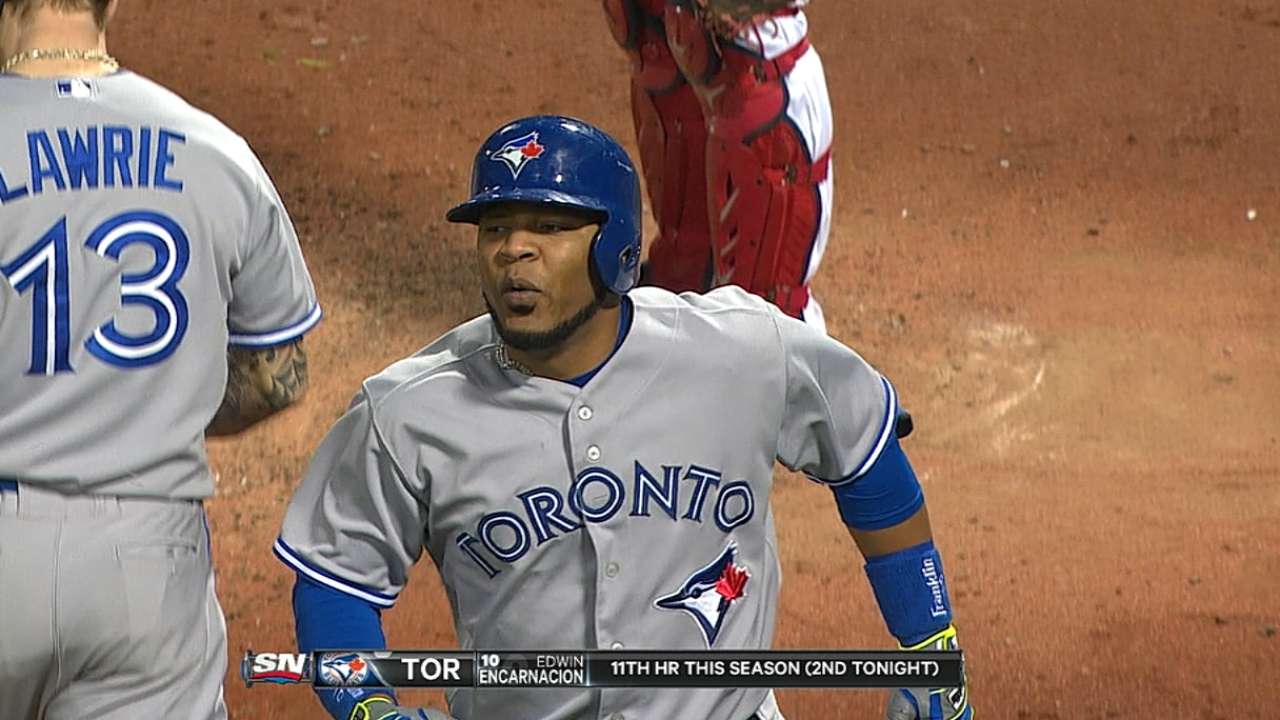 BOSTON -- The Blue Jays' offense has long been considered the club's biggest strength, but over the past several weeks, it has started to become one of the best in the Major Leagues.
Toronto's lineup got off to a relatively slow start this season, but it has been on fire since the last week of April. There's a legitimate threat in almost every spot of the batting order, and while the pitching remains a big question mark, the bats have taken it to another level.
The power was on full display Tuesday night as Edwin Encarnacion homered twice while Erik Kratz and Melky Cabrera each added one of their own to take the opener of a crucial three-game series with a 7-4 victory over the Red Sox.
"We swing it and we had two of our top bats out of the lineup tonight with the lefty," Blue Jays manager John Gibbons said in reference to Boston starter Felix Doubront. "Especially when we face a right-hander, top to bottom, it's a pretty tough lineup to navigate.
"That's what we do. I think we're doing a better job this year of taking our hits the other way, but we still have our big games when we hit home runs."
There was no shortage of power within the friendly confines of Fenway Park. Toronto entered the series looking to prove a point that it should be considered a legitimate contender in the American League East, and while the answer won't be known for quite some time, a big series against a division rival started off on the right note.
The four home runs pushed the Blue Jays' total this season to 63, which was the most in the Major Leagues. The numbers over the past several weeks have been rather staggering, as Toronto has hit at least one home run in 22 of its past 27 games dating back to April 22.
The Blue Jays have out-homered the opposition 45-24 over that same span and also finished Tuesday's game with the AL lead in extra-base hits at 161. They have six players who have gone deep at least seven times, and Encarnacion joined Jose Bautista as the two players who have reached double digits.
"We feel it's as good as any in baseball, offensively," Gibbons said of his lineup. "We'll see where that takes us."
The homer production for Toronto on Tuesday night began in the third inning when Encarnacion crushed a 2-2 changeup from Doubront. The two-run shot went over the Green Monster and beyond Lansdowne Street before eventually landing in a parking lot across the road.
Kratz added a solo shot in the fourth before Encarnacion was back at it again in the fifth. After Cabrera hit an RBI double, Encarnacion sent a 1-0 fastball from Edward Mujica off a large banner advertisement located above the Green Monster. Three runs scored in the frame as Encarnacion enjoyed his third multihomer game of the season and 14th of his career.
The early runs allowed the Blue Jays to jump out to a lead, but J.A. Happ almost gave it all back. The left-hander cruised through the first four innings, and at one point struck out five consecutive batters, but his outing began to unravel in the fifth.
Happ allowed three doubles before loading the bases. With two runs already in, Brett Lawrie saved the inning as he made a diving stab at third base to record a nifty double play. One potentially dangerous situation was dealt with, but Happ got himself into more trouble in the sixth when he allowed a leadoff single and then a two-run homer to left fielder Jonny Gomes.
"I think for whatever reason, just not quite as sharp," Happ said of his fifth inning and beyond. "I tried to mix it up after that first round through. They battled, they're a good team, that's kind of what they do. Wait for you to make a mistake."
Boston made things interesting again in the eighth by putting the first two batters of the inning on base. The Red Sox then seemed to kill their own rally when Brock Holt laid a bunt down the third-base line. With the free out, left-hander Aaron Loup then struck out David Ross and got Jackie Bradley Jr. to pop out and end the inning.
In the ninth, there was even more drama. Boston once again put two men on and David Ortiz just missed a home run down the right-field line. The ball went foul and Blue Jays closer Casey Janssen struck Ortiz out on the very next pitch. One batter later, the game was over and the Blue Jays escaped with the win.
For those who think this is just another series in May, don't tell that to a guy like Janssen, who has been around the team since 2006 and has never once even sniffed the postseason.
"They won the World Series last year, and if we want to be for real, we have to beat these teams," Janssen said. "We're not scared of them or anything like that. We respect them, but we want to beat them. The distance we can separate ourselves from them, or any other team in our division, is important for us, May, September or whenever it is."
Gregor Chisholm is a reporter for MLB.com. Read his blog, North of the Border, and follow him on Twitter @gregorMLB. This story was not subject to the approval of Major League Baseball or its clubs.