Vets come up clutch for Phillies in series opener
Rollins hits two-run HR to take lead; Mayberry delivers pinch-hit knock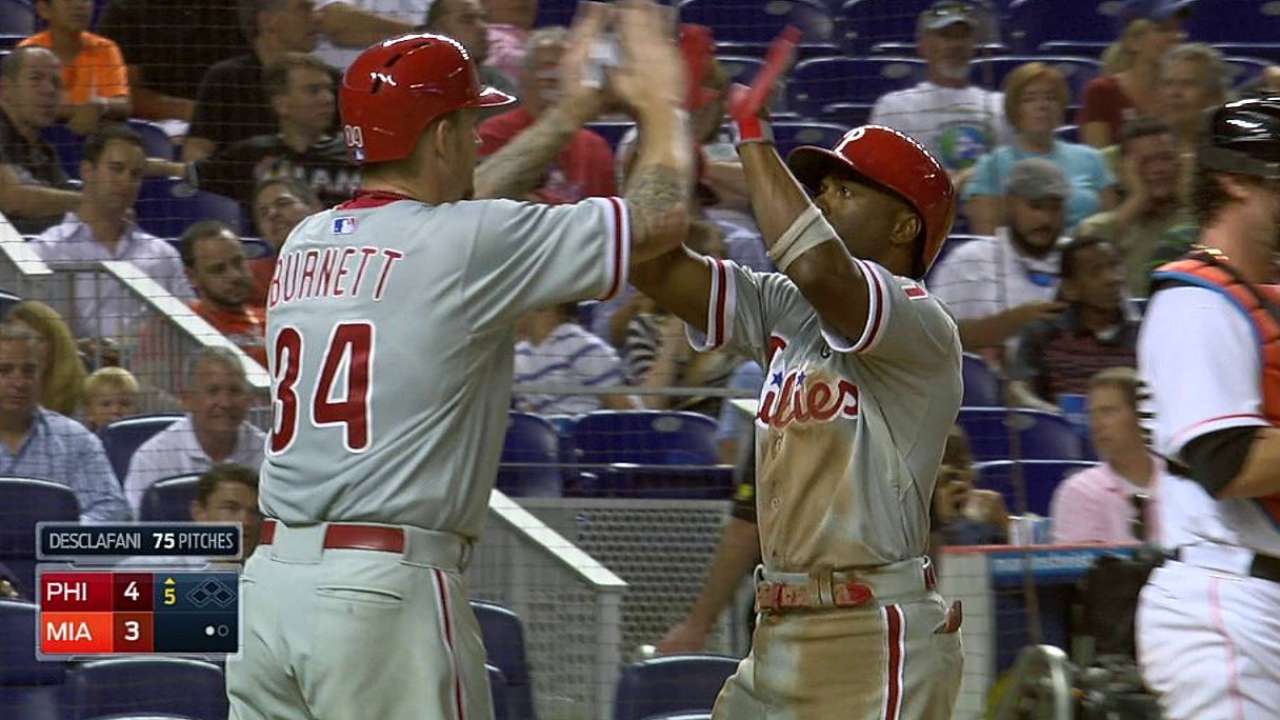 MIAMI -- On a night of nothing but bad news for the Phillies, they came through with the win.
With Cliff Lee hitting the 15-day disabled list and president and CEO David Montgomery undergoing surgery to remove cancer from his jaw bone, the Phillies began their stretch of 20 games in 20 days with a 6-5 win against the Marlins on Tuesday night at Marlins Park.
Jimmy Rollins went 2-for-4 with a two-run homer, two runs scored and a stolen base to lead the charge offensively.
A.J. Burnett allowed three earned runs on three hits in his five innings to improve to 3-3 with the win. He struck out five, but he got his pitch count up with four walks and a hit batter.
Burnett attributed the walks, one of which brought home a run in the first with the bases loaded, to the calls by home-plate umpire Will Little. Burnett was visibly upset with a number of his calls.
"It makes you wonder how many years you have to pitch to get a call," Burnett says. "I went all over the place. They were all very, very close. Somehow, some way, you try to make pitches."
Phillies manager Ryne Sandberg sided with his pitcher on the calls at the plate, but he appreciated the way Burnett was able to settle down.
"He was making some quality pitches from what I could see, a few quality pitches that he wasn't getting," Sandberg said. "In some regards, he's a veteran guy and he doesn't get rattled too much, just like when he gets men on base. He bears down."
Little had trouble with both teams, as he tossed Marlins manager Mike Redmond for arguing balls and strikes in the sixth.
Jonathan Papelbon earned a shaky save in the ninth. He allowed a run to score with two outs on a bloop single by Garrett Jones, who went 4-for-5 for the Marlins, but with the tying run on third and winning run on first, he got Jarrod Saltalamacchia to fly out to center to end it.
The Marlins squandered a major opportunity down 6-3 in the bottom of the eighth against Mike Adams. The first three batters reached on Casey McGehee's walk, Jones' double and Saltalamacchia's RBI single on an at-bat that was kept alive by a dropped foul ball by Phillies third baseman Cody Asche.
With the tying run on base and nobody out, the Marlins settled for the one run as Marcell Ozuna and Adeiny Hechavarria struck out in back-to-back at-bats, and pinch-hitter Reed Johnson grounded out harmlessly.
Reliever Jake Diekman recorded his eighth consecutive scoreless outing, shutting out the Marlins in the sixth and seventh.
Down 3-2, Rollins put the Phillies back on top with a blast to right with Burnett on second after a double. Rollins homered for the second game in a row after hitting his 46th career leadoff jack on Sunday.
"He's just doing a nice job," Sandberg said. "I think he's in a nice groove with what he's doing at the plate, swinging the bat and being patient. He's doing well in that leadoff spot right now."
Rollins is two hits shy of tying Richie Ashburn for second on the Phillies all-time hits list.
Philadelphia added two in the sixth to go up, 6-3, when John Mayberry Jr. pinch-hit for Burnett and singled home two with a two-out base hit through the left side with the bases loaded.
With two outs and first base open, Redmond intentionally walked Tony Gwynn Jr. with a lefty-lefty matchup of Gwynn vs. Brad Hand. Sandberg pinch-hit the right-handed-hitting Mayberry for Burnett, and the move paid off.
"They kind of gave me the heads-up that I might pinch-hit in that situation," Mayberry said. "Just tried to get a good pitch to hit and hit it hard, and fortunately I was able to find the outfield."
The Phillies got on the board right away. Rollins singled to lead off the game, stole second and was driven in by a Ryan Howard double to right. Chase Utley then scored on Marlon Byrd's groundout to short.
Burnett promptly gave those two back to the Marlins in the bottom of the first via a McGehee RBI single and a bases-loaded walk to Ozuna. The Marlins added one in the third on an RBI double from Jones.
After scoring the two early runs off Marlins starter Anthony DeSclafani, 10 consecutive Phillies were retired as DeSclafani settled in temporarily before the home run by Rollins in the fifth.
David Furones is an associate reporter for MLB.com. This story was not subject to the approval of Major League Baseball or its clubs.