Hart to miss 4-6 weeks with hamstring strain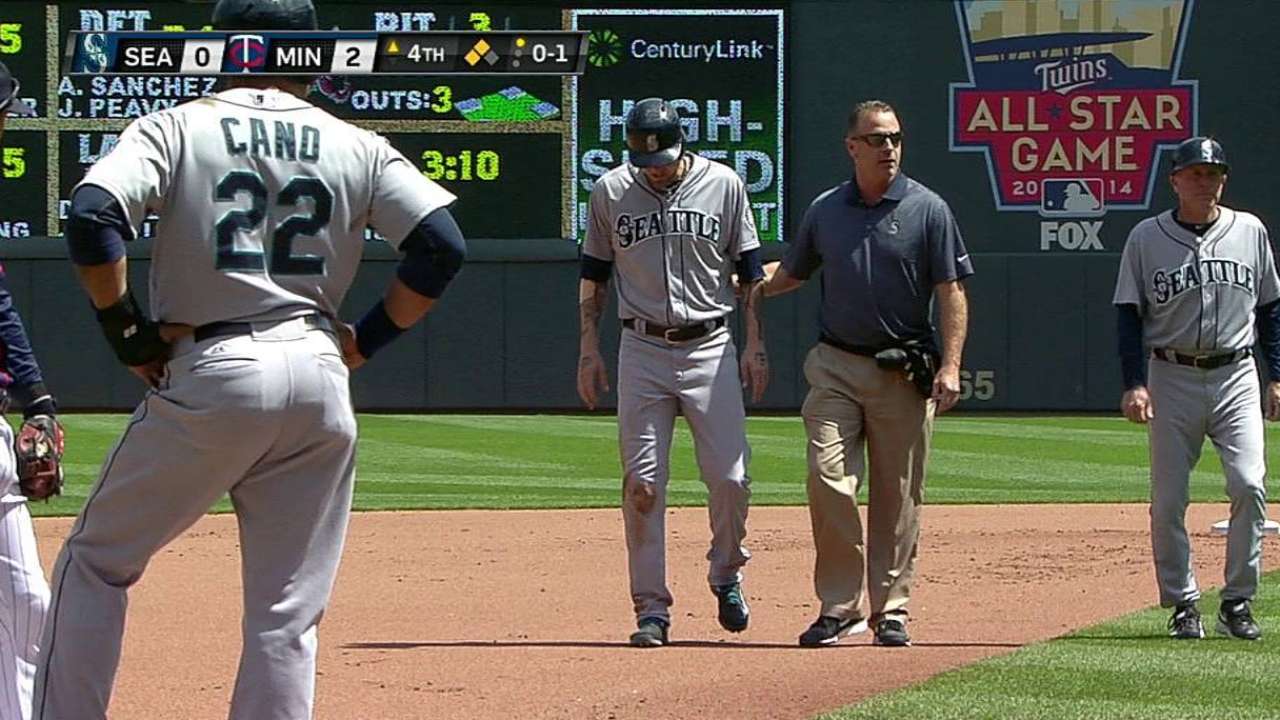 ARLINGTON -- Veteran designated hitter Corey Hart was placed on the 15-day disabled list by the Mariners on Tuesday with a strained left hamstring and will be out four to six weeks, manager Lloyd McClendon said.
Hart, 32, injured his leg while stealing second base in the fourth inning of Sunday's 6-2 victory over the Twins. Hart flew back to Seattle for tests on Monday and was told he had a Grade 2 strain by Mariners medical director Dr. Edward Khalfayan.
A Grade 2 strain is in the intermediate range, with Grade 3 being the worst, but McClendon indicated Hart would be sidelined well past his eligible return date of June 3.
"My understanding is it's not good," McClendon said before Tuesday night's series opener against the Rangers.
McClendon had newly recalled infielder Nick Franklin at designated hitter on Tuesday, but he acknowledged that was not a long-term solution and that for the time being he would mix and match players at DH as best he could.
"We have to find one," he said. "We don't have one. Franklin is DHing tonight, but I think we all agree he's not a typical DH. We'll make do the best we can, just like we've done with our pitching and everything else."
Kendrys Morales, last year's DH, remains on the free-agent market as the lone unsigned player among the players given $14.1 million qualifying offers in the offseason. Morales declined Seattle's offer of a three-year, $30 million deal as well as the one-year qualifying offer, so the Mariners turned to Hart in December.
If Seattle stays in-house, a potential solution could be Jesus Montero, who was batting .269 with 32 RBIs in Triple-A Tacoma and hit his team-leading eighth home run on Monday.
Logan Morrison would also be a logical candidate, but he has been on the 15-day DL for more than a month with a strained hamstring of his own and is just now getting close to a Minor League rehab assignment.
Morrison will most likely need several weeks to get his timing back and said Tuesday he still felt awkward running after a month in the training room and that the biggest issue would be playing in the field.
Hart, a two-time National League All-Star, missed all of last season with the Brewers after having microfracture surgeries on both knees. He signed a one-year, $6 million contract in free agency with Seattle, with up to another $4.65 million in bonuses based on his number of plate appearances.
Hart was hitting .209 with five home runs and 17 RBIs in 37 games while frequently batting cleanup behind Robinson Cano. The Mariners will continue looking for ways to protect Cano in the lineup, with Justin Smoak moving into that spot Tuesday.
"I think we're all going to have to pick it up a little bit," McClendon said. "And the guys have done a nice job. Smoak has done a nice job, Hart has done a nice job, [Kyle] Seager is starting to pick it up. We'd all agree we don't have that prototypical No. 4 hitter. We don't have a guy that is going to hit 40 home runs a year. We'll do the best we can."
Greg Johns is a reporter for MLB.com. Follow him on Twitter @GregJohnsMLB as well as his Mariners Musings blog. This story was not subject to the approval of Major League Baseball or its clubs.