Davis loses glove on near robbery of homer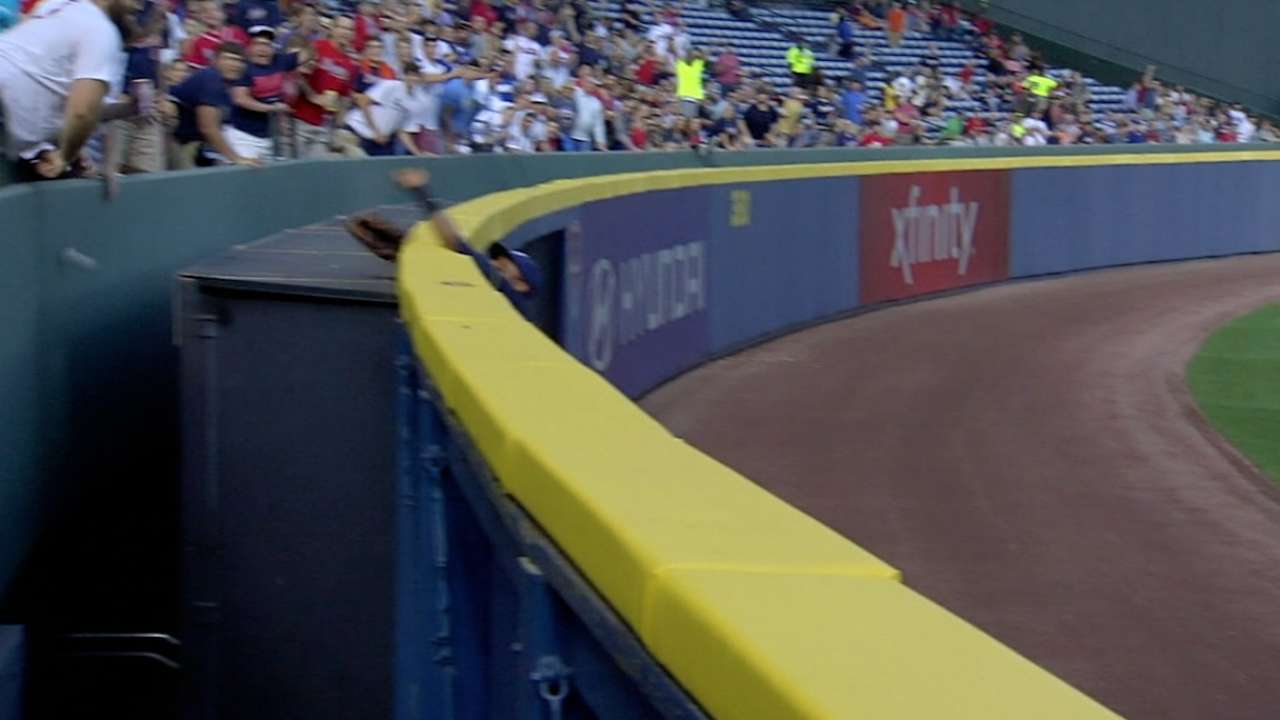 ATLANTA -- Brewers left fielder Khris Davis dumped two pieces of equipment over the left-field wall on Monday night at Turner Field. One was a 3-1 fastball from Braves lefty Mike Minor that Davis clubbed for a two-run homer in the top of the fifth.
The other was his glove -- as he nearly robbed Atlanta first baseman Freddie Freeman of a solo home run in the bottom of the third. Davis appeared to make the catch, before the impact of colliding with the wall caused him to drop both ball and leather.
"The way it felt, the ball just felt heavy," Davis said. "The glove was like somewhat halfway off my hand, so I think it just weighed down on my glove, but if I would've just kind of like pushed the ball back, I feel like I would have held onto it instead of kind of receiving it."
Davis' near flash of the leather was not the first time he's attempted theft on the field. He has turned several would-be souvenirs into outs both during his childhood and his days in the Minors.
"Those are fun plays to make," Davis said. "Timing is the most important thing. You have the fence there to make you look like you've got jumps, but timing is more important than someone's athletic ability to get up."
Davis said hitting a home run softened the blow of losing Freeman's shot, but that he wished he could have made both plays. Given the choice between the two, Davis said, "I'd rather hit a home run, but taking one away is pretty -- it's different."
The 26-year-old has both the timing and the athleticism down pat, but he may require one more thing the next time he tries to take a home run away."
"I wish I could've held onto my glove," Davis said. "Maybe I'll have a strap on me next time."
Joe Morgan is an associate reporter for MLB.com. This story was not subject to the approval of Major League Baseball or its clubs.