Brewers bats silenced by Teheran
Offensive woes continue as ace Gallardo exits with injury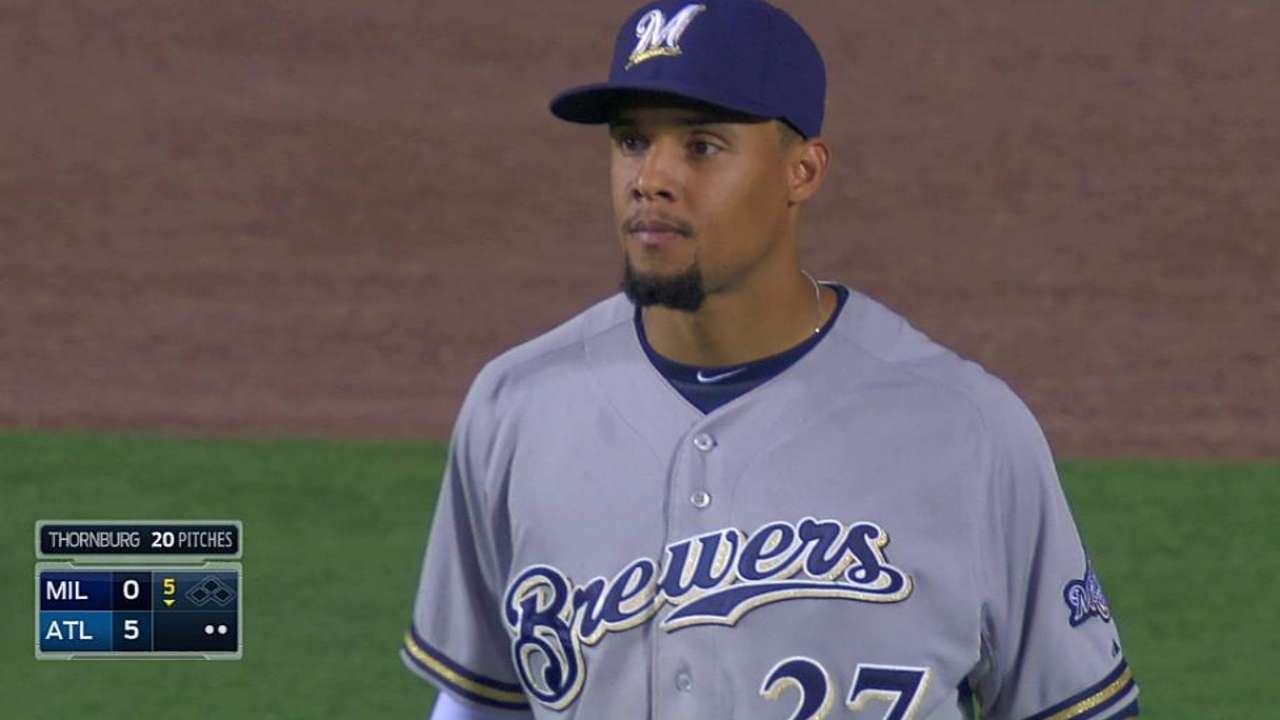 ATLANTA -- Yovani Gallardo entered Tuesday night with one of the worst run support averages in the Majors. The Brewers plated only 2.9 runs per game for the right-hander in his first nine starts this season.
Milwaukee would have loved to muster up nearly three runs against Atlanta starter Julio Teheran, who threw his second shutout of the season as the Braves coasted to a 5-0 victory, and saddled the Brewers with their fourth straight loss.
"We're not pointing fingers at each other," first baseman Lyle Overbay said. "We're all in this together, so that's the main reason why we're not panicking."
Gallardo lasted only 3 1/3 innings in defeat, exiting during the fourth inning after suffering a left leg injury while attempting to field a chopper off the bat of Teheran. The injury snapped a streak of 17 straight starts with at least 5 2/3 frames pitched.
But even before the injury, Gallardo struggled with his command. He only walked three batters, but he fired first-pitch balls to five of the first seven batters he faced, and reached three-ball counts six times against 18 batters.
"It's a long year," Gallardo said of his club's recent woes. "It doesn't change much, but we've still got to keep moving forward. Forget about the bad games and focus on the next win, and be prepared to win and start a winning streak once again."
Two errors did not help Gallardo's cause. A missed catch by third baseman Jeff Bianchi on a relay throw from Khris Davis in the bottom of the third didn't lead to a run, but a run did score when second baseman Scooter Gennett was charged with an error when he collided with shortstop Jean Segura on the same play that Gallardo was injured.
B.J. Upton scored from third and Teheran reached as a result of the confusion in the middle of the diamond. Milwaukee has now committed at least one error in five of the past six games.
"We've been so good defensively, and today, we were sloppy," said Brewers manager Ron Roenicke. "Relays and throwing it to the wrong base and not being heads-up. Just the game awareness wasn't out there today."
Despite some spotty defense and an off night from Gallardo that unfortunately ended with yet another hurt player for the injury-riddled Brewers, Milwaukee couldn't to do much offensively against Teheran anyway.
Although Teheran -- who recorded his ninth quality start in 10 outings -- was in top form on Tuesday night, the Brewers did have some scoring chances. Catcher Jonathan Lucroy drew a leadoff walk in the second and he led off the top of the fourth with a double, but the Brewers couldn't score him in either inning.
Lucroy was also stranded at second after he notched a two-out double in the eighth, which marked his second consecutive multi-hit game, and his third in the past four.
The Brewers also threatened to end Teheran's shutout in the ninth as they got two on with singles by Segura and Elian Herrera, but pinch-hitter Rickie Weeks and Carlos Gomez both struck out to end the game.
"He's tough," Roenicke said of Teheran. "I don't know. He's got deception. He keeps the ball down. He knows when to pitch up. He knows when to throw his offspeed pitches, which are all good. But I don't know. You saw a lot of bad swings, so there's got to be a lot of deception in there, too."
Milwaukee finished 0-for-9 with runners in scoring position, prolonging a slump that has seen the club notch only three hits in 35 at-bats with runners in scoring position in the past five games. The Brewers are 1-4 in those contests, averaging only 1.8 runs per game.
"The pitchers have done real well, and I know it's our hitting," Overbay said. "They're keeping us in games. We've just got to get that timely hitting, but we just haven't got that yet."
Although Milwaukee was unable to get anything out of its offense, the bullpen rebounded after a rough Monday night that saw Brewers relievers give up five runs in the eighth and send Overbay to the mound to face a batter.
A solo home run by Justin Upton -- who has gone yard in three consecutive games -- was the lone damage against Tyler Thornburg in 3 2/3 innings. Lefty Will Smith finished the job, pitching a scoreless eighth in relief.
"He [Thornburg] threw the ball well," Roenicke said.
Upton's blast was one of two homers Milwaukee surrendered on Tuesday night. The Brewers entered the game tied for second in the Majors with 51 home runs allowed this season. After Thornburg surrendered Upton's shot, Smith is the only pitcher on the roster who has not given up a homer this season.
Even though Milwaukee fell to 7-11 in May after beginning the season 20-8, the club is keeping a level head. The Brewers are still in first place in the National League Central, and the players are not discouraged by the recent struggles.
"If you're in first place, it's always good news, no matter what," Gallardo said. "But we all know that things haven't gone our way, the way we wanted it to the past week and a half. But we've got to figure out a way to turn it around get back on a winning streak."
Joe Morgan is an associate reporter for MLB.com. This story was not subject to the approval of Major League Baseball or its clubs.